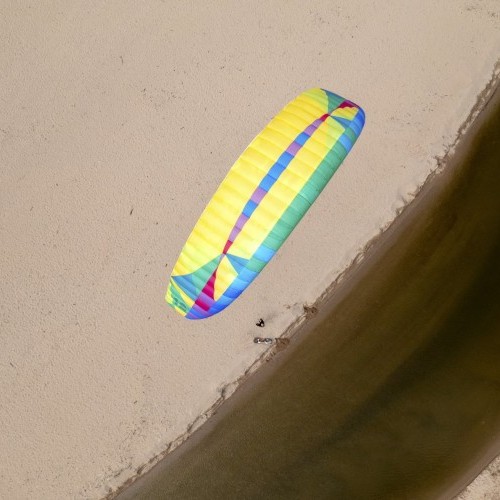 Behind the Brand with AIRWAVE – Interview with Tom Lolies
Features / Thu 23rd Sep, 2021 @ 9:00 am
What goes into creating a foil kite? We caught up with Tom Lolies from Airwave to find out all about it! We talk about a love for flying, what goes on behind the scenes of a kite brand, and the technology and innovation that goes into creating a top quality kite!
Tom, thanks for joining us for this interview! First of all, tell us a bit about Airwave and your role within the company!
Hi Crystal, thanks a lot, and I am pleased to represent Airwave here for IKSURFMAG. Airwave is the new brand of our paraglider company BGD (Bruce Goldsmith Design). We are committed to developing a range of foil kites, directly benefiting from our design experience and original colour schemes! I am responsible for kite design: developing and testing our products.
Win a Commander Twin Tip by Eleveight, CORE's all-new Link harness, or an ultra-light board bag from Prolimit this issue in our FREE subscriber prize draw.
Is it true that Airwave started by making hang gliders? What's the story there?!
That is correct! The company started in a garage on the Isle of Wight in the '80s, manufacturing hang gliders. Later on, Bruce began designing paragliders for Airwave with the Black Magic in 1989. Bruce carried on with Airwave for a long time until he created BGD about ten years ago.
I entered the company in 2017 as a design engineer, responsible for the simulation and development of numerical models. I quickly asked if I could start working on my other passion as well, foil kites. Bruce and the rest of the team, all passionate kiteboarders, were excited by this new project. This is how we decided to resurrect the Airwave brand that was kept dormant for years.
It sounds like a true passion for flying exists in the soul of this company. Tell us a bit about your passion for flying! When did you first take to the skies?
Every member of the R&D team is motivated by a lifelong passion for flying. I am very lucky that my parents were both pilots and started to teach me how to fly at a very early age. I flew on my own for the first time in 2009, and my uncle gave me kitesurfing lessons in 2010. Both sports gave me a thrill that would change my life forever!
When you first started kitesurfing and paragliding at 14, did you know that this would become such an important part of your life?
Absolutely! I was immediately addicted.
How old were you when you designed your first kites and paragliders? How did those prototypes perform?
My mom got me my first sewing machine for my 14th birthday. I hesitated with an XBOX at the time… no regrets! I started designing small scale paragliders and kites in my bedroom that, I must say, did not fly so well, haha!
Was this love for kiting and paragliding what motivated you to pursue aerospace engineering in school? Where did you study, and what was your major?
That's right. My DIY experience motivated me to dig deeper into the required scientific knowledge to properly design wings such as aerodynamic theory, structural mechanics and textile fabrics.
I studied at ISAE-Supaero in Toulouse, France. My major was external aerodynamics and numerical simulation. Most of my classes proved to be very useful later on!
What kind of work and preparation goes into starting a kite brand?! What did you think you could offer the kite industry that was fresh and unique?
A lot more than I expected! I had no experience designing kites, nor did Bruce, so I started from scratch. It took me more than two years to understand how to obtain the level of stability tube kite riders expect. I am convinced more than ever that there is a great space for innovation in the foil kite market to make more versatile high performing kites with excellent pop and hangtime.
Moreover, we are trying to bring colourful, never seen before designs that stand out from the rest of the market.
The ALULA simulation software used to develop the Airwave Koala was created as your PhD project. Can you tell us a bit more about this software and how it works?
I developed a fluid-structure interaction program. My PhD work consists of finding the right models and theories in the scientific literature for both aerodynamics and cloth dynamics. Then, I implement (code) the models in a computer and try to make them work together. This is quite challenging because paragliders or foil kites are inherently coupled problems. Indeed, to compute the flow physics pertaining to a wing, one needs to compute its shape first, which itself depends on the flow and the pressure forces it generates… the snake bites its own tail! In practice, an iterative approach is required to advance the whole system in time.
Is the software specifically for foil kites and wings? Or could it be adapted to inflatables?
For now, it is. But the core theory on which it is based could easily be applied to inflatables. Maybe in the future!
Do you ever fly LEI kites? For those that have ONLY flown LEI kites, what are the key performance differences between foil kites and inflatable kites?
Now, I rarely do. But I still like to fly one from time to time to keep the reference in mind. I guess what strikes first for an LEI rider testing a foil kite for the first time is the light bar pressure and very precise bar feedback. Foil kites do not flutter when depowered; the whole bar range is very smooth. Also, the greater performance will allow for a better upwind angle and faster top speed, especially when foiling. Then, and this is what I like most about riding foil kites, the greater hangtime gives you great confidence to send your best tricks. Finally, I like that you don't need a pump, and the packing volume is twice as small. However, I recommend that you always leave the bar connected so you can be ready to go in a minute!
Tell us a bit more about the Koala! What was the inspiration behind the name?
To be completely honest, I am not sure why we called it Koala. But we liked the name as it stands out and is easy to remember. It is a freeride kite, highly stable, with soft bar pressure and good performance.
What were the design goals for the Airwave Koala?
We wanted to make a versatile kite for all terrains that would perform well with a twin tip or a foil. I developed it in sizes 8m and 5m first. The goal was to be able to come up with a foil kite capable of dealing with the roughest conditions, where you normally only see LEI riders. I developed and tested the Koala in the strong, turbulent and off-shore Tramontane winds in the south of France, which is rather unusual for a foil kite normally first optimised for light winds.
What sort of kiter and kiting conditions would the Koala suit? Would a first-time foil kiter have any difficulties adapting to this kite?
We wanted an easy kite that would be ideal as a first foil kite for intermediate to expert LEI riders. The Koala 15m can be used for foiling in less than 5 knots, and the 5m can be flown with a twin-tip in more than 35 knots. So it targets a very wide range of styles. What I like most now is to use the 5m in 20 knots for foil freestyle.
Win a Commander Twin Tip by Eleveight, CORE's all-new Link harness, or an ultra-light board bag from Prolimit this issue in our FREE subscriber prize draw.
Where is Airwave currently distributing kites and what's the easiest way for customers to try out your products?
We are building up a dealer network and are constantly adding new adresses on our website. If you can't find a dealer in your area, please contact us at sales@airwave.aero.
What's next for Airwave? Any plans to produce a racing kite?
We'll carry on developing the product range. I am currently working on a beginner kite and hope to start developing a race kite soon.
What about you, personally? What other exciting projects are you working on?
Besides the development of the new products, there is always a lot of work to improve the accuracy and add new features to the simulation program. Then, I would like to find more time to get better at foil freestyle and start foil racing!
—
Learn more about Airwave and the Airwave Koala on their website: airwave.aero/en/
All photos provided by Airwave Kiteboarding.
Editor at IKSURFMAG, Crystal Veness hails from Canada but is based in South Africa. When she isn't busy kitesurfing or reporting on the latest industry news for the mag, she is kicking back somewhere at a windy kite beach or working on creative media projects.
Featured in this Post
Comments