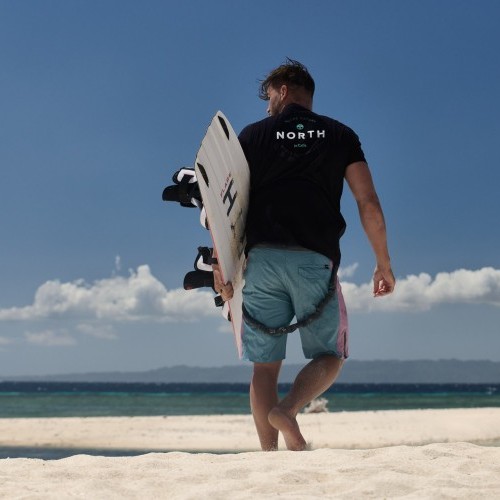 North launches 2024 Freestyle Collection and New Pulse Kite
Tue 26th Sep, 2023 @ 6:00 pm
Win a Custom Designed Ozone Twin Tip this issue in our FREE subscriber prize draw.
Innovation requires iteration. Relentless repetition. Resilience. With the new Freestyle collection from North, our riders seek ways to challenge the status quo, allowing themselves to be humbled by the process. Success rarely comes without trial and error- it requires patience, persistence, and a willingness to unlearn and relearn. 10,000 hours to master your craft? Let your journey to mastery start here!
Lighter and faster-flying with increased lift, the bridled hybrid freestyle/freeride design of the 2024 Pulse delivers improved steering and depower response, a smoother aerodynamic profile entry, dynamic edge response, slack and pop. The FlexPulse structure with its low-sweep arc shape and upright design gives the kite a more powered turn through the entire wing, adding energy and efficiency through the entire kite loop so it can come around quicker to catch you and lofts nicely for a good landing
"The Pulse makes me excited to go on the water, it gives me the opportunity to find new lines and different ways to look at tricks" – Tom Bridge
Our lightweight eco-core technology Freestyle TwinTips are engineered for responsive harmony between rocker, outline and flex, clean, powerful pop, and consistent, dependable rail grip so you can ride with ease and control in any conditions. All 2023-2024 North TwinTip boards feature our new FlipTech Mounting System, with centreline inserts. This means if you wear out one side of your board, simply flip your boots around for a fresh new heelside rail again.
Focus. Power, stability and drive.
"When I throw myself into a manoeuvre, this board carries me through my rotations with the perfect amount of swing weight. For all the days I want to push it with any style of tricks, the Focus is what I grab." – Jesse Richman, King of the Air 2020
Flare. "Go where you want, go when you want, and don't go by any rules."
"The Flare makes me feel comfortable and it's nice to have a board where I can rely on the pop every time. Plus I can beat it up and it'll still last forever, which is perfect for me" – Tom Bridge
Fix. Bone out that grab. Relax your stance.
These kite-specific boots have an extended flex zone in the mid-boot for a bigger range of flexion, allowing more give on landings and more movement for tweaking grabs, for butters and presses. The low-cut design allows you to lean back and drive upwind in a more relaxed stance.
"The Fix are the lightest weight boots, with ample support, comfort and the ability to replace the fastening straps" – Hugh Pinfold, North Director of Design and Engineering.
In the 2024 Freestyle Collection
The Pulse | Freestyle / Freeride
The 2024 Pulse has increased performance and lift, is dynamic, flexible and can twist to turn.  We've reduced the amount of Dacron reinforcement material and introduced lighter-weight bladders in all sizes for a lighter, faster-flying kite that is more responsive in the steering and depower, with a smoother profile entry and more aerodynamic airflow. The hybrid design blends the best of freestyle and freeride.  In today's world a pure freestyle C-kite is not as efficient as a freeride kite, so combining the attributes of a C-kite and a less upright, wider arc kite together gives you a kite that's not only efficient, but still has many of the attributes and behaviours of a C-kite with slack and pop.
A combination of higher aspect ratio, smaller diameter leading edge and an aerodynamic, leaner profile entry enables the Pulse to fly forward quickly after an explosive pop or when checking a rail edge. It also makes the Pulse highly efficient and manageable. Its upright design ensures the twist from the steering lines run deeper into the centre of the canopy. As a result, the power produced through the turn is constant through the entire loop, rather than just pivoting off the tip and then having a dead spot in the loop.
Win a Custom Designed Ozone Twin Tip this issue in our FREE subscriber prize draw.
The Focus | Freestyle / Freeride Twintip
A high-performance board precisely engineered to push the boundaries and generate pop for aggressive freestyle moves. Greater traction allows you to hold that rail and edge harder, while the geometrically stiffer backbone enables more controlled takeoffs. The hybrid carbon construction ensures an ideal balance between stiffness and flex, while butter-soft tips reduce the impact load on landings and glide through chop.
"The Focus, since its inception, has been my favourite twin tip; I feel so sure-footed coming in for a hot landing with the Focus on my feet. It's a different feel from the big air and freeride boards, with more rocker and a bit more thickness/weight. It feels like more board underneath you, and I freaking love that." – Jesse Richman
Win a Custom Designed Ozone Twin Tip this issue in our FREE subscriber prize draw.
Flare Freestyle / Wakestyle Twintip
Blind confidence Designed for advanced wakestyle and park riders, with P-Tex grind base material for durability. Tom Bridge's freestyle stick of choice has a high rocker to soften impact on hard, flat landings, controlled flex tips for smooth presses, quad channels for upwind tracking and maximum pop for technical tricks.
Fix Boots
The Fix boots have bigger pop, powered unhooked tricks and harder landings covered. Flexible and featherlite, with an unrestrictive low-cut design and neoprene flex zone for greater range of movement plus stability and support for your ankles and knees. Featuring a strong hollow baseplate for direct feel and massive shock absorption, seam-free KnitFlex lining and Velcro one-handed adjustment.
View the full range here.
Featured in this Post
4,188
65,651
12,673
Comments