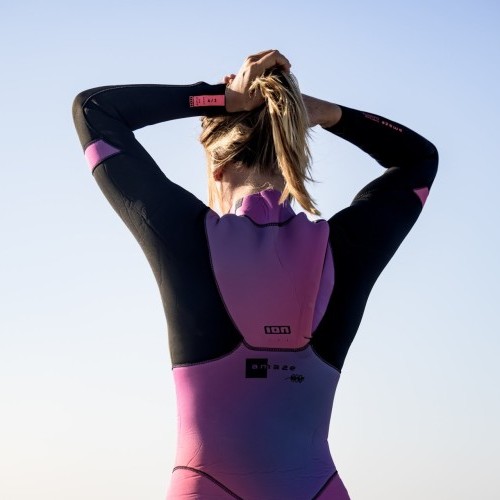 ION | Cotton Candy Sky Capsule Collection
Thu 1st Jun, 2023 @ 12:00 pm
The collection's pink gradient design is devoted to the most enjoyable moment after being on the water. The capsule consists of wetsuits, shorties, vests and harnesses, ponchos, and neoprene tops. Elevated by the unique design, each individual develops toward maximum functionality and an optimised fit.
ION has and will always pioneer progression in design and technology. Annually setting higher standards for ourselves, this year's women's collection lets you wear and express feelings on your sleeve.
No session is like the other, nor is any sky the same. Lost in the moment, time pauses. We stay out until the very last second, embracing every moment and not seeing it as an end.
A design is more than a design. The Cotton Candy Sky Design echoes these emotions. Dedicated to those who stay until the end of the motions. What are you waiting for?
Amaze Core
The best for warmth & stretch in a mid-range suit.
The Amaze Core offers premium performance for an affordable price: The simplicity makes the Amaze Core the perfect all-rounder. Stretchy Hot_Stuff 2.0 inside lining cares for optimal heat retention in the most crucial areas while maintaining flexibility. On the back, quick-drying Plasma_Plush increases warmth & protection against wind chill.
A smart combination of materials ensures you get the most warmth with the best stretch amongst peers.
Reinforced stress points make the Amaze Core a robust companion for your adventures.
The Amaze Core front zip version is available in three colourways, including the pink-gradient design.
Surf Bikini
There's no better feeling than catching waves or kiting in a bikini. ION's new SurfKini caters for the needs of progressive water women and offers a reliable & comfy fit. Made from recycled PET waste from our partner Waste2Wear.
Swimsuit LS
This one is for tropical shredders. Fitted like a neoprene shorty, the thin Swimsuit LS offers protection from UV rays and abrasions from your equipment. The performance seat cut makes sure you'll feel comfortable no matter how wild your session gets—made of recycled PET waste from our partner Waste2Wear.
Neo Hoody
ION's Neo Hoody Lite Women is for cold and windy days on or off the water. Serving as an additional wind-stopping outer layer and for extra warmth, it can be worn whilst using a harness thanks to the harness hole opening. A neoprene thickness of 1mm ensures warmth when needed most. An ergonomic and adjustable hood ensures it stays where it belongs, even in windy conditions.
Poncho Select
This mobile changing room is made from a quick-drying and super lightweight material. Thanks to the small packing size, you'll always find some space to bring the poncho along to the spot. The poncho's adjustable hood allows you
to pull the hood tight and shelter yourself after a freezy session. An internal zip pocket will let you carry a cell phone, keys and wallet despite wearing nothing but this stylish accessory.
Dive into the Cotton Candy Sky experience here.
All ION products are carbon compensated. This means we offset our CO2 emissions, caused by the production and transport of our products, by supporting wind and reforestation projects in China and India – sup-ported by ClimatePartner.The entire process is transparent and traceable thanks to the ClimatePartner label and a certificate.
Featured in this Post
Comments