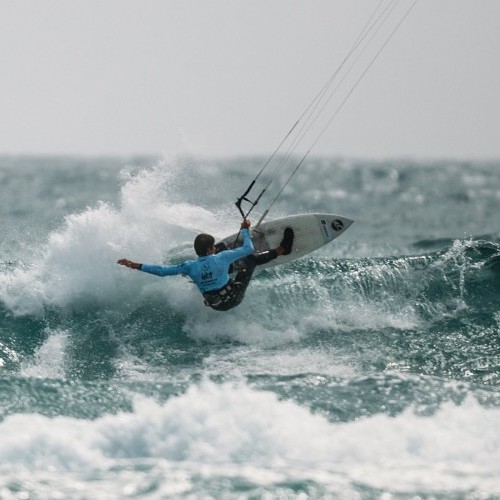 GKA Kite World Cup Cape Verde – Day 2
Mon 2nd Mar, 2020 @ 10:15 am
Yesterday, the GKA decided to run a Pure Wave format, with best two waves counting to final scores after judges decided conditions were not suited to a mixed format. Check out the Day 2 highlights, right here!
There were also some technical difficulties, our live scoring system and event ladder were offline, and we had some issues with sound on the live stream early on, so thank you for sticking with us, bringing live action from the beach in remote locations isn't always easy!
Fourteen-year-old Charlie Martin RE dominated his heats, the youngster from Reunion showed impressive skill, with powerful hacks in the small waves and advanced to round 5. Judges were looking for riders who could adapt to the conditions of the day, and those that could link their turns in the mushy waves were scoring high.
The smaller waves must have been frustrating to riders like James Carew AU, but it didn't put the Aussie off his stride, he put on a solid performance scoring a respectable 11.53, setting himself as one of the riders to keep an eye on at this event.
The high vibes and passion of the home crowd, kept the mood light, despite the lack of conditions and riders from each heat were coming off the water full of stoke. The Cape Verdeans know how to show their support and do so with pride! One local rider who should be feeling great this proud is Djo Silva CV, not only has Djo played a huge part in the organisation of this event, he also won his first two heats and went through to heat five.
Francesco Cappuzzo IT who finished fourth on tour last year got off to a great start with an 11 point complete score; he will be another rider to watch in 2020. Towards the end of the day, Airton Cozzolino CV landed a ridiculous air, entirely on the nose of his board right at the end of his heat, giving the reigning world champion a complete score of 11.80.
The GKA is extremely happy to have two riders back on tour this year. Luis Brito CV injured his shoulder severely in Tarifa two years ago; everyone is very happy to have him back on tour. Matchu Lopes CV also returned to the water and was on top form after a year off competing. The Cape Verdean was at ease, linking his turns smoothly and laying back into the waves with the loose tail style he is known for. His powerful performance won him the highest score of the day in the men's division, a great start to the event and what is sure to be a promising come back for Matchu. From the men's division, three full rounds and ten heats were completed on Day 1.
In the women's division Peri Roberts AU put on an impressive performance, with powerful hacks and smooth links, she scored 12.83. We're excited to watch her next heat tomorrow. Irati Fonseca Kohler CV showed how local knowledge of the spot and waves, can help when conditions are tricky, and knowing which wave to pick is paramount to scoring big. The Cape Verdean won her heat with a complete score of 6.76 in difficult conditions.
World Tour veteran Charlotte Carpentier FR was another rider managing to show strength in weak conditions, coming away with a complete score of 7.97 in her heat. In the final heat of the day, Carla Herrera SP took a complete score of 10.90 over Stella Groschupf and her tidy 9.67.  However, it was Ines Correia PT who took the days overall, highest, complete score, with a whopping 15.77 scored in the first heat of the day.
With impressive riding from all the women in less than impressive conditions, we're waiting to see what they have in store for us tomorrow and later in the week when conditions are forecast to improve (slightly).  In the women's division, one full round of eight heats was completed.
Today brought some shocking news when tour favourite Mitu Monteiro CV pulled out of the competition due to a knee injury. The GKA crew caught up with Mitu to find out why exactly he pulled out of competing at his home spot.
"I'm so sad to not be competing here in Cape Verde. I was training at Ponta Preta and just had my leg in the wrong position, the white water hit my board and my leg twisted. I've got a small injury to the ligament so I'm taking some time out to recover and be ready for Morocco!"
For more information and to follow all the GKA action, please click here.
Featured in this Post
Comments