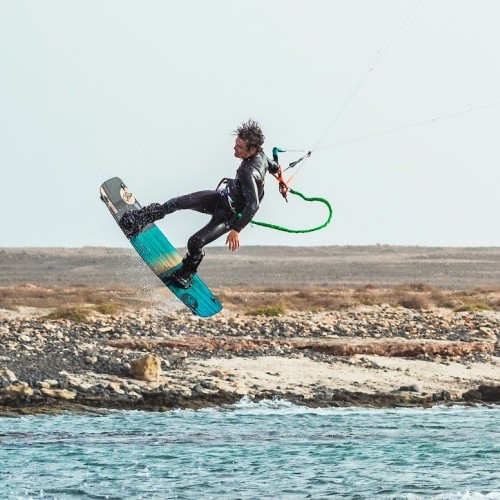 FLYSURFER – Launches The New STOKE2 and FORCE Control Bar
Tue 21st May, 2019 @ 9:00 am
We're stoked to announce the latest additions to the FLYSURFER product line. If you're into freestyle, wave riding and freeride, you better check this out!
Features
3D Shape Technology: Designed to give a clean and efficient profile whilst allowing for a clean manufacturing process. This, in turn, gives the kite a longer lifespan.
High Load Force Frame: High-end dacron, reinforcement in stress areas, adapted LE & strut diameters to withstand load peaks.
Power Transmission Surface: Enables a shorter depower throw whilst making the STOKE more responsive.
Short Bridle System: Enables shorter depower throw and improves the STOKE's reactivity.
Free-flow System: Valve and one-pump system for quick set up and pack down.
Non-snag Pad: A safety feature designed to prevent the steering lines from catching on the wingtip.
Rescue Handles: Security handle for self-rescue.
The kite has responsive and direct bar feedback offering an engaging ride that is also capable of explosive pop on demand. Whether you need full power or maximum depower, you are in control.
New attachment points, improved stitching methods and increased LE and strut diameters guarantee the best stability as well as durability whether it's the biggest freestyle crashes, or riding gusty storm conditions.
FORCE Control Bar
Safe, durable and functional – combining technical features with an ergonomically shaped bar that is very comfortable to use. Designed with QR4.0 and single Front Line Safety for the highest level of security.
Features
Quick Release 4.0: Push away Quick Release with orange activation cap. AFNOR approved – releases even when covered in sand.
Force Bar Stick: Ergonomic bar stick with EVA grip and one-hole eyelet.
Full Protection: PU covered depower rope, EVA padded winder and STOP marking on the backside of the bar stick.
Force Adjuster: Clam-Cleat Adjuster with integrated bungee trim cord.
Force Winder: Soft bar ends with adjustable bar width, rear leader line adjustment options, integrated line winder, bungee loops to secure the flying lines.
Single Front Line Safety: Designed for single front line safety and black stopper ball integrated into the front line
The control bar comes in 3 different sizes: [S] 40 – 48 cm, [M] 47 – 55 cm and [L] 55 – 63 cm
For more information on all FLYSURFER products, please click here.
Featured in this Post

2,600

Germany
19,373
Comments