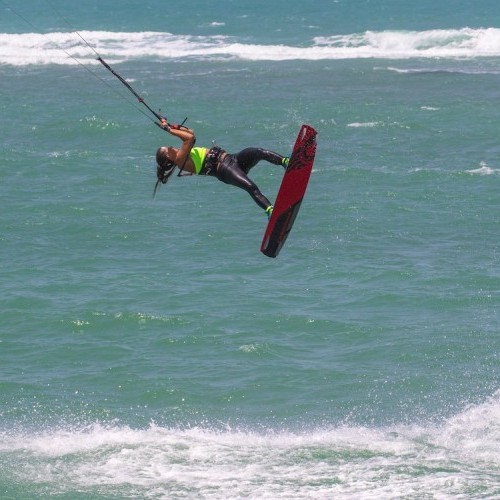 Yoga, Kite, Eat, Sleep, Repeat – Girls Retreat In Cabarete! (Early-Bird Discounts Available)
Mon 1st Apr, 2019 @ 6:00 pm
Yoga, Kite, Eat, Sleep, Repeat - Girls Retreat In Cabarete! (Early-Bird Discounts Available)
Ever thought about a week in the sunshine, improving your kiteboarding in fantastic conditions with like-minded people, a whole lot of fun, and a proper feel-good factor as part of the bundle? Who doesn't like the sound of that?!
The crew at Dare2fly Kiteboarding School in Cabarete, DR are putting together a number of retreats with professional coaches, the perfect location, delicious nutritious food and an emphasis on hitting those kiteboarding goals whilst having the best time ever! They are kicking things off with a girls-only week 25th May-1st June, and if you book before the end of April (and mention IKSURFMAG) there are extra discounts available too. Get involved and make 2019 the year you tick those tricks off your kiting bucket list!
Bienvenidos a Cabarete, Republica Dominicana! That place in the Caribbean where the sand is golden, the water is turquoise, and the wind is side-onshore. We have bundled all of our favourite things about Cabarete into the type of trip we would want to take (if we didn't already live in paradise!). So we hope you are ready to get bendy, shred hard, eat well, and sleep tight because your new kite sisters (that would be us) are chilling on the beach in bikinis waiting to pick you up from the airport. We can't wait to show you how we get down every day in Cabarete!
About The Hosts
Chrissy and Tracy met in Cabarete while shredding the gnar at the local surf beach, Playa Encuentro. This town has a mysterious way of drawing like minds together to create unique experiences. We are both in love with the simple lifestyle provided by the perfect conditions of the North Coast, and we both fully indulge in the charismatic culture unique to the Dominican Republic.
Chrissy
Chrissy has been practising gratitude, hard work and having fun her entire life. She began teaching yoga in 2012 and opened her studio, Grateful Yoga located in Montpelier, Vermont in 2014. Over the last few years, Chrissy has created a reputation for hosting some pretty sweet retreats in her hometown and abroad. Her recently discovered love for kitesurfing (and her boyfriend) persuaded her to move to Cabarete and host retreats here. She is also a Yoga Alliance Continuing Education Provider.
Tracy
Tracy is a serial entrepreneur who moved to Cabarete 7 years ago. Long story short, she came to learn kiteboarding with her partner and never went home. The first few years, Tracy worked online, lived like a beach bum, learned Dominican Spanish out in the wild, and has since morphed into a water woman who enjoys many salty disciplines including kitesurfing, SUP surfing, and surf surfing. In 2016, she and her partner took the big leap and purchased a beachfront kiteboarding centre and cafe right in the prime spot in the middle of Kite Beach.
Dagmar
Dagmar is a well-rounded water woman, lifeguard, translator, and artist. She is a full-blooded mermaid who spends her days soaking her heart and soul in Vitamin Sea. She is very passionate about lifeguarding, ocean conservancy, and motivating more women and girls into watersports. She spends the majority of her time teaching at Goodwinds in her home town in Puerto Rico.
What To Expect
As we mentioned, we planned the perfect trip for you based on what we love about Cabarete. The idea is to bring a small group of women together for an inspiring vacation where you can focus on your yoga practice, improve your riding, and add to your family of international kiteboarding chicas.
The Yoga
It doesn't matter if it is your first time doing yoga or if you are a certified teacher, you are welcome on this trip. Chrissy will be leading practice twice daily on the breezy beachfront patio. The morning session will prepare you for a fully active day and the evening session will regenerate your body after a long day on the water. You can expect a lasting yoga experience and enjoy new inspiration for your daily yoga training at home.
The Kiteboarding
We catered this trip toward those who are independently riding upwind and want to learn intermediate to advanced skills. We have the experience to support you with any riding style. We will help you build a solid foundation, give you off the water tips and tricks, and sit down to review videos taken from our sessions. You will ride six days for two to four hour per day with instruction from our two coaches.
Example goals for this girls trip: first jumps, jumping higher, upwind progression, riding toeside, back roll, front roll, learn to unhook, get comfortable on your surfboard.
About The Spot
We are located smack in the middle of the world famous Kite Beach. Cabarete is one of the most consistent places in the world for year-round kitesurfing. The shore break is small with flat water on the inside, and glassy waves breaking on the reef about 200m offshore. The water is warm, so leave your wetsuit at home!
About The Wind
Thanks to thermal winds in the summer, we will experience the most consistent, smooth wind of the year. The wind starts to pick up around 12 and blows side on-shore from the Northeast. Historically speaking, you can expect wind around 17-20 knots. More about the wind in Cabarete right here! 
The Accommodation
You'll be staying at Agualina Kite Resort, which is situated directly on the beach with kiteboarding literally at your doorstep. Each one has a private patio with a gorgeous view of the ocean. There is a swimming pool, beach loungers, and fast WiFi.
The Kite School and Restaurant
Tracy owns Dare2fly Kiteboarding School and Vitamin D Cafe. Both are located on the same property as the Agualina Resort Hotel.
Dare2fly is an IKO affiliated kiteboarding centre with brand new Cabrinha kite gear and NP Surf safety gear available for rental at a discounted rate.
As seen on HGTV, Vitamin D Cafe serves mostly raw/vegan/vegetarian cuisine. Every menu item is made in house with fresh, organic, and locally sourced ingredients.
Example menu items: raw zoodles with almond pesto, sprouted hummus with dippable veggies, gluten-free eggs benedict with dairy-free hollandaise, a fresh seasonal fruit bowl with homemade granola, vegan caesar salad, Buddha bowl with brown rice or quinoa.
We will not provide dinner, but we will organize dinner for the group each night. Please let us know if you are allergic to anything or have any special food requirements.
Getting Here
Book your flight into Puerto Plata (POP) arriving anytime before 6 pm on May 25th, and departing mid-afternoon June 1st. Our transportation will leave the Puerto Plata airport at 6 pm on May 25th and will depart Cabarete morning of June 1st. Any reservations that fall outside this time will require personal alternative transportation to Cabarete at your own cost. We can help you arrange a taxi ride for $35. Do not confuse Puerto Plata (POP) with Punta Cana (PUJ). The Punta Cana airport is 6 hours away.
What's Included
Transportation to and from the airport Seven nights in beachfront property just a few steps from the sea.
Healthy, energy filled breakfast and lunch provided by Vitamin D Cafe
Twice daily yoga session with Chrissy
Professional kiteboarding instruction by Tracy and Dagmar
Off the water skills workshops
One adventure excursion day
Photos of the trip and kiteboarding sessions
Not Included
Airfare to Cabarete
Kite gear
Yoga mats
Dinner
Alcohol
For more information, bookings and inquiries, get in touch right here and make sure you mention "IKSURFMAG" to extend the 'early bird' rates until the end of April with an added discount!
Comments