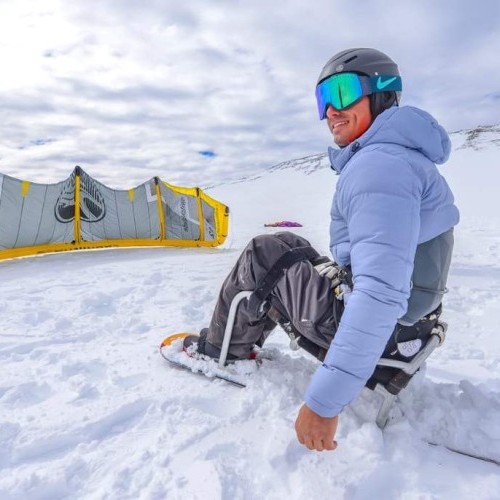 The Snowkite Experience: Fernando Fernandes
Wed 17th Oct, 2018 @ 12:00 am
Fernando Fernandes knows how to achieve goals. The adaptive Cabrinha team rider from Brazil shows us that quite a few things are possible with hard work, dedication and passion for what you do.
"A year ago, Fernando told me that he wants to kite. He can not move his legs at all and I thought, this would be the challenge of my life," says Gustavo Foerster, Fernando's friend and manager, "But his commitment and focus convinced me and at that afternoon we started to work some kite controlling."
Fernando and his friends developed a seat for him to use with the board. "Our goal was to find the best way so Fernando could kite. We don´t have many references for that around the world so we then had continued to try some gears and developing our own way to figure it out this. The 160′ Stylus was perfect for us." Fernando also uses the Fireball, a huge improvement to his setup as he uses his abs to edge the board.
"Snowkiting is technically very difficult. The wind is gusty, thermal, and you can fly forever if you don´t have a good control. Also, the direction changes a lot, making you be able to read that and adjust your self."
"Our local guides were Diego and Chomp, two incredible adventures man who had discovered this spot close do Cerro Chapelco, south of Argentina. By the end of the day a barbecue in the jungle and a big feeling of one of the best days in our lives!"
To follow Fernando Fernandes incredible and inspiring journey, please click here.
Featured in this Post
Comments