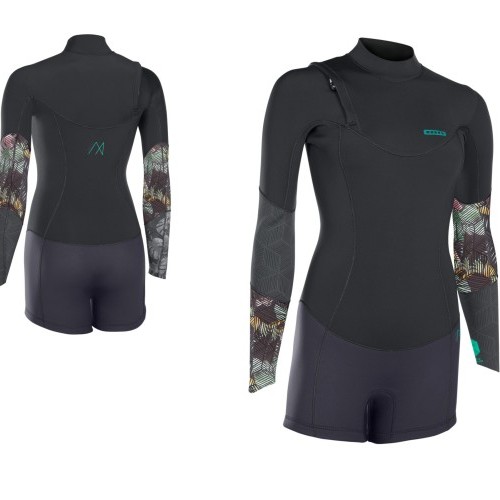 2018 ION Women's Muse Summer Wetsuit Line Released
Fri 18th May, 2018 @ 12:00 am
Ladies, are you ready for warm weather riding? Don't find yourself mid-session in a suit that isn't keeping you warm, protected, and feeling good. Find out what ION has to offer with the 2018 Muse line of women's spring & summer suits by reading the news below, provided by ION.

Muse Series
Don't miss out on the comfort and safety of a wetsuit while hitting the water with style. The new MUSE collection is your choice for warm water sessions. It provides protection against heavy UV radiation and offers extra warmth for the upper body.
No matter if you are looking for long or short legs and arms or a neokini – we get you covered. High-tech features and a smart use of highly flexible materials offer mind-blowing freedom of movement, unbeatable comfort and a stylish look. Choose from three designs to complement your style!
Muse Hot Shorty
The flexy Hot Shorty is protecting your upper body from harmful UV radiation and chill. Additionally, this suit gives your legs a nice tan without disruptive tan lines. The half zip at the front allows to control the inside heat.
The new Shorty Crossback is a super stretchy summer suit that gives you a little bit of extra warmth and UV protection for the torso and still makes you look perfect at the beach, thanks to the nice athletic cross arrangement of the straps.
These styles and all other MUSE pieces are a must-have for every water girl who strives to look good, feel good and have all the protection she needs in warmer climates.
For further information about ION and the product range please check ion-products.com.
About ION
ION – founded in 2004 – is one of the market leaders in wetsuits & accessories for wakeboarding, kite- and windsurfing. ION's products are a combination of the best quality, highest technical standards and a unique as well as progressive design to meet the requirements of Kiting, windsurfing, wakeboarding, SUP and surfing. In 2013, this approach was transferred to mountain bike sports, which are the founder's second big passion.
Featured in this Post
9,079
126,943
Comments