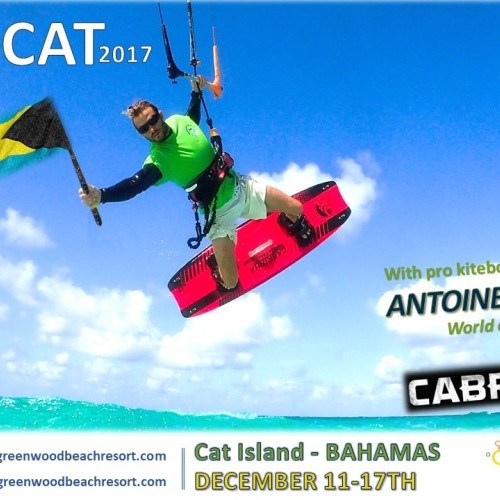 2017 Kit'In Cat Kiteboarding Festival Is Set To Go In The Bahamas
Sat 7th Oct, 2017 @ 12:00 am
The Greenwood Beach Resort on Cat Island is excited to announce a kiteboarding festival happening December 11-17th, 2017. The resort is celebrating the one-year anniversary of their kite school in the Bahamas. This isn't a competition, it's a chance for kiteboard enthusiasts of any level to get together, have a good time and celebrate the sport they love. The plan is to check out new spots, learn more about kiteboarding, enjoy the nightlife and share the passion. See below for more information about the weekend, provided by Greenwood Beach Resort.
We invite you to a kiteboarding meeting in December with Antoine Auriole (2010 World Champion), sponsored by Cabrinha.
Gathering kiteboarders from all over the world to celebrate the first anniversary of the kite school, not for a competition, more like a meeting. It doesn't matter how good you are, it only matters that you share the passion.
Expect:
– Open sessions on different spots of the island
– Fancy dress session
– Kite repair course
– Live music (open-mic night)
– Beach bonfires
– More!
If you are done with crowded spots, want to ride in warm water and share a good time with other kiteboarding addicts, then save the date and get yourself out to Cat Island!
Featured in this Post
Comments