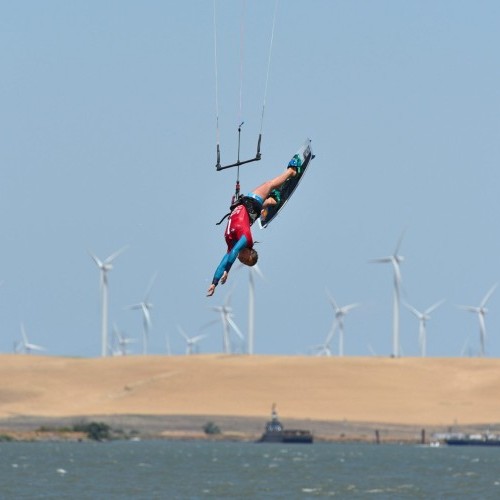 Delta Board Meeting 2017 Recap
Wed 16th Aug, 2017 @ 9:00 am
The Detla Board Meeting is an annual, fun-filled weekend of kiting in the Sacramento River Delta, outside San Francisco. The event features freestyle, slalom and big air competitions. Thanks to the Delta Board Meeting organizers for providing the following recap from the 2017 event.
Since 2015, the City of Pittsburg, California, in partnership with The Kite Bar – a local watersports center and café – has hosted the Delta Board Meeting kiteboarding competition. Launching into the Sacramento/San Joaquin Rivers Delta, professional kiteboarders flock from far and wide to compete in freestyle, slalom, and big air events. Though a competition with loads of cash and swag prizes, this event is friendly and fun, with lively evening celebrations hosted by The Kite Bar after each day of competition. Join us next summer for the 4th Annual DBM, and stay tuned on Instagram and pittsburgmarina.com for event dates and announcements.
Pittsburg, California is a coastal town located 50 miles between San Francisco and Sacramento. Hot air rising from the Sacramento Valley meets the cool Delta breeze from the Pacific Ocean, resulting in reliable wind from June through August.  The weather is generally great both in and out of the water as the water temperature averages between 13C/55F and 18C/65F, and air temperature averages between 26C/80F and 32C/90F.
Accommodations for visiting kiters are plentiful. Hotels are located in Pittsburg as well as neighboring Concord, Walnut Creek and Berkeley. Food options on the waterfront are also abundant, from local shops like the Kite Bar serving sandwiches, salad and treats, to American Diner-style food and a full bar at the Waterfront Grill & Café. There are also multiple chain supermarkets such as Safeway, Winco and Wal-mart if you're self-catering. If you're planning a vacation, check out Pittsburg's Historical Museum, find shows at the California Theatre or catch a minor league baseball game at Pittsburg City Park. The Kite Bar also hosts a variety of Waterfront Activities such as SUP and kayak lessons, tours and rentals.
Comments