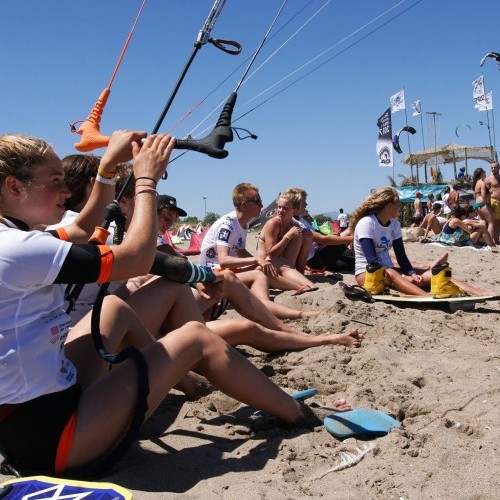 World Kiteboarding Youth Cup Kicks Off In Ballena Alegre
Wed 5th Jul, 2017 @ 12:00 am
The 2017 World Kiteboarding League Youth Cup is underway in Ballena Alegre, Costa Brava, Spain. The top young freestylers from over 15 nations have registered for the competition. On day one, the first round of competition was initiated, and the opening ceremony was the highlight of the evening. The WKL fills in the details of the day, below.
The WKL Youth Cup got off to a firing start at the Ballena Alegre Camping, where the thermal winds of approximately 15 knots blew steadily throughout the afternoon, allowing a completion of 4 heats.
The Youth Cup commenced at 9.30 am where the registration of 80 riders took place, from over 15 different countries. Participation is for ages 8 through to 18, so an ideal event to witness the strong level of riding in next generation of elite kiteboarders.
The categories for the WKL Youth Cup are as follows: Boys – 8-11, 12-14, 15-16, 16-18 and for the Girls 8-14 and 15-18.
The competition commenced at 2.30 pm, with boys age 8 to 11. It was 11-year old Jeremy Burlando who dominated the heat by landing a nice variety of tricks and taking the win in his heat. Romain Allemand followed behind him in second position.
Girls 15 to 18 was next in sequence, where Raquel Osorio took the lead by landing some nice clean tricks and Pippa Van Ierlsel from the Netherlands followed close behind in second place.
The thermal winds continued blowing and allowed us to complete the second heat for the girls 15 to 18 group. It was Spanish rider Claudia Leon who showed her experience landing a nice Back to Blind and Blind Judge. It was Sorsha Van Der Ark who battled hard to gain the second spot.
With heats that were lasting approximately 30 mins, there was time for just one last heat before the thermal winds died down. This was Heat 1 of Boys Age 15-16. Lars de Groof showed experience and powerful riding pulling off a Slim Chance and Back Mobe, followed by the young Colombian rider Valentin Rodriguez who landed a nice Back Mobe and Heart Attack.
At 7pm the Ballena Alegre camping hosted the opening ceremony for the event, presenting all the young riders to a delighted audience.
The Youth Cup is a unique event, which showcases all the up and coming talent from children under 18 from across the globe. More than just a competition, the Youth Cup also provides the young riders with training clinics from top pro-riders and helps them understand the work and dedication that goes into being a pro-athlete.
The action continues tomorrow, with the skipper's meeting called for 11am and the first possible start at 12 midday.
The live scoring is updated in real time and can be followed throughout the event here.
Comments