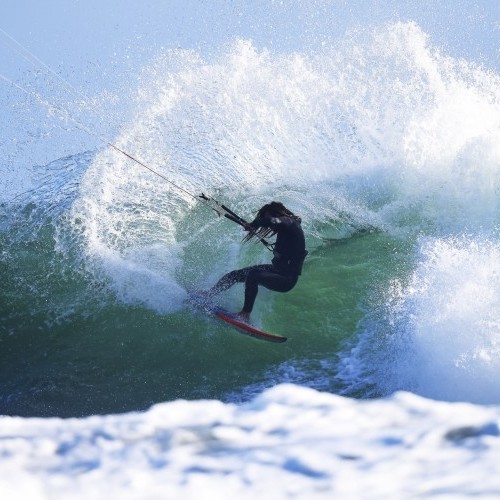 Ride Engine Launches New Wetsuit Line
Sat 19th Sep, 2015 @ 6:00 pm
Founded in 2012 in Santa Cruz, watersports accessory brand Ride Engine will be launched its first full lineups of wetsuits, kiteboarding harnesses and gear/travel bags at the 2015 Surf Expo in Orlando, Fla.
Ride Engine is headlining the launch with a much anticipated release of the kiteboarding industry's first hard-shell harness, called the Armor, and complete lines of high-end men's and women's wetsuits set to launch in early 2016.
The Armor harness, which will hit international markets later this month, features a completely unprecedented design that utilizes an integrated hard shell, patented Lumbar Lock technology and a unique sliding rope spreader bar. The result is an ergonomic and form-fitting system that redefines expectations of how a kiteboarding harness should look, feel and function. Three version of the harness will launch this Fall- Hex Series, Team Series and Elite Series- along with metal and carbon sliding rope spreader bars and a fixed hook spreader bar.
Ride Engine designed its wetsuit lineup with a scrupulous attention to detail, with the goal of creating a fresh and high-performance alternative to the watered-down global brands that have occupied the market for years. The lineup features a wide spectrum of men's and women's suits- all made from limestone-based Neoprene- ranging from the seam-sealed and fleeced-lined 5/4 front zip Epoc series to mid-warmth 4/3 and 3/2 front and back-zips and warm-water 2mil shortys, neo tops, gloves and booties.
Ride Engine is a fresh new brand with a philosophy of working closely with the best athletes and designers in their industries to create high-performance products that help connect people to the forces of nature that make them healthy and happy. Founded humbly in a garage by waterman Coleman Buckley, Ride Engine began when the recent Stanford graduate and talented tinkerer developed a unique style of custom-fit hard-shell harness specifically for hard-charging kite surfers who were passionately displeased with all the other options on the market. As the Armor harness evolved and demand exploded, Buckley quickly outgrew his garage workshop and the ability he had to keep up with orders.
Ride Engine joined forces with 7-Nation, a board sports company based in the Pacific Northwest, in 2014, which opened a world of possibilities for Buckley and the brand. With a philosophy of organic athlete-driven innovation, Ride Engine has made immense progress over the last year and is excited to introduce its fruitions to the world at Surf Expo 2015.
Check the entire line up HERE!
Featured in this Post
United States
2,493
United States
13,092
United States
34,266
Comments