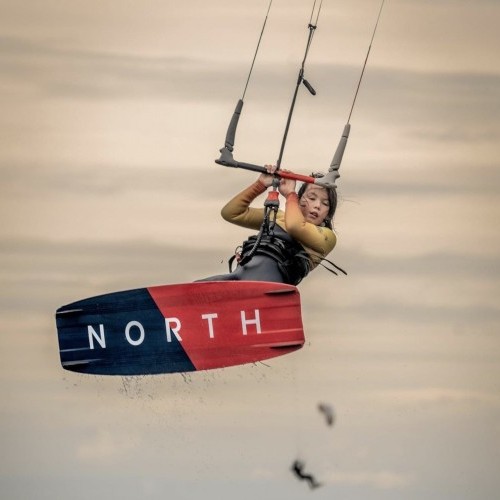 Up & Coming: Maxwell Dahl, 10
Features / Fri 28th May, 2021 @ 10:24 am
At only 10-years-old, this 4th grader has got his future kiteboarding plans laid out! Danish rider Maxwell Dahl recently got sponsored by North Kiteboarding, and local hero Nick Jacobsen has taken this grom under his wing. We got a chance to catch up with Maxwell and find out a little more about him. This kid is one to watch out for!
Maxwell, we're super stoked to have you join us in this feature of Up & Coming! Can you please give us a short introduction about yourself!
Thanks, I'm stoked to have this opportunity! I am 10 years old and live in Copenhagen, Denmark. I am in the 4th grade, and my passion is kitesurfing. I am the oldest of 3 kids and have two little sisters.
You're officially a North Kiteboarding team rider; how do you feel?
I feel proud to be a part of the North family. I think it is cool that North recognises and promotes young talents in the sport. It's awesome that I have the support of such a big international brand and that we can work together.
Tell us a bit about your gear choices. What equipment are you riding and why?
I must have the right gear that fits my size correctly, especially while still learning the sport. I ride the North Astra board. It is a good board for young and light riders since they make smaller boards, which fits me well. My kite choice is the North Orbit, and I use a 4, 5, 6, 7 and sometimes 8m. Of all the different North kites, the Orbit fits my riding style the best because I like Bigair and Oldschool, and these give me an easy anti-gravity boost straight out on the water and good hangtime. They are very stable and quick to respond, especially when I loop the kite. I have different Mystic wetsuits, but I really like my Marshall 4/3mm this time of the year. It is still pretty chilly up in the Danish waters. I ride the super light Stealth harness because it gives me instant feedback when I jump. And when I am not in the water, you can find me from head to toe in Mystic clothes.
How old were you when you first started kiting? Can you share your earliest memories?
I was eight years old when I took my first kitesurfing lesson. It was while I was living in Guadeloupe with my family. I remember being shy initially, but I learned quickly, and I could hold upwind within a week. My fondest memories and the best things about kitesurfing in the Caribbean are how warm, and clear the water is and how steady the wind is. I miss that especially living up in chilly Scandinavia.
We've some impressive video's of you riding in Denmark! Tell us about your favourite kite spot there!
My favourite spots are called Sanddoberne, translated as the "Sand Dunes" and Sydvest pynten or the "Southwest Point". Both spots have lagoons with flat, shallow water, and the wind is often good. Really beautiful landscapes surround the Sand Dunes, and even though it takes us more than an hour to get there, it's definitely worth it. My local spot at Sydvest pynten has a nice smaller lagoon but with enough open space to try new tricks. It's only half an hour away from Copenhagen, so that it can get really crowded sometimes.
Win a Custom Designed Ozone Twin Tip this issue in our FREE subscriber prize draw.
Nick Jacobsen must be a local hero! What do you look forward to most being mentored by him in North Kiteboarding's NextGen program?
I am so stoked to have Nick as my mentor. I admire his style, and I have been lucky to get some nice sessions with him. Now that he is officially my mentor in the NextGen program, I hope to get more time on the water with him and more advice on becoming a better kiter. He has a lot of experience in the sport, and I want to use this opportunity to learn as much as I can from him.
What is your favourite trick?
My favourite trick is the inverted front roll. I also love to jump over things, even though it is not really a trick. I think it's fun when I can combine tricks with jumps, especially over gaps.
What trick are you having the most difficulty sticking?
I am working on landing a high boogie loop. I'm not there yet but working on it, and for sure, Nick will give me some good advice and push me onto some more difficult tricks.
What are your long-term kiteboarding goals?
It's hard to imagine the possibilities now since I am only ten years old. But for now, I would like to explore the world and follow the wind, kiting at as many places as possible. One day, I would love to compete in Red Bull King of the Air, as the youngest rider!
Which professional kiter do you admire the most? Why?
Nick Jacobsen, of course! He has the coolest kiting style and has had so much success in the sport. Even though he is so well known, he is still down to earth and cool to everyone. I think it is awesome that he is actively promoting kitesurfing and supports young riders like me.
If you'd never discovered kitesurfing, where do you think you would be, and what do you think you would be doing right now?
I would still be going to school and probably playing another sport, maybe soccer. No other sport has caught my attention as kiteboarding has, so I'm glad that I found my passion. I started skateboarding this year, and I like to go to the skate park or skate around the neighbourhood with friends. I would also like to try snowboarding one day. There are no mountains in Denmark, so I haven't had the chance to try it yet.
When you're not kitesurfing, what are you usually doing for fun?
When there is no wind, I go down to the cable park to get on the water and work on my technique and jumps. I also spend time with my classmates at the after-school club by the water, where we can do many different water activities like sailing and kayaking.
If you could spend a season at any kite spot in the world, where would you choose?
I can't wait to go down and kitesurf in Cape Town, South Africa. I have heard so many good things from Nick and have seen the sickest pictures on social media. It would be amazing to have my whole family with me. My parents are supportive of me and would love to make it into a family trip. My dad also loves to kitesurf.
What's next for you? Any exciting plans for the next year?
I am visiting my mom's family in Los Angeles this summer and will turn 11 while I am there. I hope I'll be able to get a few sessions in while I am in California. As the world begins to open up again, I look forward to travelling more and discovering new spots to kitesurf. I would love to go back to Guadeloupe to where this adventure all started and surf the warm waters of the Caribbean. Hopefully, the trip we were planning on during last winter to King of the Air will happen this year. Other than that, no big plans, really.
Best of luck, Max!
Thanks, Jen 🙂
Fri 28th May, 2021 @ 10:24 am
Italian/Egyptian Jen Tyler grew up on the sandy beaches of the Red Sea and has been on the IKSURFMAG & Tonic Mag team since 2017.
Featured in this Post
Comments