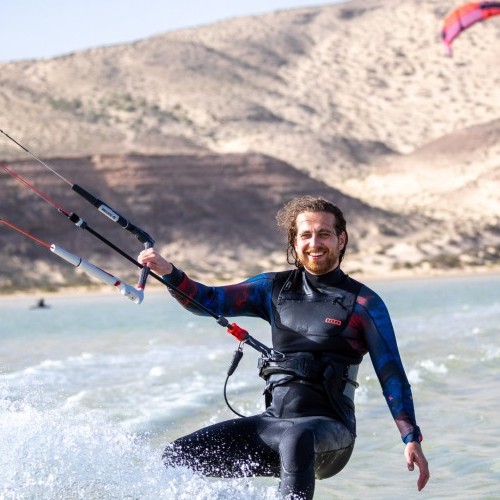 Progression Tools – Q&A with Patrick Dudek, Duotone Academy App Developer
Features / Thu 19th Aug, 2021 @ 12:00 pm
The way we learn is evolving as technology rapidly improves. Learning new techniques in kiteboarding has become easier and easier as more advanced resources become available. We've got progression on our minds, so we checked in with the team at Duotone to find out more about the Duotone Academy, one of the most brilliant – and FREE – tools out there for kiters looking to improve their skills! Let's hear from kitesurfer and app developer Patrick Dudek!
Patrick, when did you first dream up the Duotone Academy app?
In the process of our brand change from North Kiteboarding to Duotone Kiteboarding in 2018, we not only had to rebrand all of our products but also all our marketing channels. At that time, we still had the North Kiteboarding app, and it was immediately clear to us that we would turn it into the Duotone App.
We first did numerous analyses and tests and also critically scrutinized the app at that time and realized that we didn't do everything right with our old app. We probably wanted too much and lost focus a bit. With the Duotone app, we wanted to do better and focus on a topic that primarily offers our customers an added value and that they can only get from us. So we came up with the Academy idea relatively quickly.
What did Duotone think when you first brought it to the table?
From the beginning, the marketing team was fully behind this idea, especially because we all saw the additional technical potential that an app brings with it: Interactivity, connectivity, offline mode, GPS tracking, etc. Our CEO Till Eberle was initially quite concerned, whether the Academy theme would be sufficient to develop a whole app. In the end, we were able to convince him with our determination and potential. And today, I think he is very happy that he let us do it.
How long did it take to create it, and what was the development process like from your end?
We worked on the project for over one and a half years and were confronted with many challenges, mainly because there was nothing like it out there. In the end, we exceeded all expectations. For example, instead of delivering 60 video clips, we already filmed over 135 in the beginning, and now we have over 230 tricks!
One word that would describe the whole process very well is: Challenging. I took on the challenge as project manager and cultivated a team of passionate kiters with the technical skills needed to bring all elements of an app to life. From idea to implementation and finalization, we took ownership of the task and managed and developed the project completely in-house instead of handing it over to an external agency.
It was very important for me that the team members working on the app knew their role in the project, brought a passion for kitesurfing to the table and enjoyed seeing it come to life. It's safe to say that the Duotone app is made by kiteboarders for kiteboarders.
A big part of the process was discussions. Personally, I am not a big fan of discussions, as I would rather find solutions quickly to eliminate problems quickly. This is how I work most efficiently. However, discussions were, on the one hand, challenging for me personally, but also necessary to critically question my own ideas in order to create an app that meets all needs.
How has the response been to the Duotone Academy app?
With over 90,000 active users and 65 new registered users every day, we have definitely hit the nerve of the kitesurfing community. Every day, users ask questions about problems about certain tricks, which are answered by our experienced team riders and so-called Super Coaches, Aaron Hadlow, Lasse Walker, Jeremie Tronet, Colleen Carroll, Sebastian Ribeiro and many more. I don't know of anything comparable in the sports industry, where users can get help so quickly and easily from outstanding personalities and World Champions, from professionals in their disciplines. It's like Lewis Hamilton being your driving instructor!
It makes me personally proud and happy to hear that even our own team riders, who are professionals in their disciplines like Strapless Freestyle, Wave Riding, or Unhooked Freestyle, are using the app to get better in the other kitesurfing disciplines. Many of them wished they had an app like this when they started kitesurfing.
We are also in the process of launching the Wing Academy in the summer. Of course, some team riders have noticed this and are constantly asking me to see the first videos because they want to learn new tricks as soon as possible!
It's nice to see that not only beginners or advanced riders use the app but also our pros who want to improve in other categories.
Your own experiences in kiting must have been a source of inspiration for the Academy idea. Before the app, what tools did you use to progress your riding?
I think I am in a very lucky position to improve my kiteboarding skills. Even though I don't get out on the water as often as I would like to, due to our location in Munich, I have the best coaches around me. No matter if it is at meetings in Tarifa or privately on vacation. You are always on the road with better kiters who are always happy to give you tips and advice.
Tell us a funny or memorable experience about your own kitesurfing progression!
I remember very well when I did a kitesurfing course in Egypt. After a week, I could ride upwind and in both directions. I felt like a pro. After that, I was kiting in Fuerteventura, where the conditions were completely different with waves, gusts, and volcanic rocks. I felt like a beginner again. Nothing worked out. It was not funny, and I still have a scar as a souvenir of that time.
There, I realized that every new spot, every new trick, every new discipline is always a new challenge to overcome, where you always fail at the beginning but always improve in the end. That's the beauty of kiting. You always discover something new.
Read more about progression tools in the Invest In Your Progression article, featured in Issue 88 of IKSURFMAG.
If you haven't downloaded the Duotone Academy app yet, now is the time! It is 100% and a game-changer for those looking to progress their riding. Click here to learn more.
Editor at IKSURFMAG, Crystal Veness hails from Canada but is based in South Africa. When she isn't busy kitesurfing or reporting on the latest industry news for the mag, she is kicking back somewhere at a windy kite beach or working on creative media projects.
Featured in this Post
Comments