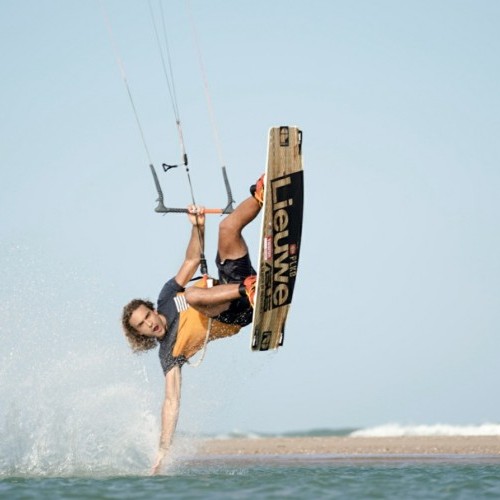 In Focus: Lieuwe Boards Product Overview
Features / Tue 4th Feb, 2020 @ 10:15 am
Founder Florian van Rije combined his passion for kiteboarding and technique and built his first board in a shed in his backyard! Today, the boards are made by a team of professional shapers in The Hague. Since the boards are handmade, every board is unique and catered to the wishes of the kiter. Interested in a Lieuwe board? Check out their product overview, right here!
10 Years of Handcrafted Custom Boards, the Lieuwe Way
"10 years ago, LIEUWE crafted his own kiteboard because he couldn't find the right one for him. Today, we look back on 10 years doing things the LIEUWE way. Ours usually isn't the easiest or the fastest, but we think the LIEUWE way is the right way. Your support from all over the world only fuels our determination to keep pushing. To develop the best board for everyone, without compromises. To raise the bar and never give up. To explore new heights and to say no to cutting corners. Especially when everyone else goes around them. At LIEUWE, we do everything to create that epic board that fits your unique performance and style."
Shotgun
The Shotgun is designed to ride fast, cruise comfortably and get some solid altitude. Its 3D shape and deeper channels provide for a grippy but playful board. Since the introduction of the WOO, our (test) riders have been able to back up their claims of pumping huge jumps, leaving us speechless and proud.
Our standard Shotgun is a Dark Blue board with a White rail. Want to make your custom design? Fill in the details and we'll contact you to go through the desired options, and will share a mock-up of the final design for approval.
Description
Lightweight
Channels
3D Wood-core
Ultimate Pop
Incl. Handle/Fins
Customisable to your wishes!
Excl. Lieuwe Pads, Straps
For the customization possibilities have a look at our artwork page.
For more information on Lieuwe Board's Shotgun, please click here.
Say No More
If you want to push your limits in kiteboarding and learn new tricks, you should have a Say No More. The round shape makes you able to land more tricks than ever before. The dynamic flex creates good up-wind performance and comfortable riding.
Description
Unbreakable
Advanced Channels
3D Sustainable Wood-core
Dynamic flex
Boot-proof
Finless riding
Incl. Handle/Fins
Customisable to your wishes!
Excl. Lieuwe Pads, Straps
For more information on Lieuwe Board's Say No More, please click here.
Awesome
When you start kiteboarding, you want a little extra volume that keeps you floating, a little push in the back that keeps you going upwind, a board that makes it all feel easy and give you a comfortable ride to make you feel like your king of the world! Here it is and it's awesome!
Description
Light Weight
Light wind Performance
3D Wood-core
Upwind Performance
Single Concave
Customisable to your wishes!
Incl. Handle/Fins
Excl. Lieuwe Pads, Straps
For more information on Lieuwe Board's Awesome, please click here.
Oceana
Aggressive and powerful style, we made sure that this rocker gets enough speed into your jumps. Yes, it's fast! The bottom shape is a great combination of channels and a concave to have a grip at the right places. Our newly designed channels and concave on the bottom surface of the Oceana, alongside the thickness of the wood, contribute to the high stiffness of the board while keeping it light and super strong.
Ruben Len10 always preferred wide tips and A-symmetrical fins for great powerful takeoffs and controlled landings.
Description
Personal Adjustments
We want to give you the best service possible. Before we start producing, we double-check what you want and think along with you to make you the best board. We adjust the pads & straps, colours, size and fin-size as needed.
Gold Level Eco-board
The best things about this project are that we partnered up with Sustainable Surf, who helped us create the world's first gold-level Eco-board. By choosing wood from a sustainable source, using greener resin and reduce, reuse and recycle our production waste.
All Round High-Performance Freestyle
Sustainable 3D Wood Core
Lightweight and Strong
Advanced Bottom Shape[
Hyper-Flex rail
Protective grind base
Including 30mm or 45mm A-symmetrical fins
For more information on Lieuwe Board's Oceana, please click here.
Our Legendary Shotgun – Now Customisable for FREE!
Ten years ago, LIEUWE crafted his kiteboard because he couldn't find the right one for him.
Without your support, we would never have become the most respected custom kiteboard brand in the world. To return the love, we're super proud to present our custom Shotgun – Limited Edition designs.
So match your performance and style with our free customisation options (worth € 400,-) and send it your way.
Countless riders trust our Shotgun to take them to new heights and better rides. No wonder this legendary Big Air and Freeride machine was our first love and still is our best selling board worldwide. Just 100 shotguns will be crafted with one of these 10 Limited Edition print designs and even can be further customised. So get your hands on one of these beauties and ride your LIEUWE this summer! Find out more right here!
Rogue
The Rogue is designed to boost your level of riding to a higher state. Whether you just started or trying to do your first tricks, the Rogue will get you there! It emulsifies your status quo and your' next to master trick'. The Rogue is an extremely playful board and good fun to ride with. The added flex enables the Rogue to be extra forgiving while landing.
Description
Lightweight
Channels
3D Wood-core
Ultimate Pop
Incl. Handle/Fins
Customisable to your wishes!
Excl. Lieuwe Pads, Straps
For more information on Lieuwe Board's Rogue, please click here.
The Flying Dutchman
The Flying Dutchman is playful, yet stable, extremely accessible, easy to assemble and perfect for anyone looking for a foil to further develop their skills! The Flying Dutchman has been developed to ride smooth, silent and effortless during low wind conditions and has the perfect balance between high speed, balance and agility. With a well-thought design and use of only the best materials, we were able to create a foil that allows you to glide smoothly on top of the water as if you were standing on a flying carpet!
Description
Sustainable (FSC certified 3D shaped Wood Core)
Light Wind Performance (5-25 knots)
Fast lift and good control
Intermediair Foil
Easy assembly
Thin shaped ABS rail
Sustainable Epoxy and Glass Fiber Lay-Up
Comfy ABS pads with tons of grip!
The board is exclusive:
Aluminum Fuselage, mast and Wing
Standard advised 90CM Mast or optional 60 CM Mast
Foil Straps
For more information on Lieuwe Board's The Flying Dutchman, please click here.
Junior
The Junior has been tuned to be very predictable and forgiving to boost the skills and development of young riders. Yet, the smooth and consistent rocker enables an easy pop for jumps or during the performance of tricks. The board rides steady and feels exceptionally comfortable, giving the young shredders room to establish confidence to progress and develop their skills. As the Junior is an all-round board, it supports and stimulates the riders to try different disciplines to find the right match for them. Aside from this, we designed pads and straps, especially for small feet.
Description
3D Sustainable Wood-core
Thin shaped ABS rail
All Round Performance
Comfortable riding
Kids Friendly pads and straps
Incl. Handle/Fins
Customisable to your wishes!
Excl. Lieuwe Pads, Straps
For more information on Lieuwe Board's Junior, please click here.
For more information on Lieuwe custom boards and designs, please click here.
Tue 4th Feb, 2020 @ 10:15 am
Jen Tyler grew up in the chaos of Cairo, Egypt. It was on the beaches of the Red Sea where her love for the ocean, water sports and adventure grew.
Featured in this Post
Comments