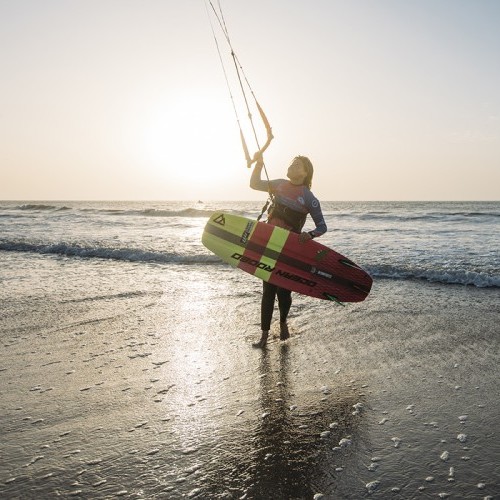 Team Ocean Rodeo head for Brazil!
Thu 14th Nov, 2019 @ 2:00 pm
The final Kite-Surf event of the 2019 GKA calendar is now on out in Preá, Brazil and our riders are ready to continue their incredible levels of performance shown across the events this year, culminating in a genuinely thrilling performance in Dakhla last month.
Carla Hererra Oria hasn't stopped since Dakhla (as well as training, she's been building her new website in her mid-comp downtime!) and will be looking to score high despite being set to take the crown in the women's division for 2019, while teammate Frances Kelly – currently sitting in 4th position on the tour – will also be looking to take a podium slot in this final event.
Meanwhile, all eyes are on Reece Myerscough in the men's event to see if he can repeat or even better his mindblowing run in the single elimination's in Dakhla, beating Airton Cozzolino and taking on Mitu in the finals. Tour rookie Graham Harney will be looking to carve his name nice and high too in this final event as he rounds off a fantastic first year on tour, and Luke Millard will also be looking to place high as he sees out a superb 2019.
Following the event in Preá, eyes will shift to Cumbuco where Ocean Rodeo rider Juan Rodriguez will be looking for a good placing at the last freestyle event of the year, also rounding off his first full year on the GKA tour where he's left his mark as a serious podium contender for 2020.
Good luck, team!
Make sure you tune into the GKA live stream, right here!
Win an Ocean Rodeo 2020 kite!
In case you missed it! We're currently running our easy-to-enter competition in which you can win the same model kites used by Ocean Rodeo team riders Carla Herrera Oria and Reece Myerscough on their stellar GKA Kite-Surf World Tour campaign, as well as winning their signed GKA competition jerseys from the current World Cup in Brazil!
To be in with a chance to win a brand new CRAVE or PRODIGY in a size of your choice, all you have to do is this:
1. Follow these Instagram accounts…
@carlaherreraoria
@reece_myerscough
@oceanrodeo
2. Head here and subscribe to our mailing list (If you're already subscribed, please sign up again using the form on the page, so we know you've entered!)
That's it! The competition closes on December 15th.
You can also check out our pre-Brazil interviews with Reece and Carla (and find out the tactics they're taking into the water!
Photos: Ydwer van der Heide / GKA
To view all Ocean Rodeo products, please click here.
Featured in this Post
Comments