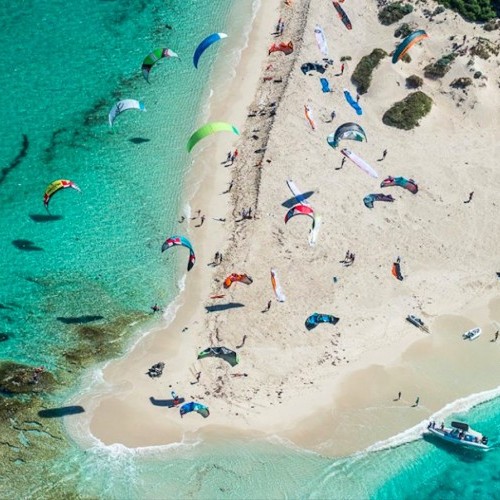 Red Bull 2018 Lighthouse to Leighton Race
Wed 5th Dec, 2018 @ 11:00 am
135 kiteboarders from Perth, across Australia and around the world will be aiming to beat the record of 19 minutes 3 seconds set in 2016. In favourable weather conditions, the racers will be faster than the Rottnest Express ferry, and winds are looking great for this weekend!
What do a Rottnest ferry skipper, farmer, submariner, IT specialist, beekeeper, photographer, sparky, student, geologist and orthopaedic surgeon all have in common? They all love wind and water, and will be competing in this Saturday's Red Bull Lighthouse to Leighton kiteboard race! The 9th annual event – a 19km race from Rottnest Island to Leighton Beach Fremantle – is on Saturday 8 December.
The #1 Kite Boarding Race In The Southern Hemisphere.
Come to Western Australia in 2018 for edition # 9 of Western Australia's Red Bull Lighthouse to Leighton. This year 135 competitors will be given a chance to take up the challenge of the 2018 Red Bull Lighthouse to Leighton, bragging rights and a stake in the prize pool.
The race is scheduled to take place on Saturday 8th December 2018, with a first reserve day of Sunday 9th December, and potential start time from 14:00hrs. A crossing time of between 20 and 30 minutes is expected for the winner depending on conditions.
Competitors travelling from Interstate and Internationally are encouraged to book flights and arrange travel plans that permits them to race on any of the proposed dates, below. This is a new addition to the Notice of Race to ensure the race is staged in typical Western Australian Summer pattern weather conditions. That is to say with 'a classic coastal sea breeze of between 15 to 25 knots from a South Westerly direction.'
Additional Reserve Days are scheduled for Saturday 15th December and Sunday 16th December in the event of insufficient or too much wind on either the 8th or 9th December.
Prizes and trophies will be awarded to the male and female winners, runner-up and third place and for the top placed Twin Tip racers.
Red Bull has supported the race with fantastic cash prizes:
Equal prize money for Open male & female racers: 1st $750; 2nd $500; 3rd $250 for each gender.
Twin Tip Division for male & female racers: 1st $500; 2nd $375; 3rd $250 for each gender.
The value of the cash prizes totals $5,250.
The value of the trophies exceeds $4,000.
On the morning of the race, all competitors will meet at the Rottnest Express Rous Head Port and enjoy a leisurely ferry crossing – thanks once again to Rottnest Express – to Rottnest Island with an ideal opportunity to familiarise yourself with the Gage Roads race course.
At Rottnest Island, a full safety briefing and the issue of two smoke flares will commence around noon, with a start scheduled for 14:30 (14:00 is the earliest start time if required due to stronger winds).
Riders will include:
Guy Bridge – 19, from Devon, UK – 2018 Kitefoil European Champion, 2018 Vice World Champion, 2018 Hydrofoil Pro Tour Champion.
Mani Bisschops, 18, from Nedlands WA. Mani is a 2018 Olympic Youth Team Representative, and Australian Kitefoil Champion in 2017 and 2018.
Holly Bendall – The 25-year-old from the UK has been a sponsored freestyle BMX rider, surfer and snowboarder and is now working towards making it into the Great Britain Olympic team for kite foil racing.
Shannon Ducker, 42, Innaloo WA – a multiple state champion in freestyle and wave kiteboarding.
Alty Frisby, 46, from Samson WA. Alty was WA Course Racing Champion in 2016 and 3rd in 2017 & 2018.
Christina Gaudieri, 37, from Beeliar WA, a past Australian Freestyle Champion, and currently the WA State Title Champion.
Dr Phil Rowlands, 51, Duncraig WA. Has raced in all nine events and come third twice, so he wants to be in first this year.
Jonathan Steel, 43, Sydney – won the 2018 Slalom Racing and Big Air competitions at Sand and Sea Jervis Bay, NSW.
For more information on the 2018 Red Bull Lighthouse to Leighton, please click here.
Featured in this Post
Comments