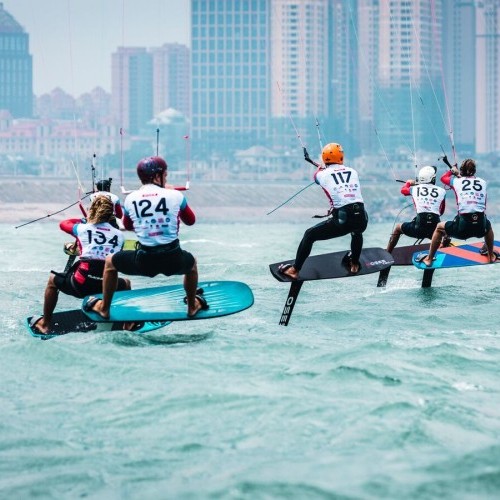 2018 IKA KiteFoil GoldCup World Series, Pingtan – Day 3
Fri 14th Sep, 2018 @ 9:00 pm
French Pair Mount Strong Challenge in Tough Conditions at China KiteFoil Tour Stop
The French duo of Théo de Ramecourt and Axel Mazella launched a concerted assault on the top of the leaderboard in a day of startlingly-fast racing at the KiteFoil World Series in Pingtan, eastern China. De Ramecourt and reigning KiteFoil GoldCup series title holder, Mazella, moved up the order to second and third overall respectively as both notched up consistently high-placed finishes in the challenging breezes blowing over the East China Sea track at up to 23kts. Mazella, in particular, was on a charge towards the close of day three of the International Kiteboarding Association (IKA) World Series' tour stop, landing a bullet, two seconds and two thirds in the six races over three laps of the windward-leeward course.
But neither of the pairs could touch Monaco's Maxime Nocher, whose pace and ability to avoid trouble, put him in a class of his own. On the two days of racing the multiple world champion has landed a remarkable nine wins from 10 races. His only blemish came in the day's fourth race when his 9m foil kite collapsed and went down in the punchy conditions, and he could only finish down the order. No matter, he was able to discard the score along with another bullet, such is his near-flawless performance. Nocher now sits in pole position going into the final day of racing looking to land back-to-back victories at the opening two stops of the IKA World Series in China after a win at Weifang Binhai last week.
The Monegasque racer appears back to the form that landed ten world titles and is on track to grab the IKA KiteFoil World Title that will be awarded to the best athlete on the globe-trotting four-stop tour. Day three of the competition, the centerpiece of the 2018 Pingtan International Kitesurfing Festival, saw the wind quickly freshen from 16kts to more than 20kts forcing most of the 27-strong fleet from 15 countries to change down from 11m kites to what was for many unfamiliar 9m kites. In the bigger winds and growing seas, Britain's Connor Bainbridge could not match his early promise and posted a number of finishes down the order that saw him fall from second overall to fourth.
Russia's Elena Kalinina, part of the small group of women competing among the strong field of men, also slipped slightly in the rankings. But in the tough conditions, she easily maintained her lead over the other women. By contrast, Nocher was utterly dominant. He led almost every race from start to finish, leaving the chasing French pair of de Ramecourtand Mazella sparring for the second overall spot. "I would like to get the second spot from Théo de Ramecourt," said Mazella. "It was a really good day for me. My ankle ligament injury is feeling a bit better, and I really like these conditions with strong wind and waves. I also like my 9m kite and feel confident with it. I saw others have problems with their kites in the last race."
But de Ramecourt was equally pleased with his showing. He took a run of four-second spots and sits just behind Nocher despite his kite stalling and collapsing in a big gust in the day's final race. "I had really consistent second places, so I'm happy," said de Ramecourt. "This is the first time I've used the 9m kite. It was really tough at the end. The wind really picked up, along with the waves. I don't train in these conditions, so second overall is good."
Top three men after ten races(two discards)
1 Maxime Nocher (MON), 8.0pts
2 Théo de Ramecourt (FRA), 20.0pts
3 Axel Mazella (FRA), 23.0pts
Top three women after ten races(two discards)
1 Elena Kalinina (RUS), 97.0pts
2 Kirstyn O'Brien (USA), 154.0pts
3 Natalie Flintrop-Clarke (AUS), 171.0pts
To view the full results, please click here.
Text Credits: Ian MacKinnon
Photo Credits: Alex Schwarz
Comments