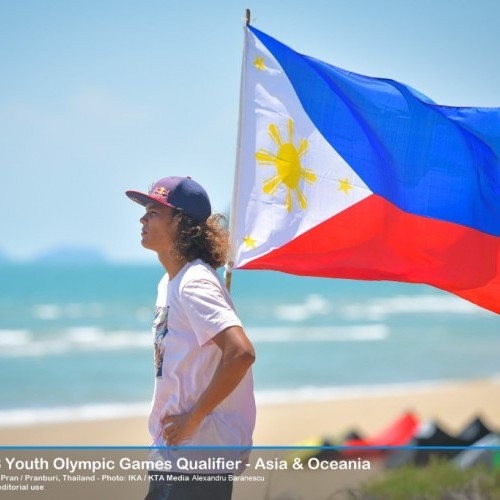 Philippines, China, Australia And New Zealand Grab Coveted Youth Olympics Berths
Mon 19th Mar, 2018 @ 12:00 am
The Youth Olympic Games qualifier event for Asia and Oceania has come to a close, and four riders have earned invites to the Youth Olympic Games in Buenos Aires, Argentina — an event that will take place in October of this year. Kiteboarding, for the very first time, will be contested at the Youth Olympic Games. To find out who won the Asia and Oceania qualifier and for more information about the final qualifier, continue reading the news below from the International Kiteboarding Association.
The Philippines' Christian Tio secured an inaugural kiteboard racing spot for his country at the upcoming Youth Olympic Games (YOG) in the tight Asia boy's qualifying group, fought out on the Gulf of Thailand's peerless waters.
But in the end, after five frenetic days of thrilling competition in the TwinTip:Racing (TT:R) slalom discipline, with the lead continually changing hands, 17-year-old Tio stretched his lead to win comfortably with assured and consistent performances over the final two days.
"It's been a tough week," said Tio. "It's been a goal to get to the Olympics and we've been waiting for kiting to get in to the Games for some time, so it feels pretty good to qualify and have the honour of representing my country. Now that I'm it, I'll do my best to win it."
By contast, China's Jingle Chen, reigning International Kiteboarding Association (IKA) TT:R Slalom World Champion, was so dominant in the girl's Asia division that she was able to sit out the final day's last few races and still coast to victory overall with a comfortable margin.
Yet she is already looking forward to what she will knows will be harder tests at the forthcoming TT:R Slalom Youth Worlds and the Youth Games in Buenos Aires, Argentina in October, and is preparing to knuckle down to even more intense training.
"The Olympics are so important to me, so I'm happy to be going," said Chen, 17. "I'll have to train hard. I was up against the European girls in Italy last year, and they're very fast."
In the Oceania boy's group, seasoned kitefoil racer Mani Bisschops enjoyed a similarly dominant role, rarely putting a foot wrong and winning almost every one of the division's 20 races to take the regional berth.
"I'm stoked to get the spot," said Bisschops. "The Olympics is so prestigious, and now kiting has made it in. To be one of the first people going is amazing. I've always looked up to people who made it to the Olympics."
Racing novice Pia Kitchin Gordon (NZL), the sole Oceania girl's entrant, was competing  among the tough, mixed fleet of boys and developed in bounds. She bagged the Oceania girl's spot by virtue of competing.
Yet the iconic kitesurfing Youth Olympics Qualifiers, being organised by Kiteboard Tour Asia (KTA) and the Kiteboarding Association of Thailand (KAT), were filled with five nerve-jangling days of racing that showcased the TT:R Slalom format specially-developed for YOG at its finest.
With just four YOG spots available—two for boys and two for girls each from Asia and Oceania—the competition was bound to be intense. Another eight of a total of 24 spots available had already be allocated in qualifiers in Cabarete, Dominican Republic, and Dakhla, Morocco.
But it was the Pranburi qualifier's Asia boys' division that threw up the most enthralling battles, with local favourite, Sarun "Nai" Rupchom (THA), leading the standings and looking tough to beat over the opening days.
In the last two days, though, as the breezes moderated from the perfect 20kts of the opening days, Rupchom's challenge went awry as the pressure seemed to get to him and he suffered several disqualifications for crossing the startline early.
The mistakes cost the Thai rider dearly and he finished third overall, overhauled by China's Haoran Zhang, another early leader. Zhang's gritty performances kept him in the hunt and he took the second step on the podium.
Both Rupchom and Zhang will be looking to set matters right when they go to the IKA TT:R Slalom Youth Worlds in Hainan, China, in May, when the last eight YOG places will be on offer for those who top the standings.
Top three boys Asia division (after 20 elimination rounds, four discards)
1 Christian Tio (PHI)                           26pts
2 Haoran Zhang (CHN)                       34pts
3 Sarun Rupchom (THA)                    41pts
Top three girls Asia division (after 20 races, four discards)
1 Jingle Chen (CHN)                           16pts
2 Kewen Li (CHN)                               32pts
3 Nichanan Rodthong (THA)               43.3pts
Top three boys Oceania division (after 20 races, four discards)
1 Mani Bisschops (AUS)                     16pts
2 Aaron Kenny (AUS)                         31pts
3 William Barlette (AUS)                     54pts
Top girl Oceania division (after 20 races, four discards)
1 Pia Kitchin Gordon (NZL)                    53pts
Full results, all elimination series results, and live scoring at twintipracing.com.
YOG qualification events:
North and South America: Cabarette, DOM, 15-20 January 2018
Europe and Africa: Dakhla, MAR, 20-25 February 2018
Asia and Oceania: Pranburi, THA, 13-18 March 2018
2018 TT:R Youth Slalom World Championships: Boao, CHN, 03-08 May 2018
Comments