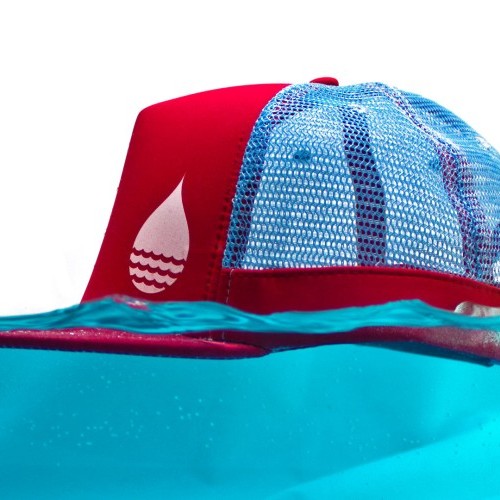 The Buoy Wear Floating Hat Is Here!
Tue 21st Nov, 2017 @ 12:00 am
From now on, you don't have to worry about the guilt and disappointment of letting another hat sink to the bottom of the sea. Bouy Wear is excited to introduce a new line of floating trucker hats. Find out all about these fashion-meets-function hats by reading the details, provided by Buoy Wear.
Constructed 100% of waterproof parts, Buoy Wear promises their floatings hats will never sink, making them a favorite accessory for all water sports– kiteboarding, wakeboarding, surfing, SUP, sailing, and fishing.
Buoy Wear customers can now rest assured they will never lose their hat while participating in their favorite water sport. The company, created and operated by globe-trotting water sports enthusiasts, is on a mission to invent exceptional looking floating hats that can be worn all day, every day, on and off the water. Their hats combine sun/water defeating functionality with surf-to-turf style. Now available in five color combinations, Buoy Wear customers can seize the day wearing a single hat.
Buoy Wear hats help provide much-needed protection from harmful sun rays, always float, and are backed by company promise that with proper care, their hats will maintain their stylish shape even when assaulted by water. The patent-pending technology and features behind these hats include construction with materials that are waterproof, lightweight, antimicrobial, anti-rust, and quick dry.
These hats are in no way your typical trucker hat. All features have been designed specifically with the water sports enthusiast in mind. Made with love, and available in color combinations suitable for both men and women. Buoy Wear hats can effortlessly transition from any watersports activity to a friend-filled pub night, looking stylish at every moment.
"After years of losing dozens of hats to the water while kiteboarding, I was surprised upon searching that I couldn't find a hat that would float. I also travel a ton, so I needed a single hat that would work both on and off the water. Once I started asking around, I found most of my friends shared similar pains." said John Ruffing, Buoy Wear's Co-founding Partner. "After several years of prototypes and testing, the Buoy Wear floating hat was created. For me, it's a lifestyle accessory, not just a super cool hat."
These hats are quickly becoming a favorite water sports accessory with positive reviews from kiteboarders, fishermen and those who love to SUP. A must-have item if you love spending time in the water.
"Great hat. Floats way better than any others I've tried. Only actually fell off one time in a crash kiting. Stayed on my head through several others. Had to take it off and toss it to test recoverability. It's super easy to spot!" said Kynan Stevenson, Buoy Wear customer
Available in five colors from eye-popping brights to urban mutes, with gray and camo models recently introduced to the line. Hats retail for $30 USD online at buoywear.com.
Featured in this Post
Comments