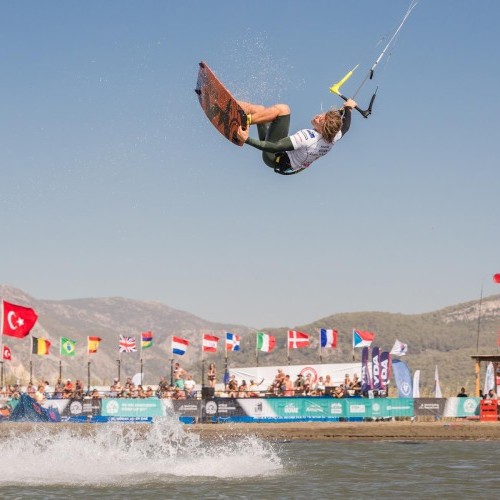 2018 WKL Amarok Kiteboarding World Cup – Day One
Sun 8th Oct, 2017 @ 12:00 am
The World Kiteboarding League has descended on Akyaya, Turkey for the third stop of the 2017 freestyle world tour. On day one, light but contestable wind greeted the riders, and the first four heats of the contest were finished. Advancing out of the first round were many of the sports big names, including Alex Neto, Liam Whaley, Set Teixeira and Carlos Mario. Continue reading for a trick-by-trick recap, provided by the WKL. Check back for more updates throughout the week. Photos by: Svetlana Romantsova.
The WKL are delighted to be in Akyaya, the beautiful and unique town located in south-western Turkey. The event is being held at the stunning bay of Gökova, where its reliable thermal winds have been blowing consistently every day since the WKL team arrived.
This is the third Elite League Event of 2017 and this stop sees 22 men and 13 women registered, from over 13 different nationalities.
The skipper's meeting was held at 10am and the event got underway at midday as the thermal winds started blowing. Men's Round 1, Heat 1 was first to kick off the event. Set Teixeira from Brazil stormed his way through the heat, landing an impressive array of tricks including a huge Front Blind Mobe. Former World Champion Alex Pastor from Spain followed him through to Round 3 landing a grabbed KGB 5 amongst his other well scoring tricks.
For Heat 2, Brazilian rider Alex Neto stole the show. He landed a nice KGB 5 scoring him 7.27 and an equally good Double Heart Attack. Former World Champion Youri Zoon from the Netherlands managed to squeeze his way into 2nd position, even though he was frustrated with the light wind conditions. He still managed to land 4 high scoring tricks, which pushed Nicolas Delmas from France down to 3rd, even though he rode incredibly well throughout the heat.
Heat 3 saw the athletes taking solid advantage of the increasing wind conditions. Luis Alberto Cruz from the Dominican Republic started with a huge 317 and rode a good heat, but it was not enough to put him in the top two. Former World Champion Liam Whaley from Spain managed to overcome his recent back injury and ride a truly impressive heat that included a Backside 317 and Double Heart Attack, taking the win and advancing to Round 3. His Cabrinha teammate Arthur Guillebert from France will be joining him after performing extremely well, landing a Backside 317 and Double Heart Attack of his own.
Heat 4 was the last heat to be completed for the day, and it was our current WKL Champion Carlos Mario from Brazil who remained fully on course throughout his heat, landing huge tricks including a Heart Attack 7, a massive Front Blind Mobe and a Frontside 319, and even managing to emerge from the water with his hair still dry. Val Garat from France defended his second position and was also extremely happy to advance directly to Round 3 after riding a very competitive heat.
All of the action throughout the day was live-streamed on our Facebook page and website, with Bas Koole and Lewis Crathern keeping the audience entertained and informed with their commentary.
worldkiteboardingleague.com
Featured in this Post
Comments