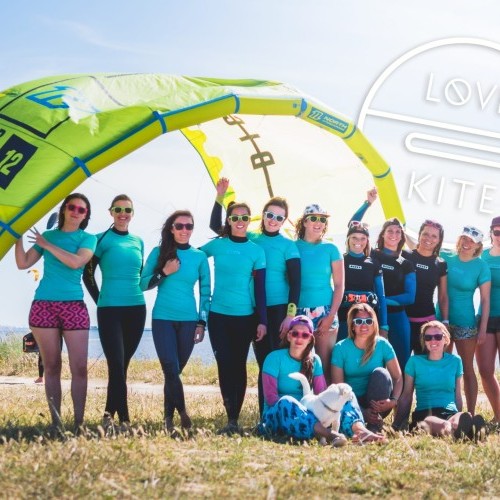 Girls Kite Camp By Love2Kite: Powered By ION And North Kiteboarding
Fri 19th May, 2017 @ 3:00 am
The ladies at Love2Kite.com had a fabulous time pushing progression in Lo Stagnone, Sicily at an all-female camp that finished last week. Women converged from all over Europe for this opportunity to get inspired, improve their riding, practice yoga and explore the Italy. Read the story below, written by Agata Dobrzynska, with photos by Gregor John.
Together with Francesca Bagnoli, we organized Girls Kite Camp last week in the northwest of Sicily – Lo Stagnone. For five days, 13 girls from around Europe came to improve their kitesurfing skills in a fun, positive and 100% girly environment. This camp offered much more than just kitesurfing. During these five days, we had a lot of fun together on and off the water!
THE TEAM
Agata Dobrzynska
Co-founder of Love2Kite.com
International Ambassador of ION
Beginner/Freestyle Coach
Originally from Poland
Agata has been traveling around the world for the last 3 years, chasing the wind and sharing her passion to kitesurfing. Her dream is to combine passion with traveling the world. After years of kitesurfing and working as a kitesurf instructor, she has a lot of teaching experience. For Agata, to have fun on the water is the most important thing.
Francesca Bagnoli
3x Italian Champion
Freestyle Coach
Italian freestyle rider. This year, Francesca joined the North Kiteboarding International Team. For her, nothing is impossible. Francesca is full of energy and positive vibes. Riding with her is a pure fun, and it's so good to have Franci on the team.
Our very first Girls Kite Camp went much better than we expected. Thirteen girls from Italy, France, Germany and Poland joined the event. They were each at a different level, from beginners who wanted to start riding upwind to advanced girls who were going for unhooked freestyle tricks. Two girls managed to land their first raley to blind, which, in only five days, is a great success. We are so happy to see all these girls fully motivated to improve their kitesurfing skills with us.
Our daily schedule was simple. We started with a morning yoga session to kick start the day and warm up before hitting the water. Coaching was divided into 2 sessions of 1.5 hours, one in the morning and the other after lunch. Of course, the ladies were encouraged to practice on their own outside of the coaching hours, and we were happy to see them fully motivated. The weather was in our favor and the girls were spending as much time as possible on the water.
The last day, we decided to slow down and chill. This was the best time for some sightseeing around the lovely neighborhood. We were easily lost in the narrow, old Sicilian streets for the day, and we simply enjoyed it.
One woman can make a difference but together we can rock the world. Kitesurfing is not just about riding, it is about sharing the fun with the others, and this is why we love to organize camps. It is easy to get bored if we kite on our own, but if we bring a couple of girls and ride together, show them new tricks and have fun on and off the water, this is the true power of kitesurfing.
Thanks to our official sponsors for supporting us during the camp:
ION
North Kiteboarding
Ozed Eyewear
Featured in this Post
7,906
126,943
12,673
Comments