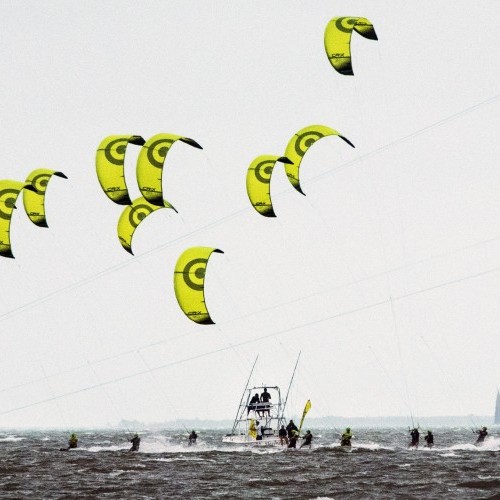 NeilPryde Expands Its One-Design Program Into Kite Racing
Wed 23rd Nov, 2016 @ 3:00 am
Win a Ride Engine Technical Changing Robe this issue in our FREE subscriber prize draw.
CR:X, the first one-design class to hit the kiteboarding world, is a new offering that was just released by NeilPryde. The CR:X is a complete package of kiteboarding race equipment. The 3-kites, convertible board, control bar, and pump all fit into a 145cm travel bag. NeilPryde provides all the details about the CR:X class, below.
NeilPryde is delighted to announce the expansion of its one-design program into kite racing with the introduction of CR:X, the world's first one-design kite racing class.
The CR:X is an innovative, versatile kite racing platform that features a convertible board which may be switched between twin tip and foil mode. The choice of multiple modes means that the same set of equipment can be used by beginners and advanced foil racers, and in a wide range of weather conditions.
NeilPryde's mission is to create a community of kite racing enthusiasts of all levels and abilities and enable them to race on a level and affordable playing field.
"We are very excited about this project," said Mike Raper, NeilPryde One-Design Kites Division Manager. "NeilPryde has a long heritage in racing and one-design classes, being the supplier to World Sailing and the Olympic Games with its RS:X windsurfing class and 49er and 29er sailing classes."
"In November 2015 NeilPryde attended the annual World Sailing conference as one of the equipment suppliers. We presented a series of ideas for delivering solutions to World Sailing for the evolution of windsurfing and formats for including kiteboarding within the existing World Sailing events framework, including the Youth Olympic Games and the Olympic Games. As a result of the positive response to these ideas, we then developed both the CR:X one-design class and the RS:X Convertible windsurfer," added Raper.
The CR:X has been officially approved by World Sailing as a recognised WS Class, subject to fulfilling regulation 10.2.1(d) at the mid-year meeting in May 2017.
The CR:X is easy to use, safe and lightweight. With a full set including three kites weighing in at 25 kg, it's the world's first Class that you can easily check in at an airport. This unique feature opens up opportunities for international competition.
Unlike ram air kites, the CR:X is able to boat launch or water relaunch from clubs and locations that have been restrictive until now. The CR:X is the ultimate pathway and feeder class for World Sailing.
The CR:X features a three-strut kite that comes in three sizes, one control system and the convertible kiteboard. This all fits alongside an HP pump into a 145cm airline-friendly travel bag. The CR:X covers a wide wind range, from 5-30 knots, ensuring racing can happen in almost all conditions. The class has been created to provide a pathway for aspiring athletes towards higher performance racing.
The full CR:X pack consists of:
Kites: 7m, 10m and 13m
Control system: 55cm
Convertible board with fin and foil sets (including pads, straps, handle)
Pump and custom made 145cm travel bag
Pricing:
CR:X Kite only (with kite bag) = 13m US$1321; 10m US$1216; 7m US$1099
55cm Control System (with leash) = US$418
145x45cm TT board only = US$523
TT Binding Kit complete, Pads, straps, fins, handle (XB0TTBNDG) = US$166
Foil Kit complete, 95cm Mast, fuselage, wings, straps (XB0FOILCP) = US$733
High-Performance Pump = US$41
STARTER PACK PRICE: complete with 13m kite + Control System + Board + TT Bindings + Foil kit + Pump + Travel Bag = $3296
3-KITE PACK PRICE: complete with 13m/10m/7m kite + Control System + Board + TT Bindings + Foil kit + Pump + Travel Bag = $5470
We are extremely excited about the launch of the CR:X. We believe the CR:X is positioned perfectly to grow participants in kite racing. We hope you can join us in supporting future generations of kite racers.
Comments