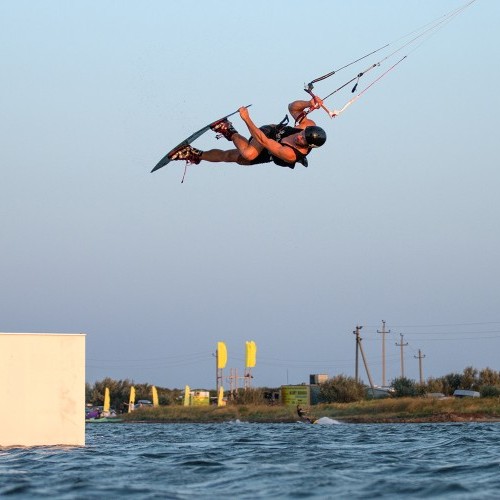 Victory In Rail Masters Kite Jib Contest 2016 Stays Kuban!
Thu 1st Sep, 2016 @ 3:00 am
The Russian jib scene is booming! Here's a recap of the 2016 Russian Rail Masters, a grassroots Kite Park League event that took place in the Kuban region of Russia. Don't miss the teaser video and results, provided by Russian Rail Masters, that follow.
The 25th of August was the final day of the Rail Masters Kite Jib Contest of 2016, held on Bugazskaya spit (40 km near Anapa, Kuban region). This competition gathered the best Russian riders and showed how much the level in kite-jib riding has increased over past few years.
Wind conditions kept uncertainty high throughout the competition period. The toughest Russian riders engineered and built a new obstacle the "Russian Double Drobovik" from the available material. The wind came on 20th of August and let the riders shred, not just on the new toy in the park. Everyone showed high quality and technical tricks on all four obstacles in the Rail Masters park! Due to our limited windy period, in one day, we decided to change our judging system to let us hold the entire competition on one day.
The 9 riders were divided into three groups. Each group was given 15 minutes (one heat) by the head judge Egor Morozov, to show all their best tricks on one feature. So all the riders had opportunity and time to show their skills on all the obstacles in the park. Each trick was scored by points, with the three best tricks scored for each rider in the heat, and the winner was the one who collected the most points.
Here are the results:
1 place – Ilya Iskhnopulo – Anapa – Liquid Force, Quiksilver Russia
2 place – Alexandr Minov (1 place in RM15) – Sochi – Airush, Ion
3 place – Anton Uzhegov – Perm – North kiteboarding, Dakine, Picture Organic
4 place – Sergei Belmesov – Solnechnogorsk – Alride boards, Tsunami crew
5 place – Denis Usov – Moscow – Nobile, Shaka
6 place – Gennadiy Kirillov – Anapa – Cabrinha
7 place – Sergei Schalucho – Surgut – Nobile, Shaka
8 place – Ivan Kudryavtsev – Volgograd – Idikatay
9 place – Alexei Leonchik – Anapa
All the riders included in Russian Rail Masters will be scored by the international KPL (Kite Park League), allowing them to participate in future KPL events. We congratulate all the participants and thank the sponsors for their support.
Sponsors of the event:
– CABRINHA- Russia – kiteboarding equipment
– SHAKA brand – apparel
– VERTIGO SPORTS – Russian Cables and obstacles
– OPEN WATERS – local Kite school
– KOBOBAR – local Bar
– SURF LODGE – local guest house
All photos by: Ksenee Burunova
Facebook.com/RailMastersKiteJibContest/
Comments