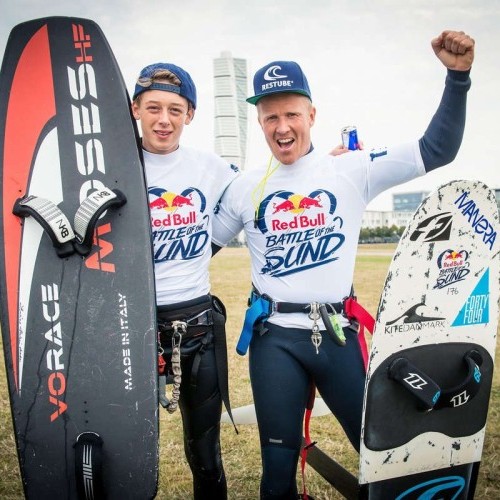 Danish Domination In Öresund Kitesurf Marathon
Fri 26th Aug, 2016 @ 3:00 am
The Red Bull Battle of the Sund saw kitesurfers race between Sweden and Denmark, covering a distance of roughly 40 kilometers. James Johnsen from Denmark was the champion. Red Bull Media House provides details about the race, below.
The airspace outside Malmö was filled with hundreds of kites as the start signal of Red Bull Battle of the Sund ripped through the air on Saturday. The fastest man across the Öresund strait and back was James Johnsen from Denmark. Complete results list and GPS tracking data is available at: http://bit.ly/2b6GIZx

Johnsen, racing in the faster open class, managed the 40-kilometer straight line course in 1:05:10.
It was a good day. I wasn't the quickest off the start grid but I could leverage the down wind up to Flakfort island and could catch the leader who got into trouble at the turning point. After that I could keep the others behind me, said James Johnsen.
In the end, Denmark claimed not only the top place but all three podium positions. Fifteen-year-old talent Oliver Hansen from Holbæk was part of the top three from start to finish and came second. Jan Blæsild was third, also he from Denmark.
The fastest woman on the Öresund waters was Katja Roose from Holland, finishing the distance in 1:46:20.
Swedish twintip victory
In the twintip class, where the majority of the participants started, a Swede managed to clinche the victory. Atte Kappel repeated his win from 2014 and claimed his second Red Bull Battle of the Sund title. Kappel made the sailing to Flakfort island and back in 1:58:39.
But, far from all had such an easy ride. In moderate winds mixed with sudden, strong gusts there were participants that decided to withdraw early. One of them were Madeleine Viking, 37 years from Malmö.
It wasn't windy enough for my kite. I fought hard and long to get it up. When I finally managed to get it up I was grabbed by sketchy gusts and nearly hit the public bathing docks. I realized early that I wouldn't manage the conditions and decided to withdraw. Better luck next time, said Madeleine Viking smiling.
More information at: http://www.redbull.se/battleofthesund

Comments