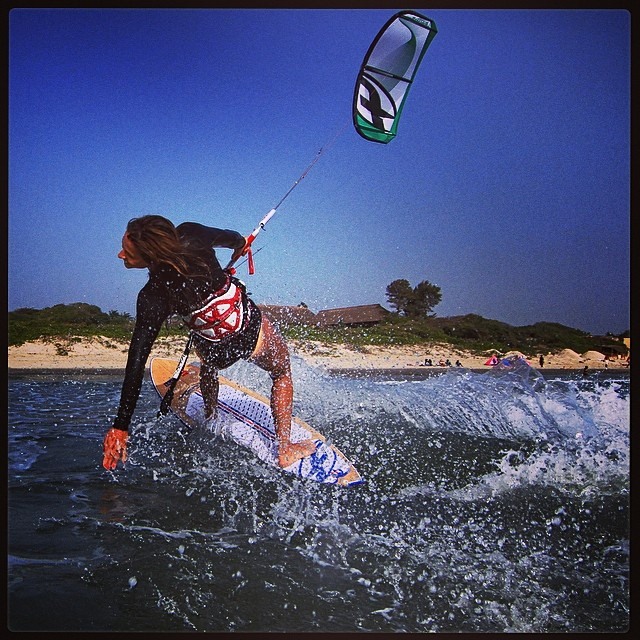 The Trust is a kite with a 100% design focus on Freeride. Aimed at riders of any level, the kite is intuitive with an optimum relaunch capability, a great stability and perfect power control. Two additional sizes are introduced in 2014: 6m² and 8m².
With an incredible speed control, the Trust will make it easier for the riders to carve and dampen the waves and chop. Its exceptional upwind capabilities with flawless stability at 12 o'clock make it the perfect partner. Very consistent and progressive in its behaviour, this kite flies very instinctively and intuitively.
Stability has been a big focus and the Trust has been designed to kite in all kind of wind conditions with complete control. With its reassuring feel, this kite will give you full confidence to try some new tricks.
The deeper profile near the leading edge gives the Trust a more progressive traction, smoothing out any power spike. The kite has a real capacity to achieve complete depower in any circumstances making it very safe. New Dacron reinforcement patches have been added to improve stress distribution in the canopy.
The Delta C Shape, originally patented by F-One, remains the most famous evolution of these recent years to offer an optimum relaunch. The Trust relaunches easily with the auto-relaunch feature enabling to ride with full serenity. For more safety, diagonal webbings are placed at the wingtips prevent from catching the lines. The kite can be neutralised easily when triggering the safety release and thanks to its EVO bridle concept, it will land safely on its back with no traction.
The Trust also benefits from all the developments applied on the Bandit and it even comes with the original 2014 Bandit kite bar featuring the all-new 2014 F-ONE quick release.
The Trust will impress with its outstanding capabilities and incredible control to power ratio to offer exceptional riding sensations!
Bar:
The MONOLITH BAR is milled straight out of an Aluminium 6061 block. This CNC process make it possible to get a solid, one-piece bar. Aluminium 6061 is a high strength alloy enriched with magnesium and silicon, which is widely used in the aerospace industry. Together with its strength and stiffness, it offers excellent corrosion properties.
More Information HERE
Featured in this Post
Comments