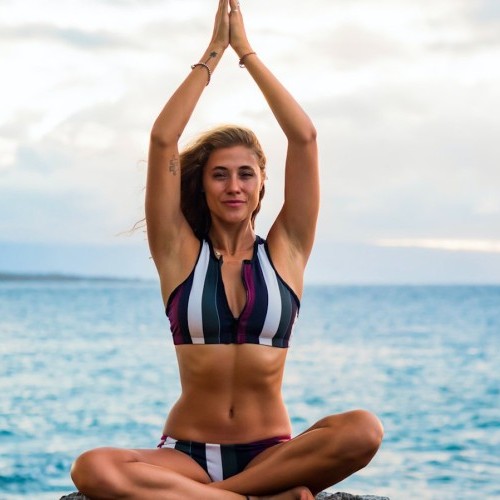 Sensi Graves 2019 Collection – High Vibes
Features / Thu 10th Jan, 2019 @ 12:00 pm
Life is too short to worry about your bikini. Get out there you rockstar!
Sensi Graves Bikinis is stoked to announce the release of the Spring 2019 Collection, High Vibes.
It's 2019, and that means your swimwear needs to do more than look good. It also needs to fit super well, be consciously made and enable you to go from laying on the beach to paddling out for the next set just like that. Active women want swimwear that they can move in, and the High Vibes Collection continues to deliver on Sensi Bikinis' promise of chic, stylish surf swimwear for the woman that likes to do sh*t.
The tagline "bikinis for girls who rip" isn't for nothing. Professional kiteboarder Sensi Graves designs Sensi Graves Bikinis and tested by her team of ambassadors ranging from scuba divers to wakeboarders to yogis.
The High Vibes Collection stays true to the fusion of cool-girl fashion and ultimate function that defines Sensi Graves Bikinis. With names such as Align Yourself, Embrace Your Wild and Zen Out, the collection seeks to inspire a waterfall of confidence for the wearer. 2019 is all about spreading good vibes, smiling broadly and living life to the fullest. A bevvy of bold, custom prints evoke bohemian vibes and are paired with rich, jewel tones named after high vibe stones such as Emerald and Ruby.
As Sensi says, "This collection is meant for love, and through it, we dive deep into self-love and self-discovery. This collection is for road-tripping with friends, laughing, smiling and spreading good vibes; the bold colours will make you want to discover hidden beaches and play uninhibited. Our bikinis are made for surfing, kiteboarding, sailing, playing and living life to the fullest. We hope we can help you spread High Vibes wherever you go."
Sensi Graves Bikinis are made in the USA from recycled plastic bottles and reclaimed fishing nets. All of our poly bags are certified compostable, and we utilise recycled hang tags, labels and packaging. Our bikinis are meant to inspire, build your confidence and make wearing a bikini empowering and enjoyable!
Collection Highlights
The Alexa top is the ultimate stay-put top for kitesurfing. Designed in conjunction with avid surfer and big-mountain rider, Alexa Hohenberg, this high-neck, a super-supportive top is our ultimate newest piece in the Performance collection. The Alexa top is specifically designed for women with larger busts and smaller rib cages. The multi-strap cross back disperses support across the entire back and enables all over cinch-ability.
The Alyssa surf tank is new for 2019. The Alyssa is our yoga crossover piece and is perfect for protecting against wax chaffing while surfing and for wearing under a harness while kiteboarding. Featuring a 1″ shelf bra, this top provides support and protection for long sessions on the water. The Alyssa is a fun rendition of your regular tank top and is always ready to strut her stuff, whether that be walking the nose or heading to yoga.
The Aurora bottom is also new for 2019. This performance bottom is designed to stay put no-matter-what. The drawstring waistline enables cinching for maximum staying power. And the elastic over the booty keeps everything tight and right. With a scrunch butt, the Aurora is both flattering and fun. Wear Aurora when you want to throw down.
To check out the full Sensi Grave Collection, please click here.
Jen Tyler grew up in the chaos of Cairo, Egypt. It was on the beaches of the Red Sea where her love for the ocean, water sports and adventure grew.
Featured in this Post
Comments