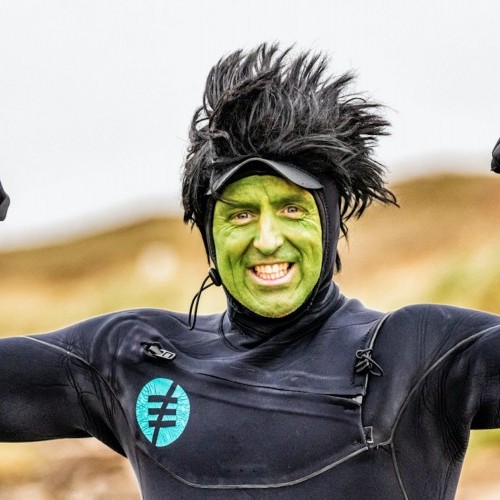 Kitesurfing Scotland – Halloween Jam
Features / Thu 5th Nov, 2020 @ 11:25 am
Last weekend, the crew at Kitesurf Scotland was committed to pulling together riders of all ability and encouraging high levels of stoke and moral within the local kite-community. After a challenging year for many, local riders pulled out all the stops to spookily dress up for a haunted Kitesurf on the tail of Storm Aiden at Troon South Beach, West Coast Scotland on November 1st 2020.
With appearances from Borat to Captain America, it was a hilarious turnout with many putting days of preparation into their costumes. Initially, it had been planned for Saturday 31st of October, but the winds were exceeding 50mph, and it became unsafe to have clowns and pirates out on the water.
The highlight of the day was watching Alan Reid trying to water start with his costume on. Alan put countless days of effort in trying to build a perfect costume which consisted of a cardboard box that had three modes. 1 (Boost mode) 2 (Trick mode) 3 (Aldo mode) … think we saw all three that day! Alan's costume was waterproofed to a certain extent; this soon quickly was not the case. – don't worry, all costume debris was removed straight away!
He had it all well thought out, as underneath he revealed a full Beetlejuice costume which showed up great in photographs. Alan provided a lot of entertainment for fellow kiters, walkers and children who came down to watch the Halloween Jam.
Kitesurf Scotland's team mascot and chief advocate, Ollie the Retriever, was on the shore dressed as a superhero in a red cape and eye mask providing good vibes and warmth to participants throughout the day.
Massive thank you to Mike Birt at KTWO Distribution who provided some amazing prizes for costume kings and queens. Also, a huge thank you to our loyal local photographers who show up every weekend no matter the weather. Kitesurf Scotland hope to host many more events over the winter and into next season as our community continues to grow and the stoke continues to evolve.
Words: Grant Clayton
For more information on Kitesurf Scotland, please click here!
Thu 5th Nov, 2020 @ 11:25 am
Jen Tyler grew up in the chaos of Cairo, Egypt. It was on the beaches of the Red Sea where her love for the ocean, water sports and adventure grew.
Featured in this Post
Comments