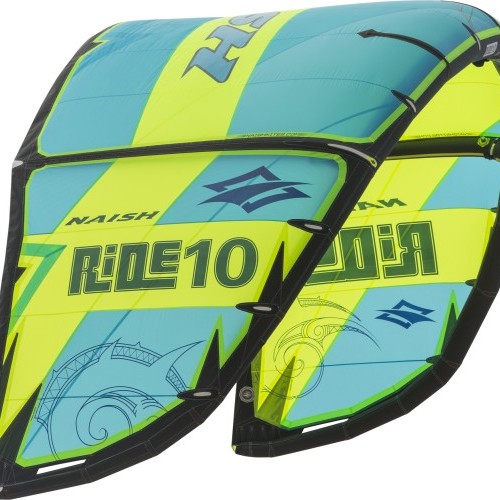 In Focus: Naish 2016 Mid Season Product Launch
Features / Wed 16th Mar, 2016 @ 10:00 am
Naish have just dropped their mid-season product launch and it is looking hawt like Michelle Pfieffer in Batman Returns… Three kites are making the cut, including the Ride, Trip and Fly, on top of that though there are new harnesses and a protection vest. Naish have been at the forefront of the kiteboarding industry since it's very inception, so it's with some interest that we check out these new products. They're available from your local dealer and of course as soon as we can get our hands on them we'll put them through our rigorous test schedule!
Win a Commander Twin Tip by Eleveight, CORE's all-new Link harness, or an ultra-light board bag from Prolimit this issue in our FREE subscriber prize draw.
Kites
Ride – All Round Freeride
Sizes: 4, 5, 6, 7, 8, 9, 10, 11, 12, 14
Effortless and accessible, the Naish Ride is a fast favorite among riders of all levels. Ideal for those looking to progress their skills quickly, the open center section of this lightweight, two-strut design delivers superior low-end performance and maintains smooth power delivery through turns. Easy water relaunch provides added convenience while a slightly flattened arc generates more lift for easy jumping and "sheet-in-and-go" feel. A consistent performer with incredible control, its versatility will have both new and experienced kiters choosing the Ride as their "go-to" kite for a wide range of styles.
Fly – Lightwind Freeride
Size: 15
Lightweight and tremendously fast for a kite of its size, the Naish Fly delivers a smooth, yet powerful ride in light-to-marginal wind conditions. The swept-back wing tip and anti-stiction window improve water relaunch, while the two-strut design offers exceptional low-end power. Riders will find themselves in super light wind, yet the speed of the kite will make it feel like a normal, windy day. New this year, our designers have modified the leading edge diameter, allowing the kite to fly farther forward for improved upwind ability and easy handling. Don't let light wind ruin your day. Grab a Fly and maximize your time on the water.
Trip – Foil/Underpowered Riding
Sizes: 8,10,12
Low wind; no problem! The Naish Trip excels in underpowered conditions. Perfect for dedicated intermediate-to-advanced riders, the incredibly lightweight, strutless design delivers the wind range of a larger kite while retaining the fast, precision turning of a smaller kite. An ideal fit for foiling, the Trip's responsive depower and light weight—compared to other kites of this size—supports seamless transitions for a smooth ride. Log more days on the water with the Trip.
Harnesses
Arsenal
Maximum Support
Sizes: XS, S, M, L, XL
The next evolution in maximum support harnesses, the lightweight Arsenal conforms to the body with molded memory foam padding along the spine and an ergonomically shaped structure. A superb choice for a wide range of body types, the Arsenal's wider shape evenly distributes pull—ideal during powered up or overpowered riding. Double spreader bar straps lock the bar securely into place while strategic contouring and memory foam on the spreader bar provide a more comfortable fit.
Boss
Low Profile/High Support
Sizes: XXS, XS, S, M, L, XL
Full Copy: The lower cut of the Boss is ideal for riders looking for a high range of motion and excellent back support. Striking the ultimate balance between the Mission 3D and the Moto harnesses from 2016, the Boss combines the height of the Mission 3D with the fit of the Moto. The locked-in bar pad features extensions which insert into the sides of the harness to lock the bar into place. A low-profile, contoured spreader bar (with memory foam padding) add extra comfort and double spreader bar straps further prevent the bar from riding up with use. The lock-in-and-release mechanism has been adapted to be more user-friendly, while 3D-fit technology, contoured side-shaping and a dual tension belt ensure the harness conforms to the rider's body for maximum comfort.
Alana
Women's Fit
Sizes: XS, S, M, L
Formed and sized for a woman's curves, the Alana's 3D-fit technology features a cushioned, molded shell for customized support and stability in key areas. The locked-in bar pad stays securely in place with double spreader bar straps and extensions that tuck into the sides of the harness.
Targa
Boardshort Seat Harness
Sizes: XS, S, M, L, XL
Ergonomic and understated, the Targa seat harness is lightly padded and concealed within boardshorts. Padded leg straps easily adjust from the outside for a custom fit, while strategically placed double spreader bar straps position the bar low on the hips allowing for full range of motion.
Defender Vest
Flotation/Impact Protection
Sizes: XS, S, M, L, XL
Shaped to give experienced riders the confidence to push the limits, the Defender Vest provides superb impact protection and maximum comfort. Following a true wakestyle shape, the soft neoprene lining, large armholes and quad stretch grant full range of motion while strategically placed padded impact zones protect with added flotation for peace of mind.
For more information about all of the new Naish products check out the website: http://www.naishkites.com
Rou has been kiting since the sports inception and has been working as an editor and tester for magazines since 2004. He started IKSURFMAG with his brother in 2006 and has tested hundreds of different kites and travelled all over the world to kitesurf. He's a walking encyclopedia of all things kite and is just as passionate about the sport today as he was when he first started!
Featured in this Post
Comments