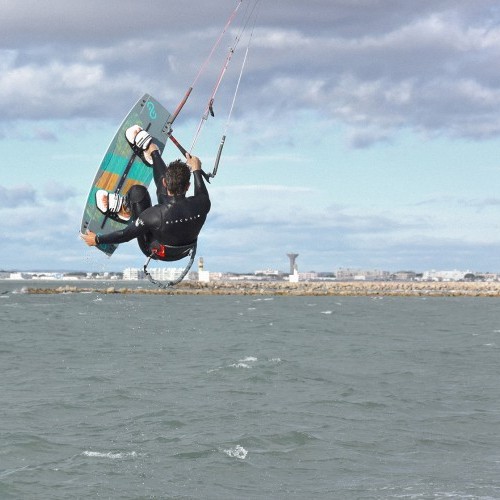 Eleveight Brand
Features / Mon 26th Nov, 2018 @ 3:00 am
Eleveight Kites have been on the market since July 2017, and their first year has been extremely exciting. Their slogan, "Our Passion is Yours" has been proven true with extremely positive feedback from their riders. Find out the FULL story behind Eleveight Kites, right here!
Eleveight was seemingly born from the fires of Best Kiteboarding when they were in trouble. A lot of the staff came from there, including Peter Stiewe, whats the full story about the brand's inception?
The Eleveight founders had known each other for a long time and always shared the dream to create a brand that reflected our own identity, based on our passion and experience. The idea of building a new brand was born years before Best started having troubles. With the change of ownership at Best kiteboarding and some related vital decisions, we could feel that our values were not reflected anymore and this change was a catalyst for our decision to create Eleveight.
You've been in the marketplace for a couple of years now, how are things going with the brand, has it been well accepted, are the particular countries where you have a stronger presence?
Eleveight has been in the market since July 2017. The first year has been inspiring with overwhelmingly positive feedback from the kite community. In just over a year, Eleveight has become a global brand, operating in 42 countries, through a network of over 250 accounts. Our principal markets are in Europe, but we have also established strong distribution partnerships in other regions of the world, such as the US and South America.
The brand opted to go for the distribution and dealer network approach, rather than a direct to market sales model, what was the thinking behind that?
At Eleveight we believe in supporting the development of a kite community, whose backbones are kiteboarding shops and schools. They don't only provide services which are essential for a safe and enjoyable kiteboarding experience, but they also give kiters the possibility of connecting while sharing the same passion. A direct to market sales model would not foster this community.
Are you actively still growing the dealer network, was it hard to get dealers on board in the early days?
The market feedback in the first year has been fantastic. We receive daily new dealer requests, and our network has been growing organically in all key areas.
In the beginning, we were not sure how dealers would react to a new brand. Our first dealer meeting in June 2017 was like a small family gathering. It seems like the dealers and area managers trusted our operation and our market experience, as we shared the same vision. They believed in our brand. As a result, we were able to establish a reliable network straight from the start.
Peter Stiewe is known for some great designs in the past, does he get more freedom with the Eleveight brand than in the past?
Yes, in the past Peter was working as a kite designer according to the product brief and framework provided by Best. This included a specific limitation on the use of raw materials and manufacturing processes.
At Eleveight Peter is selecting all raw materials and manufacturing processes himself; there are no boundaries or restrictions.
Today Peter is using the newest and best quality raw materials to develop and design Eleveight products. Besides taking care of the Product development, he is the CEO of the company. This combination sets the focus at Eleveight to design and build high-performance products, made from state of the art materials without any limitations. A much more exciting and rewarding work task.
Where are you getting the kites, boards and bars made?
We collaborate closely with industry-leading, certified suppliers that share our passion for highest quality.
Our kites and bars are made at Aqua, in Sri Lanka. Aqua is well known as the #1 supplier for kiteboarding equipment. We have a great link to the factory which helps us to fulfil our design requirements of high quality and performance.
All our boards are made in Europe. For our Twin Tip range, we have Franz Schitzhofer in the team. He is a real master in his division, with outstanding industry experience.
We are also very proud of our surfboard production from Portugal. We established a great work relationship with one of the leading custom-made production facilities.
What's your warranty offering like and do you keep a tight reign on quality control at the factory?
Eleveight stands behind all its products and offers an extended warranty on all of them. We do so because we believe that original quality is the foundation of all our high-performance products.
Regarding quality control, all our suppliers and manufacturers implement our design and follow strict quality control protocols and each Eleveight product is individually tested and approved.
Nevertheless, nobody is perfect, and we have to deal with some warranties from time to time. We tried to establish a warranty system which is very responsive, and 100% customer focused. If an Eleveight product is not 100% perfect, we will make sure that we provide a fast and proactive service.
It feels like the brand has matured a little in the last year, was there a significant learning process in those early days?
We hope that will not sound too arrogant, but we like to think that we knew what we are doing from the beginning on. Our first production run was arranged in under three months. That was only possible with a clear vision and an experienced and motivated team. The release time for the 2018 line up was crucial for us. We wanted to release our products at the same time as all the other companies.
In retrospective, we can say that, although it all worked very well, for sure in the early days we had to take some quick decisions which we would have maybe structured a little bit differently with the gained knowledge.
Our 2019 line up is more mature. We had more time for the development and the implementation of ideas. Our operation is more fine-tuned, and the team has grown in all areas.
How many of you are working for Eleveight at the moment?
Currently, we are 14 people at Eleveight, plus our distribution partners who are strongly linked to us.
What is your R&D process like and where does most of the magic happen?
At Eleveight we accumulate decades of experience in R&D and product development. Of course, we follow a regular process of product briefs, timelines, prototyping and testing. But a successful and efficient R&D process with the magic outcome depends on the quality of the people and the links between the team. Short communication, mutual brainstorming, working on the same vision with the same goal is what makes a difference. At the same time, everyone at Eleveight can chime in and provide feedback.
Listening is one of our strength. Together with our shops, schools and distribution partners we analyse and feed the R&D process with information.
What's the future for the brand, where do you want to be in the next five years?
At the current stage, it is hard to say where the industry will be in the next five years. A lot of things are changing right now, and it looks like the sport of kiteboarding has reached a certain level of maturity.
Eleveight is a rider driven self-funded company that believes in organic growth. We hope that in 5 years Eleveight will be one of the major brands which stand out for its technical product design and real watersports values.
Some people say you are Best Kiteboarding rebranded, what would you like to say to those people?
The statement cannot be true, as Best Kiteboarding is still an existing brand operating in the same industry. Eleveight has its own identity with unique roots and values.
We like to focus on ourselves and our development. We are unwilling to engage in any gossiping and badmouthing within the industry. We are very proud of all the trust, and positive response from the market and our motivation for the future is to keep sustainably building our brand.
IKSURFMAG Web Editor, Jen Tyler, grew up in the chaos of Cairo, Egypt. It was on the beaches of the Red Sea where her love for the ocean, watersports and adventure grew.
Featured in this Post
Comments