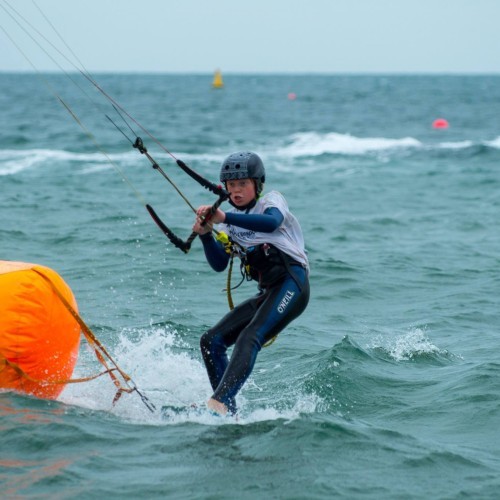 Bournemouth & Poole Kitesurf Club BKSA BoarderX
Features / Wed 7th Sep, 2016 @ 6:00 pm
Is this going to be the next big thing in kitesurfing!? Our web editor Jack Galloway heads to his first boarder cross event to find out.
Last weekend Poole & Bournemouth Kitesurf Club hosted their first ever BoarderX event and "oh buoy" was it fun! (pun intended) Luckily I live nearby so thought what better way to spend my Saturday than racing round buoys and jumping over things
For those of you that haven't heard of this exciting new discipline, it's based on the Olympic event of boarderX in snowboarding and skiing. Four racers start at the top of the mountain and race down hell for leather over rollers, kickers and berms. Google it, the footage is awesome!
The course set out for kitesurfing involved a start line on the beach and a mostly downwind course going round buoys and over inflatables until a final sprint for the finish! Olly Lawrence & Andy Gratwick from the BKSA helped organise the program for the day which involved two heats for everyone, a semi-final and a final. The start sequence was a two-minute countdown, with a mostly reliable air horn to signal the start!
We were blessed with near perfect conditions and once the course was set everyone was getting a little nervous with the first races approaching… After helping set the course on the jetski I was given about a minute to launch my kite and get to the start of heat 1 (thanks Andy!). The air horn blasted and we were off, I happened to be in this heat with one of my good mates Urs Schirbel and the competition between us was fierce, this made it all the more fun.
I got off to a good start and took the lead but got carried way, went way too fast and genuinely crashed! Clearly having no fins on your board is harder than you think (this is so you don't pop the inflatables). Urs went past me with a smirk and suddenly I was in last place with a lot of catching up to do. I held good speed throughout the rest of the course and finish just inches behind him in 2nd place.
As the heats went by I watched similar events unfold in every race, each competitor buzzing at the finish. We had pretty variable winds throughout the day that made for interesting racing, several riders were swapping kites between heats. It seemed like races were won or lost on buoy roundings and making sure you sailed the shortest distance to the next obstacle.
I managed to win my next few heats and got to the final. It played out very similarly to my first race in that I got an early lead…unfortunately I wasn't going to hold onto it. I was overpowered on my 13m Ozone Edge and as I reached the last buoy I downlooped around it, a gust hit me and took me way too far downwind. Believe it or not, I then couldn't reach the finish line without putting an extra tack in. I watched my two competitors sail past me to the line, the ironic thing is that I had laid the course and already knew the finish line was closer to the wind. Apparently, the race was nail biting to watch from the beach.
Congratulations to our winners David Beckett and Lizzie Byrnes and a big thanks to the BKSA, BPKC, The Watersports Academy, Easyriders & H20 for putting on a great event. One thing is for sure I can definitely recommend to everyone to get yourself down to the next boarderX near you. It is achievable for all abilities and guaranteed to put a smile on your face.
Jack is a fanatically keen kiter from the South West of England, he loves riding just about anything with a kite from foil boards to surfboards and everything in between. He's competed in the Red Bull Ragnarok snowkite race on numerous occasions as well as some world class kite racing events. He's our Web Editor for the magazine, as well as one of our testers where his vast knowledge of the sport and different kites and boards comes in handy!
Featured in this Post
499
39,091
12,673
Comments