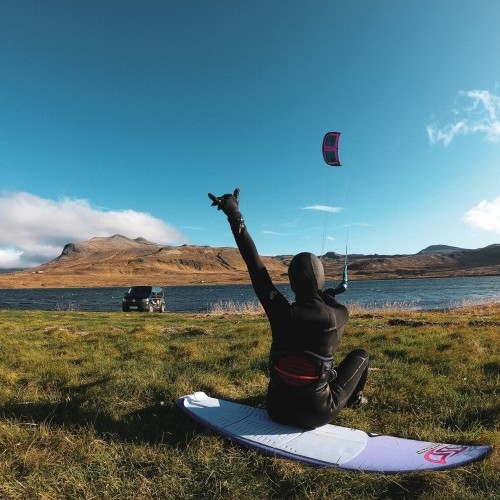 As Far as We Can 2 – Polar Opposites
Features / Fri 26th Jun, 2020 @ 6:00 pm
Alina Shalin and Adam Sims go on an adventure of a lifetime – A travel story that reflects on two polar opposites yet draws similarities through climate impacts and the humanistic desires to explore.
The most eye-opening moment in human life – is a departure into unknown lands. It is true; nothing makes us feel more alive than exploring the unknown. We have travelled a lot the last couple of years, but work and habits pull us back to similar places time and time again. That's no complaint, as you know the area, you meet the same people again, and it somehow feels like returning home. But, curiosity will eventually get the best of us, and this year we wanted to do something different, go somewhere else, explore something new. We wanted to challenge our limits, explore two countries that couldn't be more diverse from each other, couldn't lie further apart. Iceland and Namibia. We wanted to see the extreme landscape differences between a country that lies far north and a country south of the equator and within this to try to combine what we love the most; spending time on the water. This was not about reaching and exposing the most unattainable spot, this was just for us, to go As Far As We Can.
Unfortunately, even if you plan a trip to down to the tiniest of details, there is always the possibility that life will stack hurdles in your way. In our case, Adam got injured, but a bad one again. While taking part in a video shoot in Fuerte, he slightly understated a very radical move and found himself unable to walk from the water. A couple of days (and a return flight to Germany) later, the medical report was clear: The Syndesmosis ligament had exploded within his ankle. Surgery and months of recovery time followed and our initial plan for our project 'As Far As We Can 2' had to be adjusted. Between frustrations and disappointments, we had to decide some basic questions: Should we still make the trip as planned? Would it make sense to go if Adam wasn't able to go on the water? Or perhaps there was a second agenda to some of the trips lined up that made it still worthwhile.
26th of September
We landed it Reykjavik, the capital of Iceland! Already from the plane, you could tell what landscape this country had to offer. We took a bus from the airport to town where we met the guys from Cozy Campers who provided us with a lovely camper van for our ten days trip. By the afternoon, after spending a long time trying to fit all our gear in a relatively small camper van, and buying as much food as possible in the local supermarket, we were on the road heading north.
As soon as we left the city, we straight knew why so many photographers come to this country. Every 10 km the scenery changes, huge volcanic mountains to our right and a beautiful coastline to our left made it hard to know where to look. Watching the sunset this day, we felt already the secure wind building that was forecast for the next day. Up early on the next day, we knew we had to find a suitable spot for me to go Kiting. Unfortunately, there was no swell on the charts at all. Just jumping in for what felt like a 'warm-up' session in a small lake right next to the ocean, I was completely overpowered on my 5m, I had fun, I couldn't take my eyes off the scenery, but I still had the desire to find some waves somewhere.
With the wind disappearing again on the next day, we decided to make the most out of it and just explore this place as much as we could. Trying not to stick to the typical tourist guide destinations we drove up the west coast, up mountains, down valleys, along with farms and empty beaches. There seemed to be nothing around us beside some scattered houses and fields without boundaries; sheep, horses and cows running virtually wild. By night was when things entered a whole new level, right as the sun was setting Adam said he noticed a green tinge in the sky, as it got darker and darker this glow scorched the sky, dancing between the stars, the northern lights gave us a show to remember. Had we just arrived 24 hours earlier?
Inland
Next up, we wanted to explore a little, to see the potential within the Icelandic Highlands, we'd seen images flooding social media of rivers and lakes that were out of this world. So an early start, a quick pit-stop at natural thermal spring, known as a hot-pot, and onwards and upwards to the mountains. High up we passed some of the most dramatic waterfalls, as the roads worsened and we reached a point of 'should we turn back?' as we faced a river crossing which involved driving about 100m through water that we knew nothing of how deep it got. The short story, we live to write this story.
Shortly after, we crested a peak and what lay before us was a feast for the eyes, for the mind. Snow-capped peaks, large slow-flowing rivers wrapped
in stunning green and black volcanic mountains, it felt like being in the movie 'Lord of the rings '. Our most repeated phrase these days was "imagine we could kite/windsurf this". But the wind and weather were against us, time was running short, and there was a lot of warnings out about staying up in these mountains too long, "you may get stuck, you may never escape", were the words the resounded in our head from the Cozy Campers owner. We were lucky to have a very well-equipped vehicle, Adam had a lot of experience in driving in difficult terrain by now, so we took our chances, albeit with caution. The forecast was reasonably clear for a few days, and we were trying to time our return to the coast with an incoming storm. Just after this short few days passing through the Highlands, one thing I can say I've learnt is that sometimes stepping away from the ocean, the wind and waves and truly looking beyond the next patch of water to the wider scenery around us can be truly an amazing experience. Making the most out of what you have and appreciate where you can go and see, is something I had to remind myself of again. Us being people who love to be on the water day by day 24/7, we sometimes forget that these places we travel to offer more than just dreamy conditions for kiteboarding.
Heading South
We circled down south towards the famous icebergs and a so-called Diamond beach. These are places you have to see when you go to Iceland. But if there is one piece of advice we can give you, it's to stay away from the tourist hot-spots, you can always find access to these places from a less crowded side, just do our favourite thing and 'google earth it' (…before you go). Our trip was a short one this time, only over ten days, so time was flying by. We were almost at the end of our journey, and I hadn't been on the water since that day on the far north-west coast. It was cold and rainy; our energy and motivation were at a somewhat lower level. However, Adam hadn't been on the water since before his surgery, and we'd arrived at the Jökulsárlón glacial lake.
Icebergs bigger than a block of flats floated silently around, almost harmless by nature, yet we are reminded on occasion as a chunk of ice the size of a car crashes into the lake below. We spotted some smaller ones, more subdued near the side and Adam made the call, "let's go SUPing" (yes we brought our SUPs from Germany), "let's do it". The storm that was arriving hadn't arrived so far, just bad grey weather, some slight rain and snow.
So we did it. We went SUPing between the Icebergs. We were dressed in our wetsuits under ski clothes. It was a surreal feeling, but at the same time, this was what we were looking for, the extreme, the new, the not normal. It felt great and made up for our lack of kiting or windsurfing during this trip.
The Second Agenda
Iceland was still well within the recovery time for Adam, he knew he wouldn't be able to windsurf, so we made the decision (yes, despite Adam genuinely considering it), that the windsurf gear would stay at home this time. One thing learnt is not to rush back; the long term will be thankful for the restraints in a short time. This still left us with a decision if we should even go to Iceland or not. However, there was a second agenda to this particular location. This company has developed techniques for Carbon Capturing, something we strongly believe is the only way to reverse the harm that has been placed upon our planet. The reason being is that our entire trip, the whole movie will be carbon neutral, all flights, fuel fill-ups and carbon expenditures will be balanced, and we wanted to know first hand where and how we can make this happen. The simple solution to plant trees was strongly considered, but trees are just storage when trees die the carbon they capture is rereleased, it's not a definitive solution. To capture and storage underground, where the carbon we burn is sourced from, seems the most logical process. Our plan – track our carbon expenditure, then invest in capturing that amount (and more) and putting it back into the ground. It's simple; it's taking action here and now.
Reflection – Iceland
When you plan a trip you have two options: plan nothing – wait for the right forecast and then go, or plan everything – book flights and risk the fact that you might not get the conditions you were hoping for. Option 1 is the rather expensive one and also really hard to do if you count other factors like work in, for example. Option 2 (which we usually do) leaves you with higher risks of not getting the ideal. With Adam being injured and the conditions entirely unsuitable for kiting during those ten days we didn't get the time on the water we were hoping for. Still, there is one thing I told everyone when I came home – "I've never been to a place without much kiting or surfing that I've enjoyed so much". A land that made me so excited, just exploring the landscapes, the surprises around every corner with different scenery and beautiful nature. It's a place almost desolate of crowds, suitable for a road trip with a camper van (you can camp anywhere you want and if you don't want to pay for extra campsite fees – 'google earth it', ask yourself; what's just around the corner from where we are?) and not as expensive as you read it on the internet. We showered in waterfalls, dipped into natural hot tubs, realising what pure freedom feels like.
Taking the plane back home to Germany, there was one thing we would be sure of; we will come back, maybe to get to kite/windsurf/surf all these fantastic spots more, but also perhaps to just travel this place again, because it has proven to us that with and without wind it is so worth going there!
And what about that storm, well it arrived a day late, but twice as strong, there were moments we couldn't open the van door, it was physically not possible, even to stand, you'll have to check the movie for that.
Namibia
After returning to Germany we were off to Cape Town, this also doubled up as our stopover before venturing to Namibia. Dudu Levi, a professional windsurfer from Israel and Tim Cowen, a friend of Adam from the UK and our second cameraman joined the trip. This time, our mission was to find wind, waves and to reach a spot no human has ever been to before with our surf gear.
The Endless Road
It's a 2000km journey from Cape Town to the northern point of Namibia and continues up into the heart of Angola. We sat back for the long journey ahead, stopping intermittently for some perfect longboarding moments and a couple of chances for Dudu (a keen rock climber) to scale some faces.
Adam checked out the entire West African coastline on Google Earth; from Cape Town to northern Angola, it was littered with pristine bays, many even showed the perfect lines of swells that swept in from the far reaches of the Southern Ocean, the wind angles often align with the swell angles to offer what was expected to be a discovery trip of a lifetime.
All seemed well as we made our way to Strandfontein, a quiet coastal town 8 hours north of Cape Town. Well set up for travellers like us, you can camp on the beach with Braai pits for everyone and decent toilet blocks. The surf here looked amazing, the potential of the spot leaves the mind with spots and images ready to explore in future years, but on this occasion, we had our eyes set further north, and the weather windows were tight. In hindsight, we look back regretting not to have stayed there a couple more days or allowed time on our return journey; nevertheless, these fruits will be harvested another day.
There Is Only One Way in And One Way Out – The Fence
From here on up the coastal road runs some 3-5km inland from the coast until you get to the South African border with Namibia, there is little to no information on reaching spots at the coastline, you have to spend hours just finding the local name of a certain bay to then find who may know some little bit of information about it, the researching was intense if not a bit
obsessive on occasions. But this was the lure, the bait for our ambitions, there was always an end goal, but our objective was much fold, and that was not only to reach a location we knew would be near impossible, but it was also to see what gems we could discover along the way. Just there was one small issue! We'd heard of these Diamond mining areas, we knew about them for years already, places no one can enter, with just one access/exit point. It's just you can't see on 'Google Earth' where the fences start and stop, just the occasional track that leaves the main track and head 5km or so towards the coastline.
Straight out of Strandfontein we immediately turned away from the ocean for a few kilometres and then began to run parallel with it, here we lay eyes on the first mining activities, vehicles with wheels so large you can fit two of our trucks in them, quarries so vast you can't see the bottom. And THE FENCE… We drove (straight and straight and straight) north. The roads never bend. You feel like you are at the same place you were 3 hours ago. Is the scenery outside the window continually moving backwards while we remain static or are we moving forwards while the vegetation rushes by – an illusion you start to notice. This was quite possibly one of the biggest differences to Iceland.
As small settlements turned into farms, and farms turned into mines, and mines turned into desert, we found the cell phone signal also dying with the rate of civilisation. Our GPS came in useful and some pre-downloaded maps, we were finally reaching a latitude parallel to the bays we had dreamed of for so many months, years before. But no matter how much we tried, no matter how much further we drove north, every time we turned to the left hoping one of the small dust roads would lead us down to the coast, every single time we ended up in front of a fence – 'Road Closed', 'Restricted Area', 'Trespassers Will Be Shot' (ironically the signs were littered with bullet holes). It seems like the entire coastline is restricted by one long fence (basically like the Chinese wall) that prevents people from entering the coastline, all thanks to Diamond Mining activities.
How one mineral can shut off thousands of kilometres of coastline is beyond our imaginations, well we could always try by boat.
We continued to plough north, pushing on to try and find somewhere in this barren landscape to rest up for the night. Our first hope came with a warning of, 'if you camp there the night, make sure you lock yourselves in and don't leave anything lying outside', we swiftly moved on. Our next hope lay in the South African side of the border to Namibia, the town of Alexander Bay promises a campsite, green areas in the desert, a post office, supermarket and much more. It had none of this, the winds that we were chasing had started to whip up the sand in the air and visibility was reduced by the hour, and with it so was the sun. On entry to Alexander Bay, you pass a checkpoint, totally deserted like some kind of Jurassic Park meets Black Hawk Down scene, just dust and sand everywhere. As fast as we arrived, we departed, our only hopes, and quite literally on a fuel sense as well, lay across the border in a town that had only just opened to the public one year earlier – Oranjemund.
An Entire Town That Only Just Opened to The Public
Sitting right across from Alexander Bay, the town of Oranjemund is a dramatic, stark contrast, perhaps a sign of capitalism within the right hands offering some good, or was it just a modern 'prison'. Oranjemund was founded originally as a settlement within the fences of the large Diamond Mining Sperrgebeit area that stretches right up to Luderitz, some 250km away. The settlement was designed to offer those that worked for the Diamond mines a safe place to live with all the conveniences of a modern town; access to the beach and river for leisure activities, supermarkets, restaurants, parks and plenty of greenery. But living there had its catches, rules were strict, no alcohol was sold anywhere, but above all, leaving was near on impossible. If you left, it was because your work had finished, and you were going for good. Many people have been born in Oranjemund and never left. The town is mysterious; it feels like it holds a lot of secrets as you pull in to the centre where the main supermarket is situated. The locals at the gas pump made remarks about us driving in a 'black car', originating from the rules that all cars had to be white in previous years. It was a strange yet fascinating place to pass through, and perhaps the biggest advantage coming from this kind of settlement was an impressive healthcare setup and zero crime rate, there is no crime in that town, nothing.
So what brought us there, well this is the only access point to the ocean (besides a few rock outposts) from Strandfontein to Luderitz. The river showed a freestyle playground and the possibility of some jumping waves outside the river mouth. After a night camping at a Horse farm just 500m from the Namibian Border Crossing, we found ourselves chatting to a past local of 30 years from Oranjemund, and he was there with his wife on a camping trip up from Cape Town. He told us tales of the river being a hub of watersports activity 25 years earlier, sailing boats and windsurfers blasting from one side to the other, a club also existed on the local lake where a huge amount of sailing boats used to be stored. However, all but one person had stopped some 20 years earlier. No vessels or craft had been seen on the river for decades aside from the occasional kayak, but one person…
Arriving at the river mouth that afternoon, right on time with the building forecast (which was set to peak the following day), we drove straight on to the beach and immediately got stuck. Doh! Adam forgot to let the pressure out, 20 minutes later and our local friend from the campsite passed by, quite literally by chance, and gave us a push out. We deflated the tires, and it's crazy how flat they would make them for driving on sand, 0.8 Bar apparently, and you can go to 0,5 Bar if
you are stuck; this is essentially a flat tire, and you never want to drive far or turn hard on it in case the tire pops right off.
Surfing Over Razor Blades!
Finally, two hours before sunset and we hit the water, the boys freestyling, and I was happy to just cruise between the thousands of birds that use the Orange River as a stopover on their long migrations. We also met another local, a sole surfer who jumps between kitesurfing, windsurfing and surfing; he told us the wildlife is used to his equipment and if anything, he has seen more wildlife there in recent years than before, despite the river levels getting lower and lower. What's more, we later found out that this one person was responsible for a huge part of the diamond mining discoveries within this area, being the chief Geologist lead to some interesting discussions. The session that evening was fantastic. We filmed just a little, knowing that the next day was going to be a long one. The wind forecast was looking perfect.
Our first stop on day two in Oranjemund was the sailing club lake; we'd passed it the evening before, and to our surprise, the lake was tiny and entirely pink. Ok if I was not going to get to ride waves, then I was for sure going to kitesurf in a pink lake!
This turned out to be one of my highlights of the trip. I've seen lakes like these in videos before, but never would I have thought that they are that colour. I couldn't believe that water was safe to touch. Was it toxic to touch? I had no clue! Luckily, we found a local who ensured us that it was safe to go in there, so I had to do it. The theory sounds more comfortable than it is to do it. What no one tells you is that the water is pink due to algae growing in there because of the high salt percentage the lake has. As a result, the entire bottom of the lake and also the sides are just a thick salt crust. Salt is a crystal, a very sharp crystal; it's super painful to walk on. I only realised that when walking into the water with my kite up and my board under my arm. However, there was no way back. No pain, no gain.
I tried to get on my board as fast as possible as with every step I broke deeper into the salty crust, which felt like I was cutting my feet into pieces. I knew falling was not an option for this session.
The lake was shallow and the wind quite gusty. I tried to enjoy the riding while equally being scared of falling off my wave board. It worked out quite well for a while until the moment I went just a tiny bit too close to the 'beach full of razors', my fins caught the bottom, and I fell. It felt like really sharp knives cutting into my wrists, hands and feet, any part that was exposed from my wetsuit. What's more, when you add high concentrated saltwater into the equation, with fresh open deep wounds and well you can imagine the scenario, blood streaming, tears streaming, and an entire medical kit used up.
Well, this was the sad end of my fun but a short session in the pink lake. If you ever find one and want to try kiting it, then my recommendation would be full suit, gloves and shoes – nothing less. The scars on my wrist will now remind me forever of that one session I had on a pink lake. Taxes paid.
Forecast on Point
From the day before we left, Adam had tracked these forecasts, two back to back south wind systems, with matching high and low pressures and 'channels' for the wind to move through between these pressures stayed true. It was just a matter of would the wind arrive one day earlier or stay one day longer. As it was with our Oranjemund stopover, we got an additional day in; this shook up our 'tourist mode' plans on our way up to Walvis Bay. It gave us a short window to stay over the night at Soussvlei, where we wanted to climb some of the infamous dunes and then carry on up and rendezvous with Tim. Additionally to that, the roads lost all Tarmac, and it was just gravel/dust roads full of potholes – drive too slow, and you won't reach your destination with any time to do anything, drive to fast and risk not reaching your destination at all – that's how it works there.
So being a little cautious this far from civilisation we found ourselves (after one refuelling stop at the only gas station in 250km) arriving late into Sossusvlei. This meant dinner in the dark and our only chance to see the dunes with time to also meet Tim said getting up an hour before sunrise, which gave us about 4 hours sleep.
Every single part of that was worth it. The drive towards Soussvlei at 5 am as the sun flooded the night with the day was stunning, and eventually hiking the dune, with no one around and the sun appearing over the desert left us speechless at times, I can highly recommend it.
A little tip, avoid the dunes with some tourists, take one of the dunes that are just a little bit smaller; one because it's quieter, and two because you will reach the top for sunrise. Hiking dunes is a leg workout like no other!
Full House
Day number 'we lost track', they began to blur into one, but this day we would meet Tim at last. Except we almost didn't. We massively underestimated the distance to the next fuel stop and arrived with flashing red warning lights and 15km of fuel left in the reserves. Nevertheless, we refilled, explored this bizarre stopover (Solitare) and aimed for the T-Junction we had pre-agreed to meet Tim at. Somehow, we got through to him with the slightest bit of phone signal and readjusted, we'd spotted an oasis in the desert, a small campsite with a 'swimming pool'. After a week or so living a fairly rough camping life (makeshift shelters on a windy beach, super cold nights and endless packing and re-packing games), we were pretty happy to rest and recuperate with some time to spare. Cold beers and an infinite pool all to ourselves that looked over the desert was incredible. Oh, and an hours wifi to speak to family and update friends.
Our luxury status also levelled up another rung on the ladder as Tim brought with him the truck, he had collected from ASCO Car Hire in Windhoek. This meant we finally changed from sleeping in the back of the bakkie (and Dudu in a tent on the floor) to a proper rooftop tent – something that gets you up out the way of flying sand, wild dogs and other curious animals.
Mission ON!
With Tim's arrival, fresh motivation, ideas, and excitement kicked in. This was happening; we were heading to Walvis Bay, our 'base-camp' for the final objective of this entire trip. After seven days of just desert, sand, almost no civilisation (except Oranjemund), we pulled into Walvis Bay, which felt like waking up from a dream. Suddenly there were lots of cars, shopping malls and loud noises everywhere. We had to adjust to that, but we were also happy to finally refill our food reserves and stock up on water and other essentials.
During our time here, we also had to get the permits required to get into our final destination – Sandwich Harbour. This involves a 45-minute drive precisely the opposite direction to where we wanted to go. Nevertheless, Adam had some experience in the area, although he remarked that it had developed substantially in the 2-3 years since he had been here last, he knew that Walvis Bay does not feel like a safe place to camp. Fortunately, the place to get the permits was also in the next town Swakopmund, which has with it some nice secure camping with modern facilities. Something that we were thrilled to find out. So, our 'base camp' was shifted up to Swakopmund, and we prepared for a long beach drive over the next day.
Skeleton Bay Was Just A Warm-Up Spot
We had scheduled 3-4 days in this area, with a plan to reach the final destination on the best possible forecast in that time. There was a lot that had to align to make this work; we had to factor in tide times, wind and swell as well local effects on the weather. We went for a 'warm-up' session at the infamous long left-hander – Skeleton Bay. To our surprise, there were three kitesurfers already on the water, so we didn't delay and got straight out there, not caring for a moment about anything, we just needed to move, to be active and we were at Skeleton Bay!! I mean that's a bucket-list tick right there. And this was supposed to be our 'warm-up' session, just for us to see how the local effects impact the prevailing winds.
Skeleton Bay carries a reputation known worldwide within the wave community; it's slowly becoming more popular with kiters and windsurfers. Still, it's not easy to get to, there isn't much around, and the local town of Walvis Bay is not precisely tourist-friendly, nor is the drive there, you can forget going there without proper 4×4 and being towed out when you get stuck can set you back around €300 a pop. Nevertheless, when Skeleton Bay fires, it runs for nearly two kilometres top to bottom, something we could see with the smaller swell that we had arrived on.
Unfortunately, summer swells at that time of the year are few and far between, when they do arrive, they travel with less energy and so its rare to score it, that said, we were lucky to see waves there, some high headsets rolling through and have a fun session. I kited for hours on my 9m, catching waves with more turns then I can remember, all the while being surrounded by thousands of birds, seals and hardly any civilisation in sight. It was a place that captured my imagination, and I will, for sure, return there again. The trouble was, like the waves, the wind also came through with less power, and it would go from 20 knots down to about 10 knots for no reason sometimes, not short gusts but for long periods.
This made us apprehensive about our strike mission to Sandwich Harbour's outer banks, a spot with a left that makes Skeleton Bay look like the little brother. On the inside, sandbars offer perfect flat for freestyle, is it the all in one ideal spot? Side-offshore down the line waves breaking on to the sand, side-shore jumping waves and perfect flat sandbars tucked up on the inside for freestyle.
That's what we were here to find out, this was the mission, to seek a location that could be pure perfection, that's reachable and still far enough away to question if it's worth going.
As Far as The Eye Can See
This was it; strike mission was on. We'd had a brief chat over breakfast and checked some maps. Plans had been made for if we get stuck, we were prepared with GPS tracking devices connected to family members at home (who had been briefed to contact local emergency services if we reached out), we had all the equipment we needed to get us out of the sand should we get stuck. But this was no simple drive along a beach and a bit of soft sand. We were passing a point to where dunes hundreds of meters high reach right down to the waves, the only times you can pass them to get to Sandwich Harbour is at low tide. Which means there is a window of just a few hours to get in and out before you get stuck there for a full tide cycle.
We had to time this window with the wind forecast and the local effects to give us maximum time to get to the final spot, score a session and get back, de-rig and drive half an hour before reaching these points where you must pass them before the tide is too high on it's way back up.
Our drive up there was quite a silent one, Adam was kind of relaxed about it, but it was new to me, and this was far from anyone, anywhere and any type of help was a minimum hour and a half away. I was apprehensive a bit and ended up having just to trust the guys and Adam's previous experiences going that way. However, just as we set out, a truck just like ours (equipped to the max with 4×4 gear) was stuck in the sand, this reaffirmed my earlier worries, but we were committed too far now not to keep going, I stayed quiet as we pushed on. Heading up there we knew already we were a little late, the tide was already way down, which made it easy to get there along the hard-packed low-tide sand. On arrival we scouted from the dunes, a long hike up and checking the scenery, Adam pointed a sand bar that was some 6km away, to be the place to go. We had to kitesurf/windsurf to it from this point.
Everything was Against Us
Being in a National Park had its restrictions. You are not allowed to take any kind of craft into the natural bay of Sandwich Harbour, as tempting as it is, it is just not allowed. Life is natural there, undisturbed and we respect that, our ambitions were on the ocean, outside the harbour.
However, these restrictions also mean you are only allowed to drive to the edge of the natural harbour and no further. This meaning that to get to our final location involved 2,5km upwind tacking and then 3,5km in one direction to a sand bar; you cannot see when you start.
The whole place was so surreal, arriving here, just dunes and ocean as far as you could see. Flamingos, pelicans, dingos and all other kinds of animals added that extra feeling of pure nature around us. I can now say that this is one of the most beautiful places I've seen in my entire life. For a bit we all forgot the time pressure we had to get back and the just got lost in the scenery we were surrounded by.
As if right on cue the wind kicked in, the local effect accelerated the forecasted southerly winds, and it was now or never. Before setting off, it became evident that to go all this distance with a kite, being the only kite, was out of the question this time. Aside from the fact that the swell forecast had dropped way down for today, reducing opportunities of waves on the outer banks, there was also little to no room for error. Tim was due to fly back to Cape Town the next morning at 6 am, so we HAD to leave with the last of the low tide that afternoon; we'd predicted we must be on the way back by 3 pm, not 10 minutes later. Our first discussions were that this was a step too far; it was not possible for anyone today; there was not enough time.
Now or Never
However, with some rushed rigging and some upwind sailing that would capture any Olympic athletes' attention, the boys made it to the first 'checkpoint' fast. So fast they beat any of our camera gear up there, Tim had set off early, but it was a long walk with heavy cameras in the sand and driving headwind. Before we knew it, Adam and Dudu headed further and further out to sea, all we could see was them sailing off into the distance, from this low down we could not see the sand bar they were trying to get to. Worry set in, what if something broke? How are they going to make it back? Yes, there were a lot of shallow sandbars, but deep channels were slicing between them, fast-flowing water as the tide flooded in would make it impossible to get back in time. Can we sleep here overnight if we are forced to? If the tide is too high for us to pass safely? Would anyone even notice? Would they find us and set an example with the 'tourists' who didn't take the regular tour-guide trips? Questions we had all brought up in the last days, some discussed, some left looming to our imaginations.
Nevertheless, I kicked these out my head and focused on them returning; we had no way of contact. Our radios had died on the way up and refused to re-charge. So we just watched and kept a close eye on the time, Tim and I were waiting to see the two sails reflecting the sun our way, a sign of them heading back.
Making the Call
Adam – Dudu and I reached our first check-in point; we'd said we would get there then re-asses time and how the spots were. We didn't even land; we discussed while we slowly sailed out to sea. I think it was all the adrenalin of being here, the journey up, everything. It was precisely this moment I knew I would look back on and decide if I made the right call, nothing before.
I think we all reach defining goals and moments in our lives, times we can look back on and be like, I did or didn't make the right decision there. For me, I eventually built up knowledge from these experiences that when a defining moment faces me, I will go for it based purely upon the factual information at hand. Emotions at that point have to play a minimal role, because emotions can exaggerate the facts in your mind, misreading or misguiding us to wrong decisions. So on this occasion, I knew we had 40 minutes before we had to step back on land, this gave us 10 minutes pack up time before we must leave. The only thing I gambled with was that we wouldn't get stuck in the sand. We hadn't had any issues since the first incident in Oranjemund, where we had made it out fine once the tyres were at the right pressure. We had done a lot of soft sand driving over the last couple of days as well. I'd even driven back and forth over a 20m straight line before we left the cars, so the sand was a little more packed, just in case. How I almost regretted gambling that 'getting stuck' time!
I saw a 'shadow' and slowed right down as images of my fin catching a whale and it turning on me didn't fill me with confidence. So, we made the call together, Dudu and I could now see just a thin line ahead of us, it was across the wind, no problem. I had a bag with spare rope, a camera and an extra UJ/mast base, yet somehow, the only thing I could think of at this time was that I wished I had packed an extra fin. We'd seen a whale just 50m from the beach when we rigged up and joked about sailing into it by accident, the joke kind of stayed in the back of my head as we charged over to the other side. Some moments I was just like pedal to the metal, let's get there, save us a bit of time so we can get a few more runs in, maybe check the waves. Other times I saw a 'shadow' and slowed right down as images of my fin catching a whale, and it turned on me didn't fill me with confidence. Meanwhile, Dudu was just cruising, keeping a good pace, so in the end, I slowed, and we eventually made it there together.
Through years of knowledge and sailing different spots, experience told me what to expect from this place, when we first arrive I am sure there will be an excellent 'inside' freestyle spot. As we hook around the corner, the waves will start to show and will build in size as we sail further up the coastline outside the lagoon. Well, the first expectations were spot on, it was flat-water freestyle heaven with the most stable wind you can imagine, we decided to film for just five runs each before we would check around the corner. Somehow, time was our enemy, and it moved fast, really fast. We completed the runs, it was unreal, but there was little time to spare a thought for where we were, we would have time to reflect later. We packed the camera back in the dry bag, threw it over my shoulder and continued round the point.
You Shall not Pass!
This is where morals and our respect for nature clashed with our dreams to explore and experience the wave part of this location, a place with 4km lefts! We hit a wall, a wall of wildlife, it was unreal; pelicans and all sorts of other birds, seals and marine life that had made this point their home. Landing on the beach 100m before them it didn't feel right just to charge through, we'd made it to this pristine spot, we'd laid down some moves, and now greed was pulling us further, to see and ride what would realistically only be small waves. The swell had faded fast throughout this day; we'd noticed that on the drive up. If one thing is clear to me, then it is that of greed being the most destructive characteristic of human nature. This time, it was not, this dream, this location had run its course, we made the call, it was time to return, to leave the locals in peace, this is their territory. With what little time we had, we charged back across, celebrating with some moves close to the beach where Tim and Alina were waiting for us. I guess their worries were replaced with relief once we arrived.
Bad-Timing Doesn't Get Any Worse Than This Bad-Timing
They made it! If you want to see how this place looks like a place so untouched, then you have to watch the movie. The guys filmed some insane action there. This is where we could say we reached our goal and this is where the story would naturally end, but then we would maybe leave out one of the most dangerous and most exciting parts of our trip.
As the guys told us the stories of how it was over there, we had lost track of time a little. Our departure time had slipped by, just by a few minutes but there was a problem, we had to de-rig and pack our things still. To be honest, I almost didn't realise the guys had packed up, they were quick as we knew we would now be facing a potential closed route back, the tide was right at mid-tide, and we had half an hour to drive before we got to the potential closed off section. We pull away, and as we circle, we see Dudu and Tim taking their time to leave, then suddenly sand is flying through the air, Adam starts blaring the horn and telling them to stop – they are stuck!
At this point, I should maybe add, that it is strictly forbidden to camp overnight at Sandwich Harbour. The option of staying there for the night, in case we wouldn't make it was quite a risky move. Plus, Tim still had that flight to catch on the next day; we had to make it back. The next option was driving at midnight when the tide would go full circle and below again; this swiftly became a definite NO from enough of us that it was ruled out. Of course, of all the times it could happen, it would happen now.
"No man, please don't get stuck, not now" was all Adam could say before we saw them spinning their wheels deeper and deeper in the sand. Of course, of all the times it could happen, it would happen now. Our nerves were blank; we started digging behind the wheels. Pulling the car out with a rope was not an option as going forwards was uphill and would result in two stuck vehicles. Somehow this vehicle lacked any attachment point at the back to attach it to the axel was also impossible as the angle of the rope when it goes tight would rip the bumper off. The time was running, no human being as far as we could see and no possibility for rescue anywhere. It was 4 pm now, well past the time we should have been on our way back towards the town. We already knew the waves would be at the bottom of the dunes.
Did we make it back? Or were we forced to camp overnight within the restricted zone? To find this out, you have to watch the movie As Far as We Can 2.
All I can say is, we made it back to Cape Town three days later; tired, exhausted, but happy. We did it; we achieved something new, a sense of pure exploration. Yes, maybe by staying in Cape Town for those two weeks we could have had more sessions, scored more wind, more waves. But hey what satisfies you the most as a professional windsurfer or kiter? They say life begins at the end of your comfort zone. Well, life started on that trip.
Words: Alina Shalin
Jen Tyler grew up in the chaos of Cairo, Egypt. It was on the beaches of the Red Sea where her love for the ocean, water sports and adventure grew.
Featured in this Post
Comments