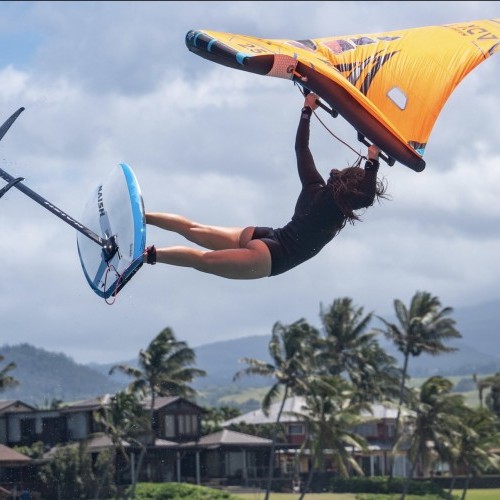 New 2024 Naish Wing-Surfer ADX
Fri 28th Apr, 2023 @ 12:00 pm
Naish's Wing-Surfer ADX is the culmination of five years of research and development, resulting in a wing that caters to all skill levels and riding styles. The perfect balance of wingspan, strut length, draft depth, and dihedral make the ADX a revolutionary wing in our product lineup. The high-tension canopy, combined with the shallow wing profile, provides power on demand.
This design profile produces incredible get-up-and-go functionality, lifting even heavy riders onto the foil with ease and maintaining steadily balanced power once riding. The lightweight yet robust T-Bone construction provides stiffness and strength in the wing's centre while allowing the wingtips to twist properly. The 50D Nano ripstop canopy is low-stretch and tear-resistant, ensuring the ADX can handle even the most intense conditions. The ADX puts strength where you need it, with everything else remaining light.
The result is a wing that lives up to its name, The Wing-Surfer Aero-Dynamic-Xtreme, a wing you will enjoy session after session.
Features
High Aspect Geometry: A wider wingspan gives maximum power efficiency
Hybrid T-Bone Leading Edge Construction: The T- stringer construction stiffens the wing structure and increases efficiency
High V Dihedral Inflated Structure: Increased dihedral provides optimized riding balance
Ergonomic Curved Strut: Optimised for hand position, making it easier to sheet in
Rigid Handle Design: Aluminium drop shape handle design gives maximum efficiency and control
Optimized Window Design: The multi-window design provides visibility where it is needed most.
Maximum Pumping Efficiency: The direct feel of the wing translates into optimized pumping efficiency
Optimised Draft Stability: The locked-in draft of the wing gives a wide wind range
Optimised Power Delivery: It provides ultimate low-end power and is highly responsive
Optimised Canopy Tension: It increases power delivery and provides a direct feel
50D Nano Ripstop Canopy: Low-stretch and tear-resistant
Leading Edge Center Grab Handle: With Rubber Inlay Grip Stripes for comfort & Neoprene Patch protects the hand when flagging the wing on a downwinder or while wave riding
Leading Edge Anti-Abrasion Patches: Abrasion resistance & durability
Mini-Battens: Moulded mini-battens stabilize the trailing edge
Bladder Lock: Secures bladder ends & prevents slippage
One-Point Inflation System: With streamlined SureLock valve, 8mm Hose for easy inflation and added Strut Dump Valve for quick deflation
HT Plus Seam: This high-tensile thread fortifies the leading edge along the seam
Coil-Wrist Leash: Comfortable & secure wing-to-rider connection
NEW Padded BAG DESIGN
Integrated Vent System: Allows the wing to dry while in the bag
Shoulder Straps with Foil Carry Protection: Carry your foil on your shoulder using the wing bag shoulder protection feature
Easy Zippered Access: Allows for easy access and transport
Integrated Pump Storage: Easily transport all gear in one bag.
For more information on Naish's new 2024 Wing-Surfer ADX, please click here.
Featured in this Post
Comments