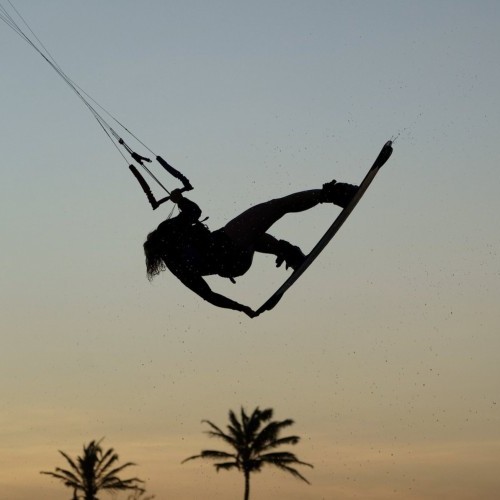 Naish acquired by Kubus Sports
Tue 10th Jan, 2023 @ 9:15 am
BIG NEWS! Naish, the legendary Maui-based company of 24-time windsurfing world champion and pioneer of Stand Up Paddling, Kiteboarding, and Wingsurfing Robby Naish, has been acquired by Kubus Sports, a Netherlands-based internationally leading sports equipment brands platform. With the acquisition of Naish, a leading brand in water sports equipment, Kubus Sports strengthens its global market position within the fun & water sports industry.
Kubus Sports has acquired Nalu Kai Incorporated (the Maui-based operating company of the Naish brand) and its subsidiary Pacific Board Sports (Naish's US distribution company.)
Naish and Kubus Sports have a long and respectful history of more than 20 years, whereby Kubus Sports has acted as a value-added distribution partner for Naish's water sports equipment products in Europe. The sale of Naish to Kubus Sports takes the cooperation to a new level and will boost further growth and investment in the well-known and pioneering water sports equipment brand. Naish and Kubus Sports will integrate their organizations to further strengthen product development, product portfolio, sales and operations.
Robby Naish will continue to drive product innovation and remain a brand ambassador. Naish's Hawaiian headquarter will remain the core of the R&D program and heritage of the brand for future marketing. Naish's sales organization on the US mainland will be further strengthened.
Kubus Sports aims to build a home of premium sports equipment brands: from fun & water sports to winter sports and field hockey. In addition to the legendary Naish brand, the portfolio of +10 premium iconic brands includes Prolimit and STX, leading fun & water sports equipment brands distributed in 60+ countries globally. With the acquisition of Naish, Kubus Sports has taken another step in building an internationally leading sports equipment brands platform, following the acquisition of Brabo Hockey and Princess Hockey and the introduction of new brands such as Ohana and Brabo Padel. By becoming part of Kubus Sports, Naish can broaden its product portfolio while strengthening its global distribution power and presence in all global markets.
Robby Naish comments: "My parents started Naish Hawaii in our Kailua garage in 1979, making and selling custom windsurfing boards that were ridden and cherished worldwide. I expanded the reach of the Naish brand in the mid-'90s with the launch of Naish Sails Hawaii windsurfing sails. A quarter century later, the Naish brand has grown into a complete board-riding company with a full range of windsurfing, kitesurfing, Stand Up Paddling, foil surfing, and wing foiling products.
The driving force behind the Naish business has always been a love for these sports and an undying passion for riding the wind and waves. I'm proud of what we've accomplished. But I've also realised that I have taken the business as far as my passion, knowledge and know-how will allow. For the Naish brand to meet, its full potential requires new direction, structure, and energy. This partnership with Kubus Sports will provide that, as well as the resources and infrastructure needed to meet the challenges of a rapidly changing business landscape. I am excited to see Kubus Sports push the Naish brand to the next level. I'm also excited to slow my life down a bit. This acquisition frees me up from the day-to-day operations and stresses and will allow me to re-focus on why I started doing this in the first place: getting out on the water… riding for its pure fun and enjoyment. I look forward to sailing into the future with Kubus Sports and the Naish brand and continuing to share my passion for water, wind, and waves with people around the globe."
Alex Cretier, CEO at Kubus Sports, complements: "We at Kubus Sports are extremely excited about this opportunity for both companies. We will further strengthen the distribution and portfolio of the Naish brand. The acquisition simultaneously puts us in a position to grow our presence in all main markets worldwide. The Naish brand is unique, based in Hawaii and bearing the name of the living legend in all water disciplines. When you want to identify yourself with one of our water sports, there is one brand that exudes love for the sport: Naish. Together with Robby, we continue to work on building our brand."
"We would like to thank Robby Naish for his confidence in Kubus Sports, and we are looking forward to our future endeavours."
About Naish

Naish was founded in 1979 as one of the first water sports equipment brands by former wind and kite-surf world champion Robby Naish and is headquartered in Maui, Hawaii, the United States. Naish is a well-known and high-end water sports company with a worldwide reputation for quality, innovative product design and attractive branding. Naish's product portfolio consists of, amongst others, windsurfing boards, sails and rigs, kitesurfing kites and boards, stand-up paddle boards and paddles, surfboards, hydrofoils, foiling wings and a full range of related accessories.

Click here to check out all their products.
Win a Set of Quobba Fins this issue in our FREE subscriber prize draw.
About Kubus Sports

Kubus Sports, founded in 1970 and headquartered in the Netherlands, is an owner and value-added distribution platform for premium quality sports equipment brands, covering various niche sports markets, including STX, Prolimit, Storm, Ohana, Brabo Hockey, Brabo Padel, STX Snow, Atom and Princess Hockey. The company's all-season product and brand portfolio are focused on fun & water sports (SUP, kiteboarding, windsurfing, wingsurfing, foiling, sailing and wakeboarding), field hockey & padel and winter sports markets. Within its niches, Kubus Sports is highly successful in building brands into market-leading brands with in-house R&D, design, sales and marketing capabilities while outsourcing production to carefully selected best-in-class suppliers in Asia. On the back of its 50+ years of experience, professionality and strong distribution power, several renowned third-party brands such as Elan, Nitro and Giro have chosen to team up with Kubus Sports as an exclusive value-added distributor, providing logistics, distribution and marketing services, as well as brand building support. The company has a strong and loyal network of 1,500+ resellers, mainly consisting of online and offline general and specialized retail (sport) platforms in Europe and globally.

Find out more here.
Win a Set of Quobba Fins this issue in our FREE subscriber prize draw.
Featured in this Post
United States
98,602
6,739
Comments