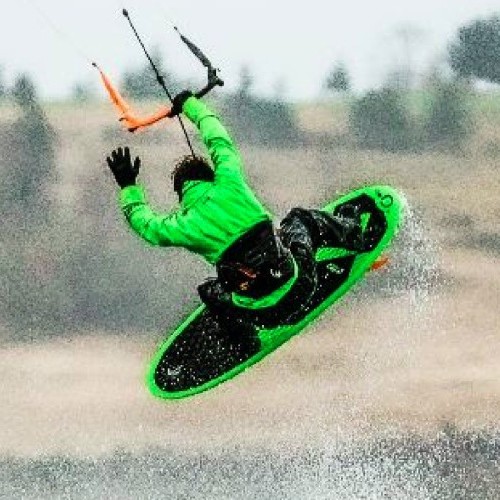 Ocean Rodeo October 2019 News
Wed 9th Oct, 2019 @ 8:30 pm
The results are in… Our first BLACK series Roam and Flite kites featuring the new Aluula material have now been tested around the globe, with demos in Sylt Germany, Seattle USA, Tarifa Spain, Hood River USA, Ottawa Canada and St Peter-Ording in Germany.
We sent the BLACK kites out to test in the world's top kite locations, from the blistering heat and sand-blasted beaches of Western Sahara to the biting cold back here in Canada. This exposure to a wide range of conditions including weather, temperature, wind levels and water states, as well as a varied spectrum of riding styles, has seen them put through the ultimate in 'real world' testing!
On top of that, kites featuring the Aluula airframe have been in use in competition, by our team riders on the GKA World Tour.
We have now taken all the valuable data, and rider feedback that has been gleaned from this broad journey and are excited to move forward with our first production BLACK kites for our demo centres across the world, followed by the full retail availability of the Roam and Flite BLACK in all sizes, from spring 2020.
Bookmark and check back here often for more upcoming worldwide demo dates and locations as they're added, and find out more about the BLACK kites by clicking here!
Ocean Rodeo on the World Tour
Our team riders on the GKA World Tour have been enjoying a pretty high profile run this year, and still, at these later stages, anything can happen, with at least one rider aiming for the top of the podium! Here's a short round-up of where we're at as the event in Dakhla rolls on…
Juan Rodriguez has had a fantastic debut year on tour. This season he has managed to attend every single stop, ride better on each occasion and is currently sitting in 12th in the general rankings. With one final event to go to Brazil, anything can happen! Juan has proved that he is a very versatile rider adapting well to the conditions at all the events, whether 15 knots or 30 knots, Juan goes all in!
Reece Myerscough has also attended the entire GKA Kite World Tour this season, competing in the kite-surf discipline. After a long year of travelling to five stops across the globe, he currently sits in 8th position in the rankings and will be hoping to advance even higher in Dakhla and Brazil.
Graham Harney has also dedicated his year to the World Tour and has been having a great time vlogging his experience along the way. He currently sits in 17th position and will be looking to do his best in Dakhla and Brazil to advance even higher.
Luke Millard sits just below in 18th spot on the kite-surf tour, where he has done a whole season together with his partner Frances Kelly who is sitting in 4th. Frances will undoubtedly be aiming for a podium position at the current stop in Dakhla!
Finally, Carla Herrera is having an exceptional year and sits at the very top of the GKA Kite-surf World Tour ranking. With just two events to go, she has a great shot at a top-of-the-podium placing!
We couldn't be more proud of our international team! Good luck to them all in the coming events. Follow all the latest updates, right here!
Product Focus: Soul drysuit
The Soul continues to be our best selling drysuit, reliably keeping you warm, dry and protected when the cold weather kicks in. Offering you great flexibility, ultimate technical performance and customizable levels of warmth, the Soul features our revolutionary Captive Zip design, giving you the ability to choose 100% full "dry mode" or you can use the "standby mode" when relaxing between sessions by opening the dry zip and doffing the neck seal, which can be done while still wearing a PFD. The Soul is available in green or royal blue, and a range of sizes.
"If you want to get the best out of every winter session, you've gotta have one of these in your arsenal!" – Force Six Kitesurfing"Overall amazing product and great value. Comfort is definitely worth the investment." – Angela McLaughlin
FEATURES:
Standby mode / Captive Zip Self Entry
German-made TIZIP Masterseal main dry zip
Two way captive over flap jacket zip
Outer Chest Pocket
500 Denier abrasion overlays at knees, buttocks and crotch
VENTOR saltwater resistant, drysuit specific waterproof breathable material
Trim to fit Polytex UV resistant seals
Articulated knees and elbows
Adjustable & removable suspenders
Removable hood
German-made TIZIP Masterseal crotch relief zip
Jacket pockets
Wrist and Lower leg "boot cuff" overlays
Reflective piping
Get yours, right here!
Then…
Taking it back to 2003, and former Ocean Rodeo Sales Manager Mark Vincent at South Chesterman's Beach, BC, works the camera for a product photoshoot. Note the Outlaw board, Bronco kite and Pyro drysuit. Although the models no longer exist, their DNA is deep in everything we produce today. The Outlaw was the world's first flexible kiteboard built with snowboard construction, the Bronco was the first-ever kite to use Dacron, and the Pyro was the world's first kiteboard-specific drysuit.
Now…
For more information on Ocean Rodeo's 2020 kite range, please click here.
Featured in this Post
Spain
1,284
696
36,805
Comments