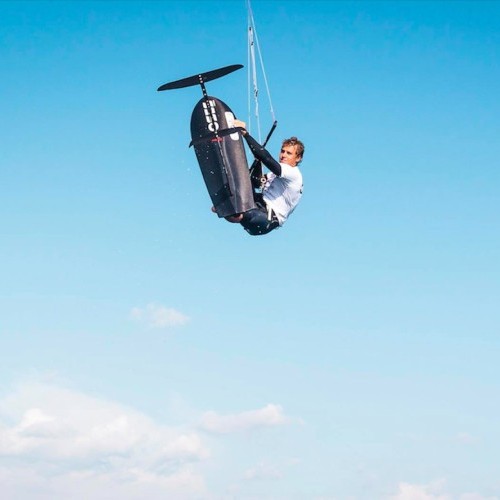 World Sailing AGM confirms Kiteboarding for the Paris 2024 Olympic Games
Mon 5th Nov, 2018 @ 10:30 pm
Yesterday, Sunday 4 November 2018, the Annual General Meeting of World Sailing confirmed the final line-up of events for the Paris 2024 Olympic Sailing Competition.
The Annual General Meeting (AGM) is made up of delegates from member national authorities (MNA), with each MNA entitled to one vote. Although a decision was made in May 2018, World Sailing's Regulations allow both the Events and Equipment to be amended at the 2018 Annual Conference by World Sailing's Council before ratification at the AGM.
The AGM was invited to debate and vote on a proposal from the World Sailing Council meeting of 1 November 2018 to include a new Mixed Keelboat Offshore event. This proposal was approved by the AGM who confirmed the final 2024 Olympic events/equipment line-up as follows:
Men's Windsurfer – RS:X
Women's Windsurfer – RS:X
Mixed Kite – equipment evaluation (new event)
Men's One Person Dinghy-Laser
Women's One Person Dinghy-Laser Radial
Mixed Two Person Keelboat Offshore – equipment evaluation (new event)
Mixed Two Person Dinghy – equipment evaluation (new event – 470)
Men's Skiff – 49er
Women's Skiff – 49erFX
Mixed Multihull – Nacra 17
*RS:X and Laser/Radial are subject to anti-monopoly review
Equipment Criteria for Mixed Kiteboarding:
Board concept: Foiling
Weight range men: 65-85kg
Weight range women: 50-70kg
Kite size for Men: 7-21 m2.
Kite size for Women: 7-21 m2.
Kite system: RAM-Air (foil-kite)
Number of permitted kites per event: 4 high performance, high aspect ratio kites
Number of permitted hydrofoil systems per event: 1 high performance, high aspect ratio hydrofoil system
Same hydrofoil system, board and kites scheme for men and women.
Suitable wind range for competition: 5-40 knots
Builder / Class structure: Registered Series Production Scheme with multiple licensed builders. All equipment within a model/series must be identical and must be available worldwide without restrictions. World Sailing, in close cooperation with the class, manages the control of builders and licenses equipment.
Format proposal: Various options, including:
Short Track Relay on a short windward/leeward course, with team members (male and female) covering laps alternating, with a changeover zone. Competition may consist of an opening series in heats and a knockout stage or other forms of final (i.e. best of x race wins).
Other Equipment considerations: The proposed registered series production equipment scheme is fully supported by sailors, the industry and the wider kiteboarding community over a one-design solution and reflects the IOC "urban sports" vision with a variety of equipment similar to what is common in snowboarding, skateboarding and surfing. Equipment will be "frozen" per Olympic cycle to ensure confidence and reliability in equipment investment while ensuring controlled evolution from one Olympic cycle to the next. The selected class should be run by a well-established worldwide class authority with well-developed class rules following the ERS and SCR format.
The confirmed equipment criteria describe exactly the IKA Formula Kite class and allow for the first time that different models from different manufacturers can compete against each other on an Olympic level playing field.
"The International Kiteboarding Association is very excited to see kiteboarding included in the 2024 Olympic Games after we made our debut in the Youth Olympics in Argentina earlier this year," said Mirco Babini, President of the International Kiteboarding Association.
"We want to thank everyone in the various committees, council and AGM, as well as the world wide kiteboarding community for their support and, are looking forward to showcasing this exciting discipline of sailing in the Olympic Games," he concluded.
Markus Schwendtner, Executive Secretary of the International Kiteboarding Association added that "it has been a long journey for us to come to this point. Through all the years it was always our goal to keep the whole community and industry involvement and not to go down the single manufacturer / one design road. In the Youth Olympic Games, we had 'registered series production equipment' for the first time, and it was a great success. I am very happy that we have also achieved this as the equipment criteria for Paris 2024 – Formula Kite will ensure that we retain the spirit and identity of kiteboarding, and keep everyone involved."
Win a Ride Engine Technical Changing Robe this issue in our FREE subscriber prize draw.
For more information please contact Markus Schwendtner (Class Manager) here.
Featured in this Post
2,594
Germany
19,664
31,617
Comments