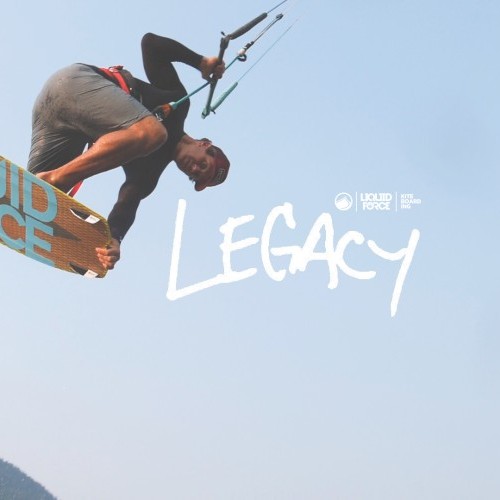 The 2018 Liquid Force Legacy, Presented By Jason Slezak
Fri 20th Oct, 2017 @ 9:00 am
When it comes to kiteboarding, Jason Slezak can do pretty much anything. He likes to vary his style of riding and his pro model, the Legacy twin tip, is made for exactly that. It's an all-around board with progressive technology and a lively style. Liquid Force Kites fills us in on all the details, below.
The Legacy is back for 2018 and marks Jason Slezak's 13th pro model board with LFK. The board is a reflection of Jason's continued progression in the sport. It all started with the Mission, with the goal of making a smooth riding yet progressive board. The Mission evolved into the Influence, which at the time was LFK's first snowboard style construction board. The Influence helped push the LFK board technology into the 21st century, giving the boards more life and performance enhancing technology.
Following the Influence came the Legacy. The goal of the Legacy has always been to make a board with the smooth characteristics of Slezak's riding while continuing to push what is possible to do with twin-tip construction. With a 100% cnc wood core, asymmetrical contoured channels, and vector net carbon cloth the Legacy delivers top end technology that transfers right onto the water. The board is light, springy, lively, smooth, and carves like a dream. It's a favorite for riders looking for a forgiving ride, but still wanting some top notch performance attributes. Here's what Jason has to say about his board.
"The 2018 Legacy is smooth, fast and fun! When it comes to kiteboarding I love riding every type of conditions, and for me, the Legacy handles it all. From cruising around exploring new spots, boosting big airs, or laying into the rail of hard carved turns and small wave slashes I know that I can rely on the solid, responsive and forgiving feel of the Legacy."
Like to carve and throw buckets? Ride with a lively pop underfoot? Like light zippy boards? Then look no further than the 2018 LFK Legacy!
Featured in this Post
Comments