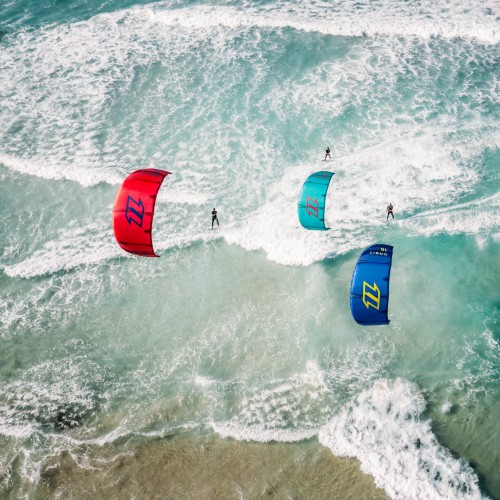 North Boosts Design Team Horsepower
Features / Mon 16th Aug, 2021 @ 12:00 pm
One of the brands that we can always count on to level up their game is North Kiteboarding. They've hit us with a hat trick, adding three talented new members to their R&D team. Here's the low down on these new additions!
NORTH BOOSTS DESIGN TEAM HORSEPOWER
At North, we're on a mission to become market leaders in all categories, and we aspire to change the way we ride. The past three years have been a time of exceptional innovation and growth for the Brand. As a response, we are proud to announce that we are strengthening our kick-ass team of designers with the addition of three new faces: Pepijn Smit, Dano See and Steve Calder.
Brand Director Mike Raper says: "New designs, new materials, and the addition of an exciting new wingfoil range, has meant we needed more horsepower, investment in R&D and investment in the right people.
"In bringing this team together, we diversify our experience and increase our collective knowledge. When the design knowledge is shared, ideas are transplanted – and that's what creates the magic. As Ryunosuke Satoro put it: "Individually we are one drop. Together, we are an ocean."
Pep, Dano and Steve are joined by David Little (Materials Development) who came on board in late 2020.
DESIGNER PROFILES
PEPIJN SMIT
North Kite Designer Pepijn Smit's daily life is dedicated to the wind: "I can spend hours and hours analysing kites, making bridle adjustments and validating the theory behind it. I enjoy thinking outside of the box, devising alternative shapes to improve a specific aspect of the kite and give it unique flying characteristics."
His passion for kite designing started when he was ten years old, building single line kites. This passion later evolved into stunt kites, power kites and traction kites (for on-water), unknowingly shaping his future profession.
Studying Human Kinetic Technology helped Pepijn form advanced thinking methodologies and find functional solutions when analysing problems. He has now spent almost 20 years building and designing foil and tube kites.
Recently Pepijn took a small excursion into AWES (Airborne Wind Energy Systems), designing 60sqm kites to produce green energy.
With his in-depth knowledge of the market, interest in (new) materials, eye for detail and a life-long passion for kite design, Pep's amping to embark on this new challenge with the team at North. He has been working in the background on a project for North over the last year and joins us full time at the end of August 2021.
DANO SEE
Dano brings with him more than 20-years of experience working in the kiteboarding industry. He was involved in the early development of BOW kite design and has been a leading kite and wing designer for multiple industry-leading brands since.
Originally from Newcastle, Australia, Dano cut his teeth while living on Namotu Island, Fiji and mastering Cloud Break during the birth of kiting. Sailing and windsurfing from 12yrs old, he began sail-making from a young age with hang-gliders and windsurf sails and studying aerodynamics.
Dano now lives on one of the world's most consistently windy breaks; Pagudpud in the Northern Philippines, where wave-sailing, kiting, wing-surfing and foil-surfing provide his innovation focus.
He has his own sail loft in the Philippines, with a cutting table, sewing machine and direct access to the beach. You'll find him on the water, every day.
STEVE CALDER
At the pinnacle of sail design, North Sails designer and former Olympic and World Champion sailor Steve Calder has been instrumental in the development of revolutionary aerodynamic and structural solutions for many iterations of America's Cup race boats.
He now brings his technical knowledge and depth of experience in data-driven design and engineering from the sport's highest calibre boats to kite and wing design.
Born in Detroit Michigan, Steve began sailing at an early age, started racing at 13, and began sailmaking at 16. He went on to win a Bronze Medal for Canada in the 1984 Olympics and a World Championship title in the Soling Class. Steve became hooked on kiting when his son Kai, now a semi-pro kitefoil racer, introduced Steve to kitesurfing in 2012.
Press release by Victoria Stuart, Digital Communications at North Kiteboarding.
Header photos by Ydwer.
Editor at IKSURFMAG, Crystal Veness hails from Canada but is based in South Africa. When she isn't busy kitesurfing or reporting on the latest industry news for the mag, she is kicking back somewhere at a windy kite beach or working on creative media projects.
Featured in this Post
Comments