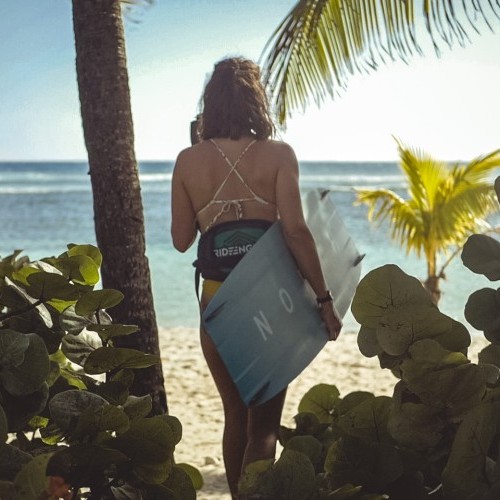 From Martinique to Guadeloupe – Behind the Video
Features / Thu 28th Oct, 2021 @ 12:00 pm
Sometimes the best kite adventures are only a stones throw away… Check out this epic video from Lucas Pelus who hopped a ferry to Guadeloupe to film his dream kiteboarding edit! Keep reading to get the behind the scenes story on what it took to create this awesome video!
Win a Custom Designed Ozone Twin Tip this issue in our FREE subscriber prize draw.
Behind the Video with Lucas Pelus
I arrived in Martinique in 2012, and two or three times each year, we take the ferry over to Guadeloupe. It's only 150 km away from Martinique, and while the island of Guadeloupe is bigger, it is pretty similar.
When it comes to kiteboarding, however, it's different. Although we both have trade winds, in Martinique, the wind arrives in the morning and end of the afternoon. In Guadeloupe, it's the opposite, more like a thermal wind that starts later in the morning and drops off during the afternoon. The spots are also different there, with more chop and less accessible. It's better for surf kiting or just to travel.
Each year, we go explore the mangroves and islets looking for wind. The first islet is about 2.5 km from our starting point, and difficult to reach in a kayak with all of our camera and film gear. To combat the wind in the kayak, we had one of our crew sit at the front seat with their kiteboard in the water to create something like a fin or a keel, to avoid drifting.
Finally, we arrived at the spot for a session and to film, using a drone and with a handheld camera. In some spots, the water depth was only 10 cm with dead coral reef below.
On the second day, we started at the same spot north of the Basse Terre and went to Ilet Caret, which is upwind. A jetski was there to help the beginner kiters in case of any trouble and to help carry the video gear. It took 40 minutes of riding upwind in choppy water to reach the spot. In the video we created, the hand drag was filmed on the beach there!
The islet is around 90 x 25 m and the spot is not ideal for freestyle because of the choppy water, but it's really beautiful. It was a crazy good vibe, especially with the music on the boat!
The second drone spot we filmed was surrounded by rock, which created a circular pool around 110 m in diameter. It's surrounded by rocks, sand, and dead reefs. It's definitely hard to ride and is more of a video spot than a spot that you would choose to ride to frequently. There is only space to ride alone here, but just over the reef, you'll find a big lagoon that is beautiful but still choppy. The three of us took turns riding, chilling, and filming together.
Lastly, we filmed some lifestyle and unhooked action in the best spot to ride, where access to the beach and riding conditions were the easiest: La Caravelle. It's flat, great for freestyle, but small. There is one of the best and easy wave spots just behind the dam, but you will need to navigate between old school windsurfers and wing foilers. The inside is really shallow and works best for kiting, and it's much easier to get priority in this spot.
Filming in Guadeloupe was really challenging because we needed to sacrifice riding time to get the logistics right. But after so many years of dreaming of making this video, we finally did. It's not perfect, and I would do some things differently if I were to do it again, but is there such a thing as perfect?
—
Written by: Lucas Pelus
Riders and videographers: Lucas Pelus (Kroket Productions), Marguerite Migeal, and Tim
Editing: Lucas Pelus (Kroket Productions)
Support: Airfly
Editor at IKSURFMAG, Crystal Veness hails from Canada but is based in South Africa. When she isn't busy kitesurfing or reporting on the latest industry news for the mag, she is kicking back somewhere at a windy kite beach or working on creative media projects.
Featured in this Post
Comments