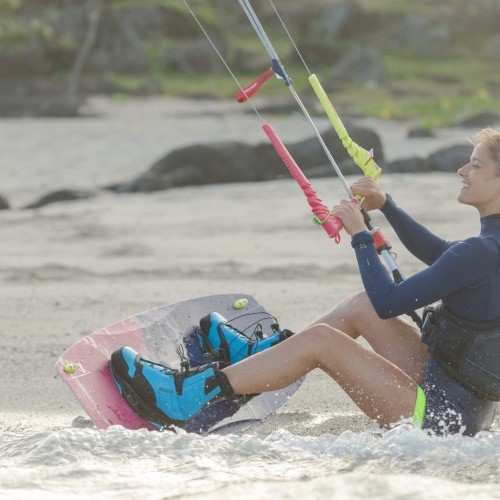 F-One Interview – The Almighty Control Bar – Paco Isoardi
Features / Sun 17th Jun, 2018 @ 11:19 pm
Industry Insight: Control Bars in Issue 69 of IKSURFMAG looks at the almighty control bar. Possibly the most overlooked and underrated bit of equipment in your quiver, the control bar is the connection between rider and kite. To find out more about this crucial piece of equipment, we reached out to the most knowledgeable designers on the planet, including Paco Isoardi from F-One. Here's the full interview!
What do you consider the most important feature on your bar?
The one line flag out safety system, combined with the swivel, on top of the quick release. But also the bar-tube with length adjustment.
Above the bar or below the bar? 4-lines, 5-lines, or 6-lines? Why?
Above the bar trim line because you have less strength to pull if the depower is below. 4-lines, but 5 (or 6) is good only for very specific C-shape kites.
How do you find a balance between features & simplicity?
By working hard. It's our very first goal to innovate while remaining simple.
What will be the next big breakthrough in bar technology?
Wireless. No doubt.
Does it matter where the split in the front lines occurs?
It matters a lot! Move the split only a few cms and your kite is not the same.

Is there something on the bar that riders don't think about or ask about that makes a huge difference?
Yes, the V ! As mentioned above, nobody really thinks about it but it makes a huge difference.
How do you make a kite bar?
We try to put all the features we think people need, but trying to stay as simple, small, and smart as possible.
Adjustable bar length: here to stay or passing fad?
People want more and more adjustability, even if they're not using it. Adjusting your bar is useful when using different kite sizes with the same bar. I think it's here to stay.
How do you take care of smaller riders when designing your bar?
Smaller riders don't have any specific needs concerning the bar.
For example, the bar length is not proportional with rider's size but rather the discipline. And we have small bars for freestyle riders.
We've come a long way, or long way to go — can you explain briefly what we started with in terms of bar design, and where we're going next?
We started with a simple tube and lines. We're heading for something that will lay low and is so important. It's similar to a ski binding.
What's the most challenging part of designing a bar?
Working with soft pieces (lines, splices, knots…) with a behavior that's difficult to anticipate. Also, getting a safe and durable assembly at the end can be a challenge.
Follow this link to find out more about F-One's control bars: f-onekites.com.
Sun 17th Jun, 2018 @ 11:19 pm
Lindsay is a pro rider from Hood River in the USA, she works for IKSURFMAG as our Features Editor and is an integral part of the team. Lindsay is really into wakestyle riding and can be found in the Hood River Slider Park during the summer months, she also travels all over the world with the World Class Academy helping younger riders develop through kiteboarding!
Featured in this Post

3,722

France
41,428
Comments