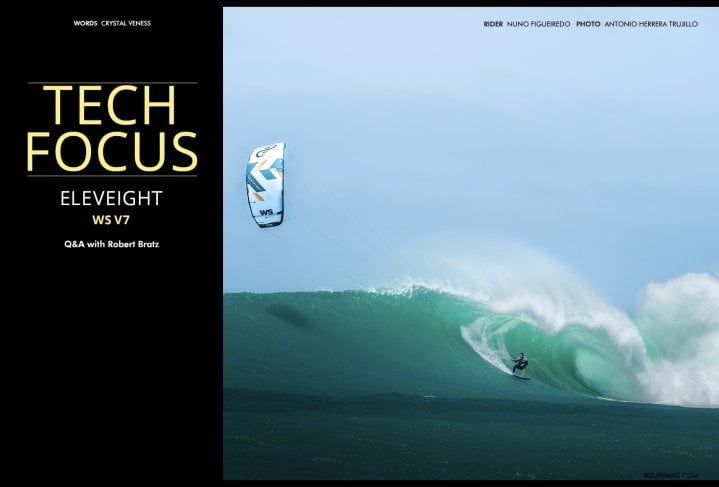 Tech Focus: Eleveight WS V7
Issue 99 / Tue 6th Jun, 2023
Eleveight's performance freeride and wave kite, the WS, sees a fresh update in the new V7 version. Eleveight's Robert Bratz gives us all the details on materials, construction, and performance characteristics in this Q&A!
Congrats on the release of the WS V7! For kiters familiar with the WS V6, what are the key changes in the newly-released V7 model?
The much-loved DNA of the WS remains the same with its open-C hybrid performance kite for waves, freeriding and foiling, but we implemented many incremental changes!
The most significant change is the new XT Light material we use for the inflatable parts manufactured by the leading supplier Teijin. The XT Light features light tenacity polyester yarn with a different final coating, achieving more direct flight performance and making V7 10% lighter than the previous model.
We also introduced two new sizes, a 10m and 12m, to open up the WS a bit more to the freeride market, as it's a fantastic kite not just suited to waves. To improve the flight stability further, we worked on the panel cut to distribute the force more efficiently and modified the wing tips for even quicker turning initiation.
It's hard to improve on an already top-performing kite! So, which areas did you identify to focus on? What was done to extract more performance in these areas?
Our development team all love the WS, so it's natural that we focus on details to steadily improve it over time. Eleveight is a product-driven company, and continued development to outperform our products year after year is a key value for us.
Our main focus was the inflatable material for the V7, to make the kite lighter and extremely dynamic. For the RS+ development, we used Dynea Tech, which was an interesting option, and we also tried Aluula, but we found it too stiff for a wave kite. Riders forget that sometimes a kite has to twist to a certain level, and for a wave kite, it's essential to have dynamic turn and drift performance.
With XT Light, we found the best balance between stability and stiffness, and we were very, very impressed with the overall improvement in kite performance. The lighter weight was also very useful for our bigger 10m and 12m sizes.
Turning speed plays a crucial role in a wave kite as you want it to turn on a dime but with less power generation, allowing you to easily ride a wave and draw your line. For the WS V7, we paid special attention to the wing tip shape, squaring them off for quicker turning initiation but with very controllable power development.
Tell us about the X4 canopy fabric used in this kite!
X4 is our prime ripstop that we developed exclusively in partnership with Teijin. We've been using X4 for years and can honestly say it's state-of-the-art material. The core 4X4 ripstop is woven with an ultra-high tenacity polyester yarn which is then treated with a high-temperature resin which includes a UV filter. This very sophisticated construction has two benefits for the consumer: First is the performance results which achieve less elongation/stretch in all directions, which results in precise and responsive flight characteristics. Secondly, the quality results as X4 is longer lasting with extreme rip protection against peak loads, tears and punctures. It also has less elastic fatigue, keeping the kite crispy for longer!
We are impressed by the durable design of this kite - essential when there's a high chance your kite is going to get rolled up in a wave! Can you tell us a bit more about where and how the kite is reinforced?
Our latest photoshoot with Nuno shows that the WS has bulletproof construction! However, the WS actually uses the same construction methods as our whole lineup, with quality and durability as key elements in our production process. Aside from the prime materials X4 and XT Light, we pay special attention to our Double Bond Canopy, where every seam is glued and stitched for maximum durability. We also use a triple-reinforced closing seam along the leading edge to make it practically indestructible. The centre segments have stronger reinforcements as the material load is much higher compared to the smaller diameter of the wingtips.
Our Ultra-Light Load Diffuser provides angled reinforcements along the trailing edge to diffuse the load and strain on the canopy, making it more durable while improving kite stability and longevity. The 2 Step Force Transition helps with the load transition between the inflatable frame structure and the ripstop material, which is optimised for improved stability and durability. An extra layer of double ripstop also sits between the inflatable structure and the X4 ripstop to protect the load. Finally, we use additional leading-edge TPU reinforcements for further protection against wear and tear.
The WS V7 features a pulley-free bridle. What is your perspective on pulleys vs no pulleys? Why the choice for no pulleys in this kite?
We used pulleys in our previous versions, but the WS is made for fast turns and needs a very direct feeling on the bar. For this reason, we found the short pulley-free 5-point bridle setup enhances the kite's turning speed and agility. Your bar input is direct, while the risk of catching the wingtip is reduced.
The release video for the new Eleveight WS V7 features some pretty sizable waves!! What flying characteristics should a strong wave kite have to both perform well and keep a rider safe in heavy wave conditions?
The latest video with Nuno is exceptional, and I think only a handful of riders worldwide can tackle this wave. In general, a wave kite should be very stable with stall-free flying characteristics for easy drift and carefree riding. You want to trust your kite even when the lines are a bit slack or the wind gets iffy. You need to be able to turn rapidly and tightly but with less power development than other kites; this helps with the control of the turns and finding the right line on the wave.
A wave kite has to offer easy piloting and should have less bar pressure for optimised single-handed control. The overall construction plays an essential role when you wipe out, and a wave kite should relaunch quickly to avoid long swims in the water.
This kite is heavily oriented towards waves but also aims to serve the foil and freeride market. Which aspects of the kite work well across all three of these categories?
The interesting point is that a wave kite is also great for a freerider. The stability and huge wind range work well across all disciplines. The easy turning and general plug-and-play handling make the kite super user-friendly and great in all conditions.
We also offer a special bridle configuration for the WS, with a freeride as well as a foil setup. By changing the bridle line configuration, you have a significant impact on the turning speed. Our freeride setup is a bit more powerful in the turn, whereas the foil setup has a very quick pivot turn optimised for light wind.
What is YOUR favourite thing about this kite?
The whole Eleveight family loves the WS. We are based in Portugal in a renowned kite location with great waves and strong wind. Most of our best sessions are with the WS. I particularly love the fast and precise turning of the WS. As a strapless rider, I need a kite that turns well but with not so much force in the turn. The single-handed control is outstanding and becomes handy if you want to throw some serious spray!
Videos
Editor at IKSURFMAG, Crystal Veness hails from Canada but is based in South Africa. When she isn't busy kitesurfing or reporting on the latest industry news for the mag, she is kicking back somewhere at a windy kite beach or working on creative media projects.
Comments