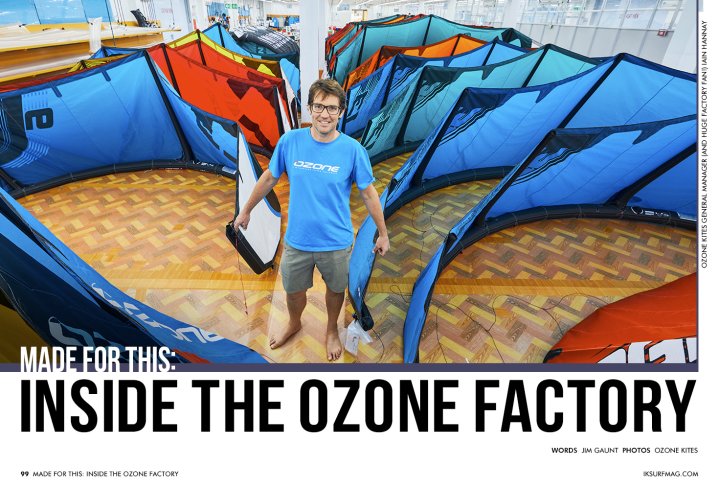 Made For This: Inside the Ozone Factory
Issue 99 / Tue 6th Jun, 2023
After 20 years of experience working on Kiteworld Magazine, ahead of taking up a new position at Ozone, Jim Gaunt took his first trip to Vietnam to visit Parapex, the company's own factory, where everything from paragliders and kites to hydrofoils and speed wings are made! See what happens Inside the Ozone Factory in this feature article...
BRIEF HISTORY
In March, I headed to Vietnam to check out the kiting conditions and visit Ozone's incredible factory in Ho Chi Minh City (also known as Saigon), first set up by David Pilkington and his Ozone colleagues in 2000. In 20 years as a kiting journalist, I've not once been able to step foot in another kite factory. However, with Ozone uniquely owning its very own facility and with my new access-all-areas pass, I couldn't wait to see how it all worked.
Ozone has a rich history in paragliding, with its owner's involvement in the sport dating back to the early 1980s. The brand was formed in 1998 and has since been instrumental in paragliding's development.
To address early concerns with factory limitations in China, David Pilkington, co-founder of Ozone, decided to explore developing their own production. His research led him to Vietnam, where, in 2000, he recruited 20 sewing machinists to learn how to make wings and scale up production. Parapex now employs over 1,000 people across nine factory floors, which together span the size of almost two football pitches.
Today, each of the nine factory units is exclusively dedicated to manufacturing Ozone products, including paragliders, kites, wings, speed wings, twin-tips, hydrofoils, foil boards, bags, harnesses and many more accessories. Actually, I lied! As well as Ozone products, Squirrel wingsuits are also made in the factory, available in fully customised, sublimated colour prints; just one of the many customisable design options in the factory.
First, I had to hit the water! So let me first give you a quick indication of why you'll also love a kite trip to Vietnam.
MŨI NÉ IS THE WAY
After landing right in the centre of this sprawling city, it's a four-hour journey northeast, by road or rail, to reach Mũi Né, 220 kilometres away. This is Vietnam's home of kitesurfing, with a main season running from October through to early April (though the locals kite all year, particularly the foil fanatics).
Strong cross-onshore winds and beautiful warm water conditions have been pulling people here since kiteboarding's early days at the start of the century. The food and lifestyle are definitely big appeals, too.
Having been based here since 2000, Ozone has built up an extensive network of local riders who they support with gear through Ozone Vietnam distributors Hung and Diep Tran, Twan van Lieshout and, more recently, Filipe Tvrdisic. They're regularly joined on the water by some of the factory staff, including manager Khanh Nguyen.
The locals here are super welcoming, the culture is peaceful, and the parties can be off the hook. Trust me, you'll have a good time here!
Phan Rang is a must-ride spot 90 minutes north of Mũi Né. It's where my new local bro, Phu Lai, smashed out the Asian Woo record in January when he boosted to 30.2 metres on his trusty Ozone Edge V11 8m - which gives you some idea of how good the conditions are!
My time on the coast was over in a flash. It was soon time to head back to the city to meet up with the guys at the factory as my tour was about to begin. I was excited to take a look at how my gear... and yours... is made!
TRAFFIC!
Commuting to the factory for my first morning visit was quite the experience! Over 1,000 employees flow into work by 7:30 am, ebbing their way in across the capital alongside millions of others, also somehow making their morning journeys in one piece.
The road system and volume of traffic (mostly scooters) looked like chaos to me, but it seemed to work without the need for road rage. The story would be a little different back home in Europe!
Flip-flops into the racks on arrival; everyone must take their shoes off before entering any factory unit, as cleanliness is a top priority. The floor is absolutely spotless throughout.
Inside 'Parapex 1', you'll find the accounts office, logistics, material stock and quality control teams... as well as all the football trophies proudly displayed in the office of factory manager Khanh Nguyen!
Trying to imagine what it takes to manage everything makes my head spin. While David Pilkington is still involved (from the UK), the day-to-day operation is carefully guided by Khanh, who progressed to become factory manager after having begun as a helper on the factory floor.
I asked him to tell me more about the overall setup at Parapex: "We have nine factories, and they are basically split into tasks such as cutting, sewing, boards and the main offices. When someone is hired as a sewer, they'll first learn how to sew two pieces of cloth together with a perfectly straight line. Initially, they'll work on something very simple, like a windsock, and it takes about three months to progress to sewing real sections of a kite or glider. Reaching the working speeds of the most skilled people takes more than a year. Sewing gliders can be particularly challenging because the cloth is so slippery. In the past, people have arrived here as very good clothing sewers, but when put to work on a glider, they may say, "Oh, it's so difficult; I don't want to do that!"
The setup is massive, and I felt surrounded by material, machines and people. Popping up among each group in their pink shirts were the team leaders. "We have 35 team leaders overall," Khanh explained. "Many have been with us for ten years and understand the tasks very well. On my first day here in the early 2000s, we had just one building. The quality control, sewing, accounts... everything was under one roof. In the old days, we all did everything we could, whether it was putting the risers on the paragliders or packing boxes, managing paperwork, whatever. But we have always, and will always, try to improve things as we go along."
I was shown around two huge factory units dedicated to laser cutting. Across both, there are 35 ten-foot tables that seem to be constantly in operation, with an orchestra of busy, high-pitched sounds emanating from each glass-walled room. The nesting programme that runs each machine was designed in-house by the Ozone team, and it works out how to arrange all the template shapes to be cut in the most efficient way, wasting as little material as possible.
Also showing me around was Ozone Kites General Manager Iain Hannay. This mechanically-minded Scotsman has a wealth of knowledge when it comes to production and shares every insight with canny enthusiasm. Having first become involved with Ozone in 2006 as a Spanish distributor, he took over as GM in 2012 and had many factory visits under his belt, but he clearly never tires of seeing all the factory developments first-hand.
"We try to keep our waste to a minimum and are always looking at ways to do so," he said, standing alongside me, peering through the window as if this was also his first time seeing these machines in action. "Obviously, overproducing and carrying huge stock is very wasteful, so we don't do that. We also make sure to use offcuts for pockets on kite bags where possible.
"These machines make the work so much quicker – we used to cut everything by hand," Khanh added. "When we imported the first laser cutting machine from China, it stopped working after a few months, so we found a guy here in Vietnam to repair it. Together with the help of local Vietnamese technicians, we've learnt how to build the machines here, and you can see how they've expanded as our production has grown."
Although the number of machines apparently increases all the time, it's not at the expense of manpower as the workforce also expands year-on-year. Khanh reinforced the idea that it's not just about the machines here.
"People are still very important. Everyone has their own skill that we need, from the cleaner to the sewer to the inspector. Their abilities are super important, and we try to keep workers for as long as we can by treating them with respect and offering the best conditions. Benefits include bonuses, healthcare, insurance, opportunities for promotion, everyone gets a free lunch every day, and we also run a holiday for everyone (all 1000 employees) with days out and dinner at the end of the year. We operate Parapex like a family."
OZONE'S UNIQUE ORDERING SYSTEM
"One of the benefits of running our own factory is that we can precisely produce only what's necessary," Iain explained to me while we were passing the exports area. "Our lead time for every order is usually only between 15 and 30 days from order to delivery, anywhere in the world. That includes all our unique custom kite designs that anyone may wish to choose.
"Our custom-designed order system allows a shop owner to run through fine ordering details with the customer, even allowing them to choose from a huge range of custom colours – and in some cases even customised branding on their kites. Our manufacturing times are visible on the website at all times for both customers and the shops, so the whole ordering process is very transparent.
"The software also manages the queue of incoming orders for all products. Once the order reaches the front of the queue, it moves into the production process, whether that is a kite, wing, paraglider, board, foil, harness... whatever it may be and often, people only order one item at a time.
"Third-party factories often require a large upfront number of orders, sometimes placed nine months ahead of the delivery date. This eventually puts stress on the whole sales system. Instead, our customer's gear value stays high when they want to sell them, and, on top of that, spares from all older kites are also available as the files are kept in the factory."
MATERIAL
The local and internationally imported material stores off to my left were perfectly packed with shelves neatly ordered to full capacity. Rolls of cloth reached from floor to ceiling and wall to wall. It looked like a mind-blowing task to maintain such neatness!
To give you an idea of just how much material gets used, each Ozone Edge V11 tube kite is made up of 26 leading edge panels, 15 in the struts, the sail cloth itself has 81 panels, there are six bladders and then 35 further reinforcement bits and pieces throughout.
However, for the really big numbers, we needed to find the box with all the material needed to make an Enzo race paraglider. I couldn't believe the technical skills; double skin production is crazy. An Enzo paraglider is made with 2164 pieces (not including the risers or harness). The piles of material on the sewing tables in one of the paragliding factories were absolutely astonishing. Ozone uses over a thousand kilometres of cloth a year on paragliders. If all that was laid out, you'd have a path stretching from Amsterdam all the way to Austria, a marvellous multi-coloured highway! I had no idea this level of detail and material coordination goes into making a paraglider or foil kite.
Ozone doesn't religiously update its products every year - only when improvements have been made, and there's an entire department dedicated to prototyping for all products, from kites and foils to paragliders. As soon as a new Ozone design is signed off, it moves immediately into production, meaning there's relatively little lag time between when innovation is achieved and when it reaches the market. That's more shred time, less dead time for a design!
Prototype production is done alongside that of the ordered products day to day. It makes for a quick turnaround on ideas, as explained by Ozone's board and hydrofoil designer Tibo Dos Santos, who was spending the week working on new production systems with the factory team while I was there.
"In an OEM factory, you just have to work with the particular facilities on offer. Parapex is Ozone's own factory, so we can tailor the manufacturing process specifically to our needs. I might work out some foil processes at my workshop in New Zealand and then come here, teach the guys, and away they go. It's a constantly evolving process, especially with hydrofoils right now. If we see a possible improvement, we just go for it," Tibo shares. "It's super easy with the team here; they learn, train, adapt and then further perfect the tooling so quickly. The turnover on prototypes can be very fast once we have the systems in place."
"A lighter wing will simply fly better," Iain explained. "As far back as I can remember, the drive here has always been to manage the balance between getting the reinforcement right and not making the product too heavy."
The drive here seems to be as it's always been. Ozone started in 1998 as a group of pilots with an idea: to build wings that just do everything better. They searched for more safety alongside better handling, tighter turning and improved glide speeds, as well as more comfort in flight - primarily the emphasis on aerodynamics.
There was so much to take in each day. Considering the focus of everyone who works in the factory, well-earned breaks are enforced, as well as a good lunch, which I was happy to join them for! "All factory staff get food, literally everyone," Iain explained while reaching for some more grilled fish. "It's different every day and, as you can see, it's good! And quite the operation to serve it all up!"
Khanh remembered first starting his career here as a general helper back in 2001 when there were just 70 employees. While serving me a portion of spicy noodles, he explained how everyone mucked in, doing everything from packing the export boxes to cooking rice. He would then spend his evenings studying factory management and English over two years. To cut a long story short, after working alongside David to improve efficiencies as the factory grew, David eventually turned to him one day and said, "Okay, Khanh, you're now the factory manager!"
The rest will be an ever-evolving history.
Find out more at https://www.ozonekites.com and https://www.flyozone.com.
Videos

Comments