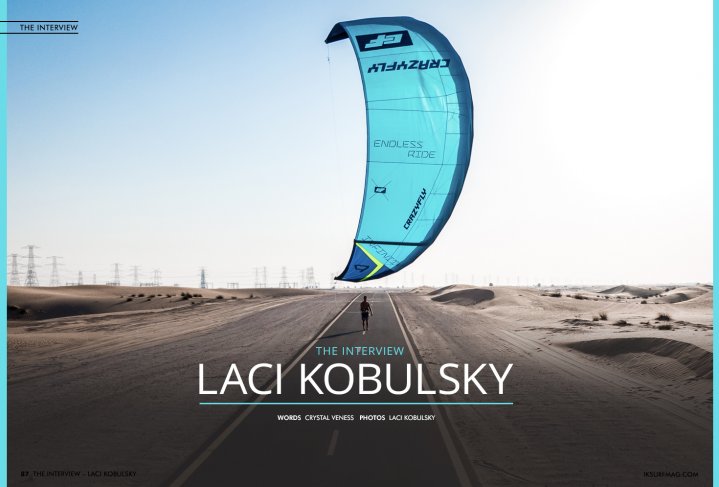 The Interview: Laci Kobulsky
Issue 87 / Thu 10th Jun, 2021
It takes a lot to stand out in the world of kiteboarding, and this individual has managed to make a serious impression. If you haven't seen his face, you've definitely seen his work! In 'The Interview', we catch up with talented filmmaker and CrazyFly team rider, Laci Kobulsky.
Laci, thank you for joining us for The Interview! You were recently in Dubai for the latest CrazyFly Kiteboarding product shoot. How was the trip?!
Hello, and thanks for having me here! Well, the Dubai trip was half planned and half lucky coincidence. I have been in touch with my friend Lew who has lived in Dubai for the last three years. He has been working on his production company Resonate Media House while running a small kite school. We wanted to team up on some projects together, and COVID finally gave us a reason to do so. At the same time, the guys from CrazyFly called me to organize a last-minute shoot of the new foils and the Infinity, their light wind kite. It was an easy choice and great timing!
Why did CrazyFly choose Dubai for this shoot? How were the conditions?
We needed to show CrazyFly's new light wind specific kite and foil wings in challenging conditions, which is Dubai exactly! I don't think I would choose Dubai as my dream kite destination, but if you want a fancy, luxury vacation with some decent kiting, it's a good fit. We could only (officially) launch from a tiny beach that is intensely crowded on weekends. The wind was light and cross onshore, but the water colour was beautiful, and the views were spectacular!
Other than kiting, what were you up to in Dubai? Any crazy experiences from this one-of-a-kind destination?
A lot of work, surprisingly! Dubai has been a haven with more or less freedom during this winter's COVID restrictions, which drew many businesses and individuals. The combination of hard work beforehand, our diverse team of two, and the "situation" resulted in a lot of demand for our work, which we could not object to! We shot a music video, lots of corporate videos and business interviews, some freelance stuff for documentaries, real estate videos, and a massive job for Porsche. Good times and big up Lew for bringing me on the team! Make sure to check out our work on Instagram at @ResonateMediaHouse.
In addition to shooting products, you've been behind the scenes at CrazyFly's factory in Europe. What was it like seeing the production process?
CrazyFly has two factories back home in Slovakia, one for kites and one for boards. I have been there many times, so I have seen the production and always admired the process. It is fascinating to see how our toys get built. I was surprised to see how many steps with small and clever details go into the production. We had to shoot this video over three days since not all processes can run every day. I had to run around the company while each step was in progress and later make sense of it in the editing room.
You're from Slovakia, is that where you learned to kite? What is the kiting scene like there? Will you be spending some time at home this summer and doing any projects locally?
Slovakia is not a kiter's dream, being an inland country with few lakes. I was lucky that my dad has taught me how to windsurf on our local lake, Domaša. I picked up kiteboarding in Greece and was always abroad in the summer, so I never had the opportunity to kite at home. It took a global pandemic to glue me home last summer, and I was surprised by the conditions on our lakes! You need to be patient, but when it's windy, it is incredible!
How and why did you get into photography and videography?
I was never the superstar athlete that would draw the attention of the media. That meant if I wanted some cool photo or video of snowboarding or kiting, I had to get creative. When I worked in Egypt at Bigdayz in 2012, they took me as an instructor on a kite safari on a huge boat, which was a dream! I got in a bit of trouble just before the trip, and the boss gave me a hard time, so I decided to "show him" and doubled down on work.
I did all the teaching, kite caddying, kited for myself, and shot with the GoPro at the same time. Every evening, I made a short video and showed it during dinner. The guests loved it, and my boss must have too, because he said, "Hey Laci, that was cool with the videos. How about you make a video like this every week? I'm gonna pay you the same, you don't have to teach, and you can kite more!" Wow, another dream come true! I can do what I love AND get paid? All in!
What is your favourite subject matter to shoot?
Any subject that is passionate about what they do! I would rather shoot super stoked beginners learning the first water start and sparking with joy and energy than a world champion who is over it and could not be bothered. In general, young riders are the most stoked because everything is new for them, and they want some unique videos. However, there are old dogs like Gianmaria, Paula, or Alby, who are always welcome in front of my lens!
Sometimes you're in front of the camera as a rider, and sometimes you're behind it as the photographer and videographer. Which role do you get the most excited for and why?
Both, to be honest. I could not imagine my life without either of them! I started shooting because just riding seemed dull and meaningless to me. I always wanted to create something on the side. When I go on a kite trip, I get bored quickly with just riding. It's the same if I only shoot; I don't feel satisfied. Obviously, with age, I am more focused on the job these days. If I am on a working kite trip, I get all the footage first and ride after. It would be super unprofessional to hurt myself while kiting on a shoot where everybody depends on me.
You work not only with CrazyFly but behind the camera with other brands as well. What was it like shooting with Noè Font and the Duotone crew in Portugal?
Duotone is one of the biggest brands with top riders, so it has been a great honour to be invited to shoot and work with my friends. Portugal was challenging but beautiful. We were trying to shoot freestyle outside of the main season, so rain and lack of wind were always issues. But often, these challenging conditions tend to get the best out of us, so when we had a glimpse of good wind, we were 100% on it. Portugal is a unique country with exceptional conditions, and I think we will see more and more of it in the coming years!
In Dubai and Portugal, you were able to capture a stunning mix of action, lifestyle, and scenery. Do you think it adds a lot to the trip to get this more expanded view of the spot?
I always try to provide value to the viewer in my videos or photos. I do not see my videos as a simple statement of a rider's level. People watch a video because they want to check out the spot and maybe get some motivation for new tricks. If somebody will visit a new place or try a new trick after watching one of my videos, I've done my job well.
What has been the most exciting project you've worked on in the kiteboarding industry in the last year?
It had to be the Huawei Mate 40 promo. A Chinese company contacted me to shoot kiteboarding for an "unnamed phone company" out of nowhere. Long story short, they sent me three unreleased Mate 40 phones, and I had to shoot a short promo video of kiteboarding using these phones. I called Gianmaria and Alby to ride, and they showed the final video at the official Huawei Mate 40 event. It was quite a big deal for me to be able to show kiteboarding on such a stage!
What about outside of the kiting industry?
Last year was full of changes for all of us. I had to think outside the box and find work outside of kiteboarding. I have done some television jobs back home in Slovakia and some other corporate work. In Dubai, we were busy with a diverse set of projects. I think it is essential to have a diverse portfolio. Each shooting scenario teaches you something else, and you can transfer that knowledge into other fields. In the future, I would like to keep kiteboarding as my passion and make my income outside of kiteboarding. It would be a dream to make big bucks with corporate work and support my kiteboarding and documentary productions the way I want them.
What's coming up in 2021 for Laci Kobulsky?!
I have spent my 20's enjoying my life, kiteboarding, snowboarding, and travelling. I will be 32 in June, and now it is time to work. I want to establish myself as a one-stop videographer/photographer and marketer for small to medium-sized businesses. I am on the right path, but I set my goals high.
I did the TWENTY documentary with Aaron Hadlow, and I would love to do more of those. In 2020, I started shooting another documentary that could reach viewers outside of the kiteboarding industry with Paula Novotna. After a week of shooting in Prague, the whole COVID business started, my flights got cancelled, and the project postponed. I want to continue that project. Short videos are fun, but nothing compared to longer-lasting projects. In 2021, I'd like to find sponsors for these projects, develop scripts, and keep working towards my goals!
Videos
Editor at IKSURFMAG, Crystal Veness hails from Canada but is based in South Africa. When she isn't busy kitesurfing or reporting on the latest industry news for the mag, she is kicking back somewhere at a windy kite beach or working on creative media projects.
Comments