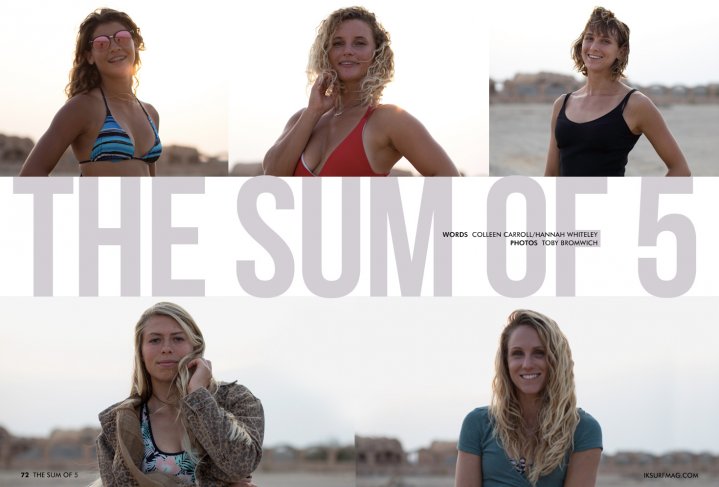 The Sum of 5
Issue 72 / Mon 10th Dec, 2018
Colleen Carroll, Hannah Whiteley, Mikali Sol, Paula Novotna and Francesca Bagnoli head to Egypt to film for an upcoming kite movie. The project is the brainchild of Colleen and if the pictures we've got are anything to go by the movie should be an instant hit!
Five women, from five different nationalities, board their respective flights for a kiteboarding trip; although this one is unlike the countless others, they have been on. The Czech Republics's Paula Novotna, Italy's Francesca Bagnoli and Brazil's Mikaili Sol are fresh off a well-deserved podium finish at the World Kiteboarding Championship's second event of the year in Akyaka, Turkey. Tired from the physical and mental stress of competing at the world's highest level for kiteboarding freestyle, our champions are eager for a trip of a different nature, a brief respite from the pressures of performing under such heavy critique.
Paula, also known as the 'Czech Charger', has been a dedicated competition freestyle rider for as long as I've known her. Relentless in her pursuit of being the best athlete she can be, both on and off the water. Paula constantly has competition on her mind and bursts with energy and excitement for kiteboarding, unlike many others.
Francesca, on the other hand, could almost be the antitheses to Paula's competitive strategy. Mellow and laid back, Francesca channels a performance mindset through practicing yoga, summoning an almost hawk-like focus. While she loves a good joke and is always down for a laugh, Francesca exudes calm and confidence in the most humble way.
Mika only jumped onto the competitive kiteboarding scene this year, and already has taken it by storm. At just 14 year's old, she's already claimed both the GKA Air Games world title as well as most recently, the World Kiteboarding Championship title, making her one of kiteboarding's youngest world champions in history. While Mika is very much a world-class athlete, she's also a kid already living out her wildest dreams. Born and raised in Brazil, she's dreamt of joining the ranks of kiteboarding's elite as long as she can remember; but don't think she's all kite and no play! Mika loves kiteboarding with a new appetite, and can quickly check out of competition mode enjoying it for its simplicities.
Joining Paula, Francesca and Mika would also be the United Kingdom's long time kiteboarding legend, Hannah Whiteley, who more recently joined the Duotone team. While Hannah hadn't been touring alongside the other women, she had recently claimed a solid second place for the newest world tour in kiteboarding, the GKA Air Games just behind Mikaili Sol who has been running double duty all season long. In addition to top-notch freestyle tricks, Hannah is known for sending big loops and being down for whatever excitement comes her way. She's been a professional kiteboarder longer than most others, and has seen kiteboarding through its phases; with that has adapted to the styles, which give her a significantly bigger bag of tricks than most.
As for me, I've never seriously competed in freestyle; however, I have poured myself into park riding over the years and mostly focused my efforts on tuning a style that gives me an incomparable feeling and works well for the camera. Having attended many Duotone photoshoots over the years, I've learned a thing or two as well as gained the trust to organise and execute a video shoot for the brand. For me, this was an opportunity I was thrilled to take and an idea I had been thinking about for quite some time. In my opinion, we've built the most influential women's team in kiteboarding and the time is rife to show it off.
We planned the trip for late September, which was the best timing to bring all of the needed components together, however somewhat of a tricky time of year for many of my favourite places. I started to ask around throughout my group of kite friends for suggestions on their certain fire spots, and one country that hadn't been on my radar seemed the obvious choice, Egypt.
Paula and Hannah had spent extensive time there before and confirmed that it was as close to a guarantee as you can get in kiteboarding. I was sold. However, the reaction of my friends and family at home in the States was disbelief that I felt safe enough to bring a team of female kiteboarders to explore the intricacies of the Red Sea.
They may have jolted me for a split second, sending me down a rabbit hole of Google searches only to come to my conclusion that we would be as safe as anywhere. I've learned over the years of travelling to kiteboarding beaches and towns, that often, the small fishing village that is home to an idyllic kiteboarding spot, even if in a 'dangerous' country can be plenty safe to visit. Even some of the safest countries, if not treated with a sensible wit, can get you into trouble before you realise.
One by one, everyone landed at Hurghada airport and took the short taxi ride to The Breakers in Soma Bay, our temporary home. We'd kiteboard from 7 Beaufort Kite House, which is the best mainland kite spot due to the straight offshore wind that picks up strength as it crosses the small peninsula jutting into the Red Sea. A bit of an oddity, the kiting at 7 Beaufort is often best early in the morning before the temperatures rise to scorching digits. We would quickly fall into a routine of early mornings, even with the occasional pre-5am sunrise shoot, kiting hard until our stomachs begged replenishment. Some afternoons, we'd book a dingy to bring us offshore to a nearby island, or other evenings we'd recover from long hours in the desert sun.
One afternoon, the team at 7 Beaufort even surprised me with a small slider setup that Francesca and I had a blast on. It was her first time hitting sliders with a kite and while at first, she approached the single tube incline hesitantly, a few pointers and words of encouragement later and she was well on her way to catching the kite park bug!
A few fast-paced days spent in Soma Bay, and already we felt aching muscles, sun-scorched everything and a festering appetite to explore the other nearby kite spots! We arranged to join Big Dayz Kite Safari that should satiate just that desire. Paula had cruised with the Big Dayz crew several times before and assured us that we wouldn't be disappointed.
Barely out of the Hurghada harbour, a winding sandbar appeared rising just enough to break up the chop, leaving us with buttery waters on the downwind side. We all rushed to the top deck to assess the spot and see if it was as dreamy as it appeared, and it was.
For the next week, we cruised the Red Sea, living aboard our mega-boat. A floating kite centre, the crew set us up at just the perfect spots, finding vacant sandbars and even helping us rig when the tide hadn't entirely dropped enough to expose the coveted little strips of sand that create a kiteboarders freestyle paradise. We rode a new flatwater location daily and even experienced several sunsets where the wind blew until the colours hit points of saturation I didn't know existed in real life.
The conditions ranged from winds strong enough for Hannah and Mika to want to grab their Jaime twintips for board offs and kiteloops, to perfect consistent 9-12m freestyle sessions, and we even scored a few days that were ripe for foiling. In one short week living aboard the Big Dayz boat, we must have kited more than we do living at other kite spots in one month; our trip wasn't over quite yet. We'd have one more spot to check out on our tour, which would be the secluded spot a few hours south of Hurghada called Hamata.
We arrived at night, exhausted from a busy week and checked in to our hotel, The Kite Village. Currently undergoing a full remodel, we relished in the brand new rooms and cushy furnishings. Awaking the following morning, I decided to take a walk around the complex, and get a lay of the land. Although we had been in Egypt for nearly two weeks now, I hadn't witnessed anything stereotypically Egyptian, so I almost had to do a double take when I found myself directly in the path of a caravan of camels headed to get a morning drink.
I made my way to the waterfront to check out the kite spot, and the beachside digs. It was a cool setup; with everything a kiter needs only steps from the launch in a casual setting that is primed for kicking back and taking a load off. We got up early, as it had become the norm, and we were ready to explore the particulars of the spot.
Hamata is part of a protected national park so while serene; there are a few no-go zones that you have to be mindful of. Upwind from the main launch area, is a beautiful mangrove forest that it is best to keep your distance from, to avoid disrupting young mangroves, which are working to build their root structure, but this isn't the best place to explore anyways. Straight out from the resort, is an island whose shallow waters glow fluorescently.
We had been seeing 50 shades of turquoise for the past ten days and still, the colour of these waters attracted me like a moth to a flame. Not only was the watercolour vibrant and translucent, but I could see a healthy reef ecosystem living below the surface with loads of passing fish and colourful corals. A decent reach offshore, it felt like you had arrived at your undiscovered island oasis although, in actuality, you were only minutes from a frosty beer or a frothy macchiato.
Day after day, provided another opportunity to have a session, gather photos and video clips and get to know each other better. While I had dreamt of making a trip with only my female teammates, I didn't know how it would pan out.
We've all known each other for years, but have put our kiteboarding focus on a variety of disciplines. We've never spent this much time together as a group, and how the dynamic would play out was a bit of a wildcard. I have to say; it worked out better than I could have ever imagined!
Everyday cultivated a supportive team atmosphere that by the end of the trip, had the whole crew working as one fluid unit — everyone acting for the interest of the group, helping where needed, stepping in as photo support crew, coach, luggage hauler, problem solver or friend. We were stronger as a unit than the sum of our parts.
Look out for the video coming soon by Vincent Bergeron, we introduce, The SUM of 5!

Comments