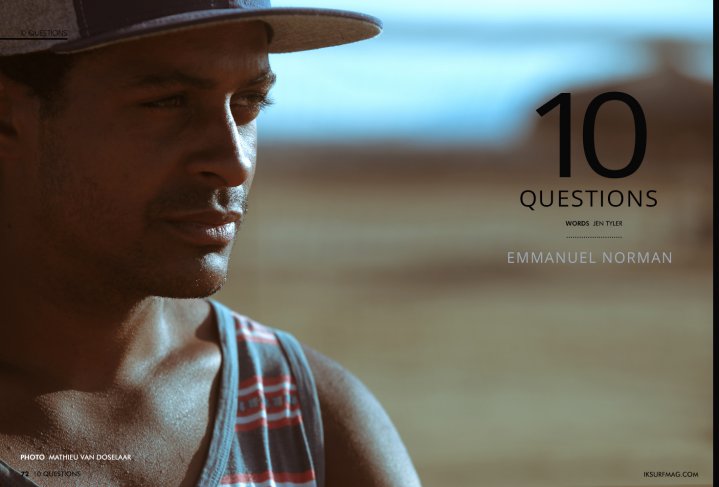 Ten Questions - Emmanuel Norman
Issue 72 / Mon 10th Dec, 2018
Emmanuel Norman was born in Kiel, Germany, originated in Ghana, and grew up in the city of Mönchengladbach and he rips with a kite, both on and off the water, click here to find out more about him!
Emmanuel Norman was born in Kiel, Germany, originated in Ghana, and grew up in the city of Mönchengladbach. A family friend of the Norman's introduced Emmanuel to kiteboarding at the age of 14. Like all of us he fell deeply in love with the sport, but the sea was far from where he lived; so he started landboarding. In 2009 he became 2x German Champion for kite landboarding in the categories of race and freestyle.
As soon as he got the opportunity to travel, he did not hesitate to go to the Gold Coast, Mexico, and West Africa among other hotspots to create content for his sponsors. Creative, kind-hearted and confident, are what best explains Emmanuel Norman. Having fulfilled his kitesurfing dreams, he became a brand ambassador for many brands.
Emmanuel, we are super stoked to have you featured this issue! Where are you from and where did you grow up? Who inspired you to become a landboarder/kiteboarder and how long have you been riding for?
Thanks for having me! My name is Emmanuel, but everyone calls me Emma. My family roots are from Ghana, but I was born in Kiel; a small Habour-City in the northeastern part of Germany. A family friend called Daniel first introduced me to a kite in 2005. We went to the beach, and while I was watching him kiteboard, I knew in that instant that I had found my sport!
As I was learning to kiteboard and started getting the hang of it, my parents and I moved away from the beach, and to a small town near Cologne called Mönchengladbach. Landlocked and too young to drive to the coast, I missed kiteboarding every day.
One day, on my way back from school I saw loads of kites up in the air, but no sea in site. I went to check it out and that when I discovered landboarding. Mönchengladbach is home to one of the largest landboarding spots in Germany.
Have you ever visited Ghana? What's it like over there?
About five years ago, I thought it was about time I explore my heritage and visit where my family grew up, and I was not disappointed! Ghana is a hidden gem from kitesurfing and landboarding.
When I arrived, it was during the Easter holidays, and the beach was packed. Ghana is not a tourist destination, but the beach was jammed with locals. I started setting my kite up, and within minutes, I was the main attraction at the beach!
All the children began gathering around me, asking me questions, wanting to understand what I was about to do! They'd never seen a kite before in their lives. It was an incredible feeling to show these children something new, demonstrate how to fly a kite and then show off a few tricks, of course!
Crashing on land must be a lot more dramatic than hitting on the water! Can you tell us about the worst landboard bail you have had, including all the gnarly details?
I would compare landboarding to skateboarding when it comes to crashing; very painful! The worse crash I have had was during my very first contest. I had been training hard and had mastered my handle passes, but in my heat, it did not exactly go as planned! A strong gust came in, and I dropped to the ground, like a stone! I broke my ankle, which resulted in two surgeries, and unable to landboard for about six months.
How long have you been riding for Flysurfer? Which kite do you prefer using (foil or tube) while landboarding and kiteboarding and what are the main differences you feel while on land and water?
I joined the Flysurfer team 11 years ago, I was 15 years old, and I am still riding for them today. I prefer using soft kites because of their hangtime, responsiveness and ease. My all-time favourite kite is the Soul; if you ever get the chance, you should give it a try!
The main difference between kiteboarding and landboarding, in my opinion, is not the kite, but rather the board. A kiteboard is light, flexible, and easy to manoeuvre on the water while landboards are extremely heavy in comparison and grippy; they feel like a train on rails. Whether I am on land or sea, I prefer soft kites.
We know that you mainly enjoy landboarding, but also enjoy old school tricks on a kiteboard as well, what is your signature move.
My signature move is a HELIX (Helicopter), which is a boosted jump, and then throw in about as many rotations as possible! The maximum rotations I have counted are eight (although its hard to count while you are rotating!), but I've seen it in a video someone took. I am sure I've counted nine once before, I don't have it on video to prove it!
We saw that you just recently got back from a wild trip to Mexico, the photos looked insane! Can you tell us the reasons you chose to go there?
Earlier this year, I changed my contract with Flysurfer and switched over from competing to making promotional videos, equipment testing and mainly just taking more trips to promote the brand. When I got an email by the team manager at Flysurfer inviting me to do a video shoot for their latest products in Mexico, I agreed right away.
It was an unforgettable adventure, and I felt right at home there. I love being on the road, meeting new people, cultures and landboarded at some incredible locations. Check out the video I have shared called 'Chapter Dirt'.
Another (almost) crash comes to mind when I think about Mexico. It was during one of our photoshoots; the team was all hyped up, asking me to boost as high as I could. Encouraged by the team, I went for it, and I went big! I landed about 2 centimetres from an enormous cactus; I was incredibly lucky that I didn't get hurt, and we got some great shots!
You spend quite a bit of time in El Gouna, Egypt. How do you like the spot over there? Do you mainly kiteboard there, or are there some hidden spots you've discovered for landboarding as well?
I initially went to Egypt to promote Flysurfer, and I fell in love with the spot, and now, it has become a second home to me! Even though I travel back and forth a lot, I always seem to end up there.
I crave kiteboarding in the crystal clear water among the fishes in the Red Sea, and the beautiful sunsets over the desert are just astounding! If I'm not kitesurfing, you ́ll find me in the desert, landboarding.
You also have a clothing line called 'NIIOTU', can you tell us about the brand, how the idea came about and the concept behind it?
That ́s right! NIIOTU is my little creative project. I started NIIOTU back in 2015, and it kicked off from a tiny idea to a booming brand! Step by step we are producing limited amounts of t-shirts, caps, hoodies and tank tops. I started by screen printing each t-shirt myself, but now I've expanded my production to Egypt, where high-quality NIIOTU products are made.
We produce limited editions, and each product has a specific number. It's interesting to see how many people are wearing NIIOUTU products out there!
NIIOUTU is my second name, it's a name that originates from Ghana, and it means 'Chief of a Village', which fit perfectly with the slogan which is "be NIIOUTU". Check out: http://www.NIIOTU.de
Living in Germany, if you had a camper van, all your gear, and was going on an extensive road trip, where would go and what stops would you make along the way?
Reaching Norway would be my final destination. I would start in Kiel, pass through Flensburg and then hit the Danish islands, like Fanö and Malmö. After that, I would make my way to The Lofoten Islands (Norway) I've attempted this trip before, but unfortunately, I didn't manage to get as far as The Lofoten because of time restrictions. I have recently started foiling so my ultimate goal would be to foil around the Lofoten Islands!
Do you have any projects in the pipeline for 2019 that you'd like to share with us?
For the past three years, I have been involved with 'Ewig Kite', which is a project that teaches recovering addicts how to kiteboard and this project that is very dear to my heart. It's incredibly satisfying to see the happiness and excitement in their face the first time they handle a kite and to know that you've opened up a whole new world to someone that needs that sort of motivation in their life.
The second project I am working on is the Flysurfer clothing line. They have recently put me in charge of the design and production, so I am very excited about that.
Where can we expect to find you this winter?
For the next couple of weeks, I have some fashion shoots planned around Europe. Christmas and New Years Eve, I ́ll spend in Germany with my family.
In January, I ́ll be on a plane to Africa. I'll be heading to Egypt first and then Cape Verde. After that, you'll find me snowkiting in Austria or Switzerland, we will see!
Thank you very much, Emma! It was great meeting you, and we wish you the very best!
Videos
Italian/Egyptian Jen Tyler grew up on the sandy beaches of the Red Sea and has been on the IKSURFMAG & Tonic Mag team since 2017.
Comments