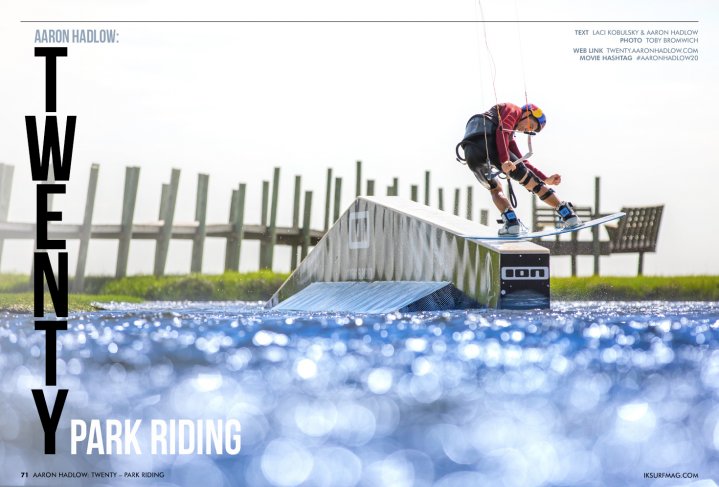 Aaron Hadlow: TWENTY - Part 3
Issue 71 / Mon 8th Oct, 2018
Aaron Hadlow and Laci Kobulsky have been working on a new feature-length film called TWENTY, in this issues instalment, they tell us what went down in Cape Hatteras for the Park Section of the movie!
Third stop – USA
Filming in Cape Hatteras was always part of the plan for TWENTY. It was the obvious choice when it came to shooting big air and park riding at Real Watersports for the Triple-S event, anyone who means business in park riding will attend.
I have to say, I was extremely excited for that part of the shoot, I had previously seen many videos and images from the area, and they all looked incredible – perfect flat water, flawless rails, and astounding backdrops.
The shoots ran smoothly, and we had plenty of time to ride during the day, but the only downside was that the sliders had to be hauled out of the water and taken back to Real Watersports before 7:00 pm due to the local regulations. That worked to our disadvantage as the wind usually picked up around sunset and unfortunately meant that we missed those golden hour shots.
The three main highlights of the shoot
1. New tricks – Fake Blind
Aaron Hadlow's latest innovative trick!
It was just after his wakeboarding trip to Thailand, where he caught on to the latest wakeboarding trend – fake blinds (landing blind but with your other hand)
Let me explain; if you go for raley to blind, you would keep your backhand on the bar and end up in an awkward position, right? Well, it is even harder when you have to steer the kite at the same time.
The first Fake Blind landings, Aaron Hadlow and Craig Cunningham both mastered on the rails, where it is a little bit easier to get the slack on the landing, but the real deal was Aaron's backside 540 from the kicker. Usually, you would do this move with a double handle pass, which is hard enough, but instead of passing bar twice, Aaron kept his backhand on the bar and landed it!
2. A Downwinder Through The Slicks
We were adamant to film a downwinder while we were there, but we always got a little sidetracked and ended up spending the day on the rails.
Before the Triple-S event, the open contest for the last places in the main event meant we couldn't ride the park and had to go on a downwinder! We drove upwind first and ended up shooting some phenomenal drone shots of Aaron cruising through the slicks. Then of course we enjoyed a legendary run through the reeds and channels that Hatteras is known for!
3. Gimbal Shots
Something that is not commonly seen are steady and close-up shots from the sliders. Most of the videos were filmed either on a GoPro or from the tripod, but the conditions at Real Watersports gave me an idea - I decided to pack my gimbal in a waterproof bag and kite across the water to the grassy island. We then placed the slider right next to the land, and I was able to get some unbelievable steady shots with my gimbal; up close and personal! As the action on the sliders happens very fast, it was great to get those stable and undisrupted images.
Five things to do around Cape Hatteras
Freestyle In The Slicks – There are some small islands on the flat side of the peninsula in Cape Hatteras, and they create numerous flat-water spots, which are perfect for freestyle. The water is shallow, the wind blows side-onshore, and there is hardly anyone around.
Sliders – Riders from all around the world visit Cape Hatteras for that one main reason – The Kite Park. Real Watersports owns five perfect features (two kickers and three sliders) that go in the water whenever there are riders around.
Surfing – On the ocean side, you will find a vast beach with several impressive wave spots, and on no wind day, everyone goes to the beach!
Downwinder – A must do in Cape Hatteras is a downwinder. The flat side of the peninsula is full of grassy islands called 'slicks' and small rivers that are just a pleasure to cruise and jump around.
Party – It wouldn't be US & A if there weren't proper parties! Right beside Real Watersports is the Waterfront restaurant & bar and they organize amazing parties.
During the Triple-S event, there was a party every night, ending with a massive concert by The Roots!
What's Next For Twenty?
While the main parts of the movie are finished – big air in Cape Town, freestyle in Caribbean and park in the USA, we are far from finished. The next stop is Aaron's hometown in the UK, where we will film not only kiteboarding but also lifestyle, interviews and other sections important to his story. After that, we will finish our shooting in Brazil, to get the perfect freestyle conditions.
Aaron Hadlow
Why did you choose Cape Hatteras for filming your park section?
It was perfect timing to line up the park session with the Triple-S event. Lots of my friends arrive around this time of the year, and this made it great for filming. Real Watersports have some of the best and most iconic rails; the spot is just ideal for this discipline.
How vital is park riding for your kiteboarding?
It is essential for me because it is a very creative and innovative discipline. It keeps me energized and motivated, and when I do this, I am surrounded by good friends, so I always feel like I am learning as well as having a good time!
How did you start riding rails with a kite? Tell us about the early days.
I rode at the cable park quite often just for fun and then got invited to the Triple-S for the first time in 2008. It was something I was interested in, and at the time I was looking to add different techniques to my freestyle, so it was a great opportunity. There were also some early events like Kite Punks that started to bring some exposure to the discipline in Europe.
What has changed since then?
The rails have changed. In the early days, they were a lot sketchier, especially the homemade ones. Now, they usually have welded plastic and cable parks and companies like Unit, are pushing their designs.
In the past, the events were more of a jam format. Once the events gained some more momentum and the introduction of good prize money, they naturally had to run a more competitive event.
What style of park riding is suited for you? Technical or going big? What do you enjoy the most?
I am a very technical rider; I have always brought this from my freestyle. I push myself to do the hardest tricks, and I love the technical challenge on the rails. I try to bring something new to my riding whenever I can. The good thing about this discipline and the people involved is that style and execution are heavily scored and respected. This means we have to focus on the quality of our tricks to get rewarded.
How do you like park competitions like KPL and where do you see its future?
I think the format will evolve. It is a hard discipline to execute in a competition, shifting wind and features and limited tries make it tough.
When the conditions are right, it is incredible because you push yourself. You can see the level rising year by year; I think it will become a big part of the sport.
Any new tricks landed and on the horizon?
It is hard to say what has and hasn't been done on the rails since it is very technical with so many variations and tricks. It is more about combinations rather than something distinct and new.
On the kicker, it is a bit more like freestyle where if somebody does something new you are sure to know about it. I like it because there is the opportunity to flip on a different axis to raley based tricks, it is all about body position and momentum. It is hard to get so much quality time to learn tricks on the kicker, but I have a few things in mind for next time.
What else should people look forward to seeing in this part of the movie?
Although there are fewer people interested in this part of the sport I enjoy it, it is about the feeling and technical progression. People into more free sports should love the 'skate style' section with lots of different rails and locations.
Thanks to Laci and Aaron for this update on Twenty, the new feature length movie from the pair coming to a big screen near you soon!
Videos
Professional kitesurfer for CrazyFly Kites, his passion is wakestyle, but also video & photo production. Currently he is helping Alby Rondina to manage his kite center in Sicily.
Comments