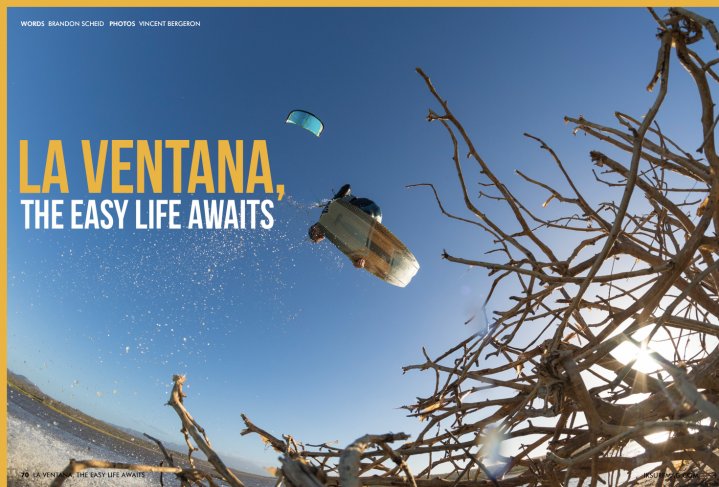 The Easy Life Awaits
Issue 70 / Wed 8th Aug, 2018
Brandon Scheid and the Liquid Force Kites crew give us the low down on one of the best winter spots out there, La Ventana in Baja, Mexico. Think warm winds, cold beers and good vibes, and you get the picture!
West coast surfers and kiteboarders are always looking for warm, windy places to spend their winters. When stories of long point breaks, windy bays, and warm welcoming people, trickled north out of Baja, many adventurous souls load up their 4x4's, full of food, water, boards, and beers and drive south in search of the next epic destination.
The Baja road trip initially started out as a surfer's pilgrimage and was soon adopted by the windsurfing community as well. New surf breaks were continuously being discovered up and down the 1000-mile peninsula and assessed for wind sports potential too. San Carlos, Baja's premiere wave-sailing spot, was one of the first to be put on the map as a world-class destination during the 90's.
When kiteboarding gained popularity in the 2000's, riders began to look for locations with ideal wind conditions to practice the sport. Word soon got around that a small, sleepy fishing village called La Ventana, (The Window) on the southern tip of Baja, on the Gulf of California, had incredible wind conditions. The village was originally settled in the 1940's by Salome Leon, a local pearl diver from the nearby town of La Paz. With winds blowing almost daily from November until April, it's an ideal spot in the northern hemisphere for kiteboarders to spend their winters. It is often referred to as "Hood River South" since many local Pacific Northwest kiteboarders spend their winter months enjoying the comforts of temperate Baja living. The days are warm and the nights are cool. The food is delicious and the beer is cheap. You'll discover a true kiteboarding oasis at the tip of Baja!
I have made the trip down to La Ventana a few different times and have always had great success. When Gary Siskar, Liquid Force Kiteboarding Brand Manager, asked me to scout a new location for our LFK winter photo shoot, and without hesitation, I knew just the place! I assembled a dream team, including designer Julien Fillion, ripper Sensi Graves, legendary rider/designer Jason Slezak, and photo ninja, Vincent Bergeron. Our task was to gather marketing collateral for our 2019 line of boards, accessories, and a few of our new kites, the NV V9 and P1. Our meeting point was at the Los Cabos airport, where we began our journey into the desert.
Working on a photo/video shoot is not as glamorous as one would imagine. Yes, we get to kiteboard a lot, however, the sessions are long and often we are kiting in spots that are better for the photo composition rather than the riding conditions. We usually have to repeat the same trick over and over until we hear Vince say, "got it!" then it's on to the next one, for another ten to twenty minutes. The days are long, and we spend the evenings sorting out and editing footage of the thousands of shots we took during the day.
Thanks to the wonderful geography and climate of the area, the island of Cerralvo and the mainland make a Venturi-like canal that funnels through the thermally enhanced wind, and we get good conditions almost daily. There are many large and safe beaches to launch from, and the wind blows side shore from around 11 am until 7 pm almost every day. If you're willing to do a little driving (about 15 minutes) you can catch the wind a little earlier at the top of the bay.
Between the top of the bay and the bottom, there is a plethora of backdrops and different spots to ride. From the beautiful turquoise waters and cactus-filled desert to the hot springs, and salty slider-filled waters of Choco Lake, one can find a different session almost every day. Combine all that with a short two and a half hour drive to the Pacific side for proper wave riding, and you have an abundance of riding options within a two-week trip.
When you are off the water, the vibe around La Ventana is really eclectic and diverse. The contrast in the variety of people adds a really interesting dynamic to the town. From wealthy CEO's vacationing to gypsy campers living off shoestring budgets, retired windsurfers, Mexican gauchos, and kiters of all ages and skill levels, you'll see it all. In addition, the crime rate is very low and the town feels safer than most I've ever been to.
Most nights, there is something special going on at one of the many food stands, beach bars, or campgrounds. This makes for a fun round of weekly outings where you can chat about the day's sessions and enjoy some amazing Asada tacos.
The town as a whole has embraced kiteboarding and windsurfing tourism as their main source of income and has adapted their simple fishing village to cater to modern times. They now have an ATM, a gas station, coffee shops, bike trails, faster Internet, countless amazing restaurants, and lots of different accommodation options. While some may say that this takes away from the true Baja experience of camping in the middle of the desert, I believe some of the added comforts have made the town a much easier place for the average kiteboarder to enjoy their holiday.
How to get there
The most recommended way to get to La Ventana is by 4x4, to experience Baja in all its glory. There are plenty of surf and kite spots up and down the peninsula, and driving through, is really the best way to see them all.
Many world-class spots lay at the end of a long, adventurous dirt road, and although that sounds exciting, Baja is really something you need to be prepared for. If you're planning on going 'off the grid', you will need water, food, and power, not to mention some good maps and a hearty taste for the unknown. Even though most small towns in Baja are relatively safe, caution is recommended on the roads down south. The best way to tackle this route is to go with someone who has previously done the drive before; the experience definitely comes in handy. The 101 South is definitely worth experiencing.
You can fly into Cabo San Lucas airport (SJD), which is about two and a half hours away from La Ventana, or La Paz airport (LAP), which is about an hour away. Cabo is often easier and cheaper to fly into but requires a slightly longer drive.
Visa and Formalities
Most countries' residents are allowed to enter Mexico without a visa for up to 180 days, making travel easy, cheap, and pain-free. Just make sure you have a passport and you should be good to go!
Electricity
Rental homes and businesses in La Ventana work on the US power plugs and voltages, so if you are coming from abroad, just make sure you have the appropriate adapter.
Money
The currency of Mexico is, the Peso and as of this moment, it is pegged at 18.55/1 with the USD. Usually, for the kiteboarding tourist coming to Mexico, this means that the cost of living is cheap. I suggest exchanging money at the airport, as the cash machines are not always working in the La Ventana. In the past, you would have to drive for about an hour to get to La Paz to get money and gas. Some restaurants, lodging, and the two grocery stores will take credit cards, but most of them will require cash, so just carry cash with you to be on the safe side.
Language
While Spanish is the national language of Mexico, most people are fluent in English. It is very unlikely that you will come across any language barriers, but some general knowledge of Spanish may always come in handy.
Car Rental
It is fairly easy to rent a car at Cabo airport and the rental prices are often advertised at a very cheap rate, but of course, there is a high mandatory insurance fee, which is not mentioned! The prices add up, and rental cars end up being rather expensive, so there isn't really a way around it.
Some of the lodging in La Ventana offers airport pickups, which help keep costs low if you are traveling on a budget. Once you are in La Ventana, you don't really need a car, but it definitely helps if you want to explore the town and its surrounding areas.
Internet and Cell
As one would expect in the middle of the desert, the Internet and cell coverage are not ideal! That being said, we were able to find great Wi-Fi at several of the bars and businesses in town, and our accommodation had its own, private, Internet connection. In addition, our cell devices once enabled for International use, worked well all throughout the area. However, the service and the Internet often dropped, especially when downloading heavy file transfers, high-quality streaming, or other taxing use. I would say, you could still "work" from La Ventana, but I wouldn't set high expectations on the speed and quality of the connection. If you're on vacation, it shouldn't be a high priority anyway!
When to Go
The wind season runs from November until April, and January is the busiest month of the winter months.
Where to Stay
Baja Joes: The original windsurf hotel and bar in La Ventana, has great drinks, rooms, and launching area.
Camp Ground: This place is great for people looking for a more affordable way to stay long term. The climate is perfect for camping and it is the main preference for most people. There are several campgrounds in town that offer a wide range of amenities.
Gypsy-Drive Down: Bring a tent and pitch it in one of the many canyons throughout town. There are no services, but if you are prepared, it can be cheap and amazing.
Air B&B: Renting a house is really the best way to enjoy the town. A quick search online will yield an abundance of options scattered throughout the town. If you see listings for El Sargento, don't be confused; it is just the name for the north end of the town. There have been buildings booming all over town, mostly fueled by kiteboarders looking for a retirement, or winter vacation home, and there are plenty of beautiful places to choose from.
Palapas Ventana: This is one of the best places to stay in the entire town. They have delicious food, great rooms, and good times with the owner, Tim.
He has given back more to the local community than anyone else in town and has a wealth of information about the area. If you're not staying there, make sure you pass by the bar for a Baja Fog and a chat with Tim.
Where To Eat
While there are countless, great restaurants up and down the bay, for me there is only one winner, and it doesn't even have a name! You can locate it by walking to the west side of the road between Baja Joes and Playa Central around 7 pm; it will be filled with gringos looking for the best tacos in town! Make sure you order 1 kilo of Adobada (pork taco) and enjoy one of the best meals of your life!
Conditions and what to bring
You can expect the wind to blow daily from about 11 am until 7 pm. The wind can either be thermally generated and be on the lighter side or fueled by an El Norte weather system and howling winds. Most kiteboarders bring their 7m, 9m, 12m, and a hydrofoil.
On windy days, there may be breaking waves up and down the bay, so a surfboard is ideal. On light-wind days, the deep water and steady wind make it an ideal hydrofoil spot. You'll want to have all your toys with you! Surfboards, mountain bikes, motocross, kites, foils, twintips, and even spearfishing gear can be used daily.
It is important that you bring a wetsuit; after all, it is winter. Most people ride in a shorty during the warmest hours of the day and a full 3/2 in the evenings.
Since the town is essentially a desert, expect the temperatures to drop a little in the evening so just make sure you pack a little bit of everything.
There is a reason La Ventana is such a popular spot, the wind, climate and chilled out vibe make it a compelling place to spend some time. If you get the chance, make the trip, you definitely won't regret it!
Videos

Comments