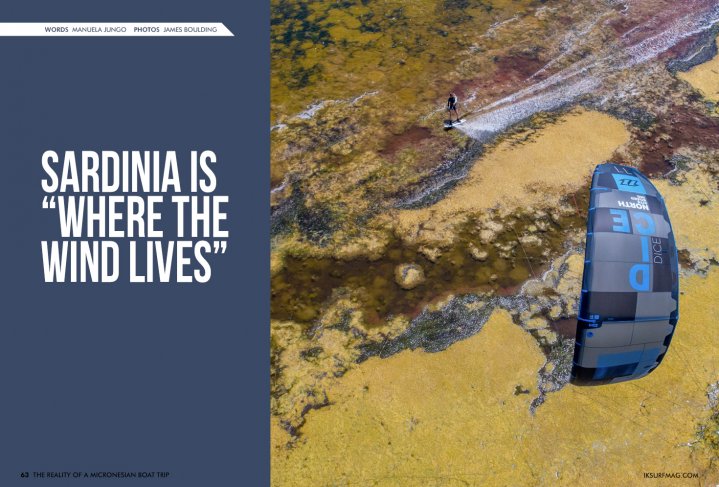 Sardinia - Where The Wind Lives
Issue 64 / Wed 9th Aug, 2017
European kite destinations are blowing up at the moment, cheap to get to for most people and offering incredible winds and stunning backdrops. Manuela Jungo shares her passion for Sardinia with us this issue!
Manuela Jungo found her kite paradise a few years ago on the Italian island of Sardinia, where she spends a few weeks each year. She keeps coming back because of the quality kiting, beautiful nature, good food and colourful sunsets.
Sardinia is an island in the Mediterranean just south of Corsica, between Italy, Spain and Tunisia. The island offers beautiful white sand beaches, crystal clear water and amazing coastal drives. The local Mistral and Sirocco winds consistently hit the coastline, which makes it ideal for those in search of kitesurfing nirvana.
For me, Sardinia was love at first sight. No matter how often I return, I always enjoy the friendly people, perfect conditions and the Italian food. I generally try to stay away from touristy places and instead I go in search of peaceful kite spots away from the madding crowd. Sardinia is also a perfect place for me to find a quiet beach where I can run and practice yoga.
There are many kite spots all over Sardinia, but the south has the pick of the bunch. My favourite Sardinian kite hangout is in Porto Botte, which has a small kite centre situated right by the water called KiteSardegna.
I normally start the European kite season with a trip to Sardinia. The weather there is warming up by April and May, when it is still cold and rainy in Switzerland. The flight from Zurich to the Cagliari airport is less than two hours, and from there it is only a one-hour drive to Porto Botte.
On these trips, I stay at the Agriturismo Golfo Palmas/Critical Slide, which is the closest accommodation to KiteSardegna, only 5 minutes away by car. Marco Orrú and his family offer a homely and friendly place to stay. They grow most of the food and wine they serve. Eating there is a real treat, unless you are trying to lose weight, the food is very traditional and it is incredibly tasty. There are also apartments to rent nearby, and it's still possible to stay right on the beach in a camper.
Porto Botte is teeming with wildlife. The kite spot neighbours protected waterways where pink flamingos feed on dredged up food from salty pools. This area could make for some amazing kiteboarding, but the water is sadly too shallow, and the natural area is protected.
On the ocean side, the flat water is perfect for riders who want to push their freestyle. Students can enjoy water that is shallow enough to stand up in, making it a great spot to learn. Areas of light sea grass keep the water flat, even in the strongest wind, ideal for the picky kiteboarder who wants the surface of the water to be perfectly flat.
There is another flat-water section on offer downwind of the land during the Mistral winds, but there is a small trade off because the wind there is gustier after crossing over the land. The kite station offers shade and beach chairs where kiters can relax between sessions. They also serve some snacks and cold drinks.
From Portoscuso there is an opportunity to go for an unforgettable downwinder. There is an enormous flat-water spot behind the dunes after the first few kilometres of riding, and the scenery on the way south is stunning. The downwinder finishes at Punta Trettu, another flat-water spot I like to visit. The place to stay there is called Kite Village Sardegna. Punta Trettu also offers flat and shallow water and is a good riding spot for all levels. The greatest thing about Punta Trettu is that it works in all wind directions.
The best time to visit Sardinia is between June and September, because that's when it's warm and the wind is at its best. However, August can be a bit busy due to the Italian holidays. Depending on the year, it can be good in April, May and October but you will want to bring a 3/2 wetsuit to keep the wind chill away. There can be wind between November and March but it is much less consistent, and temperatures are much cooler, and rain is more common.
Most of the time the wind blows from the north. The Mistral brings constant wind that is much stronger than the forecast predicts. The wind picks up around 11:00 a.m. and stays until the late afternoon and sometimes until sunset. When the wind blows from the south (Sirocco), it is generally warmer and less powerful.
In case there is no wind, or if you need a day off from kiting, there are a vast number of fantastic beaches to visit. Yes, the sand is as white and the sea is as blue as it appears in photos. My favourite beach, only 15 minutes away from Porto Botte, is called Porto Pino. The beach is 4 kilometres long. It is characterised by majestic dunes and is surrounded by several ponds (Stagno di Brebéis and Stagno di Maestrale). The sea at Porto Pino beach is crystal clear, shallow and sheltered from the wind.
A few other activities include:
Wakeboarding
There is a 2.0 system with a kicker and sliders in Cagliari
SUP
You can go on beautiful, flat-water tours and some spots can offer some good wave conditions on the right day.
Mountain Biking
Enjoy a bike ride through the pine forests, along the beach road to the village or gear up to hit some of the downhill tracks close by.
Horseback Riding
A few stables in the region offer horseback riding along the beautiful beach or through pine forest.
The following information will help you with your travel planning.
The airports nearby are Cagliari, Olbia and Alghero. Cagliari is the closest airport to Porto Botte and is served by many holiday airlines as well as charter airlines.
While it is possible to get around Sardinia by bus and train, doing so may well limit how fast you travel and where you can go. If you can, rent a car or take the ferry and bring your own car. It is well worth the cost, and it will allow you to visit some of the more remote and enchanting places in the area.
If you want to drive down with your car, there are ferry services to Cagliari (south coast), Porto Torres (north coast), and Olbia, Golfo Aranci and Arbatax (east coast). Have a look at the state-owned ferry service Tirrenia (year-round service) and the private companies Moby Lines, Sardinia Ferries, Grimaldi, Snav. Ferry services are available from Barcelona, Spain to Porto Torres through Grimaldi Lines. They usually run twice a day during the summer. Ferry services are also available from Trapani, Sicily to the port in Cagliari, Sardinia.
One of the reasons I love Sardinia so much is the amazing food. The Italian tradition is powerful in Sardinia. You will not get any pizzas in restaurants before 7 p.m. Furthermore, be aware that you won't get anything to eat in restaurants between 4 p.m. and 7 p.m. other than a Panini; a cold sandwich with ham and cheese.
As in the rest of Italy, there are plenty of pizzerias serving fresh, stone-oven-baked, authentic style pizzas. The pasta dishes from the region are, in my opinion, the best in the world. Sardinia also has a lot of its own traditional food.
Try the Culurgiones. They are similar to Ravioli (made with typical pasta of Ogliastra) with a filling of potatoes, pecorino cheese (sheep's milk cheese), egg, onion, mint and garlic. Malloreddus are a type of gnocchi that are served al dente with a tomato, meat or cheese sauce.
Porcheddu is a local speciality of inner Sardinia. It is a young pig roasted in a particular way over a wood fire with a local aromatic shrub called Mirto. The pig is frequently basted and utterly delicious. Sausages of many types are available, and the Salsiccia di Cinghiale (wild boar sausage) is a favourite. Don't forget about the mouth-watering ice cream. They have so many flavours, deciding what to order is always a hard decision.
Many locally produced vegetables and fruits are delicious, as they are grown in small farms and are usually organic. Vendors along the roads are a frequent sight. Apart from the usual assortment of typical, Mediterranean products such as eggplants, bell peppers, oranges and grapes, you will also find wild asparagus, figs, watermelons, nuts and spices.
There are numerous types of Sardinian bread and pastries, with specialities such as Carasau (a type of thin, crispy bread), sponge biscuits and almond pastries.
Sardinia also has a lot of excellent wineries, called cantinas. I recommend the Cantina di Santadi. It was interesting to see locals coming in and getting their 5l bottle filled up, just like they would at a petrol station. Ichnusa is the incredibly tasty, popular local beer in Sardinia, while Mirto is an alcoholic drink that is a local speciality. It is made of wine spirit and flavoured with the berries of Mirto, a local shrub. A glass of Mirto is a cheeky way to wash down your dinner.
As summer kite spots go, Sardinia is still under the radar, yet it comes high on the list of my favourite places to kitesurf. With the promise of warm water, warm winds and some of the finest food on the planet, it is certainly worth checking out.
For more information visit
or write an e-mail to

Comments