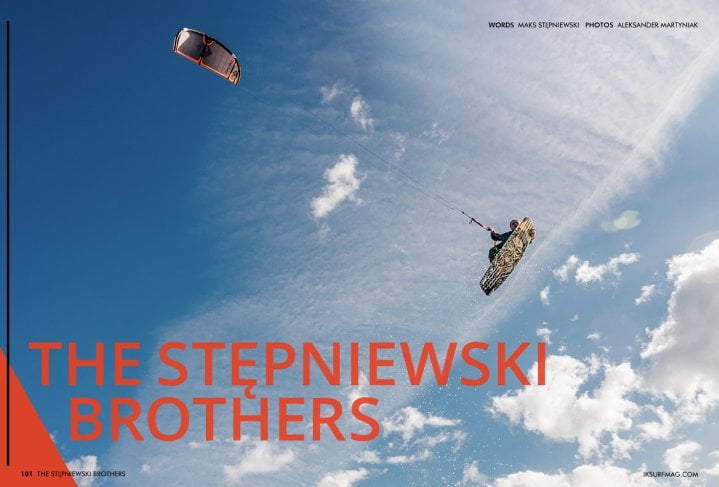 The Stępniewski Brothers
Issue 101 / Thu 12th Oct, 2023
Two young brothers from Poland, Maks and Marcel Stępniewski, share their passion for kiteboarding! While pursuing different disciplines, they share the same stoke every time they're on the water together. Get to know Maks and Marcel, and find out more about their upcoming adventures in this article!
For the past two decades, our family has shared the kitesurfing stoke with everyone we've met. My brother Marcel and I (Maks) started learning about the sport when we were eight. Our father, Tomasz, was one of the first kitesurfers in Poland and slowly introduced us to this sport as we grew up. Like many early kiters, he was a windsurfer, but in 2004, a hail storm came and destroyed all of his sails. His friend Sebastian, a kite instructor, taught my father to kite, and that's where it all started. The stoke was so strong that he never stopped from the moment he started.
I remember those windy days I spent on the beach, watching my father having the best time of his life, and I knew that would be me one day. When I was a little guy, I always went to the friendly kite school and listened to all the kitesurfing basics. Once I was old enough, my father instructed me on how to properly set up kite gear. Shortly after, I was learning how to steer the kite. I will never forget those long walks after body drags!
Marcel had a special passion for this sport from a young age. He started at the same age as me, at eight years old, and everything he tried for the first time just clicked. The moment my brother and I had the opportunity to try this new sport, we went all the way; we have dedicated all our spare time to being on the water, always practising new moves.
Now, I'm 23 years old, and my younger brother Marcel is 15 years old. When I first started, the kite community was totally different. Almost everything I learned, I had to teach myself, whereas my brother had the opportunity to learn from the growing kite community. My generation has started a movement for younger guys to learn this sport and push their limits.
I spent the early years of my journey doing freestyle, then I moved to Formula Kite, and finally, I landed in the big air discipline, where I feel the most comfortable. I just love the feeling when everything turns upside down, the adrenaline rushing, and the wind in my hair. My brother joined me in these activities eight years after I started. We both had a slightly different approach to our final destination. Marcel has vigorously pursued Formula Kite and freestyle, while he treats big air more as an addition to this sport.
He is so young and has such potential for being one of the best, whereas my stronger field is big air. However, soon enough, Marcel will surpass me in this discipline, too. I once won the Polish championship, while my younger brother has already managed to collect national and international titles, both in freestyle and foil.
The best thing about being brothers is that we always go together for a session, training and having lots of fun whenever we can. In Chałupy, we have plenty of kite schools and a big kite community during summer. There's a lot of hype and stoke for each and every session. We just love the feeling of pushing each other! Every time one of us lands a new manoeuvre, quickly after, the other one catches up and sticks something more radical or technical.
Our spot is called Zatoka Pucka, "Puck Bay". It's a big bay, and there are many spots around it, offering something for everyone. There is this huge peninsula that divides the bay into two, and there are areas with shallow water, waves, and kilometres of perfectly flat water in the middle of the bay. Our favourite spots are Chałupy and Rewa. The conditions are wonderful; you can do it all as long as there is wind. Unfortunately, there are not many strong, windy days in winter. We have more of these big air conditions, whereas, in summer, there is more for freestyle and foil.
The stoke and hype around the kiting community is what drives us the most. We want to push ourselves and the community to grow and develop better skills. My friends, Marcel and I came up with the idea of pushing everyone to share their passion. In 2020, we created the @surf_ziomki Instagram account to share our progression and love for this sport throughout the years.
With every passing year, we are more stoked than ever. Each year and month comes with exact planning of what's next. We are discussing what tricks we dream of and where we want to land them. Every year, we take several trips, some long and some short. Each is different and is supposed to develop a different set of skills. Every time we go on the water, we know we will make some progress.
Our favourite spots are El Médano and Hel peninsula. El Médano is the most diverse spot we've ever been to. You can surf, kite and foil. We can ride with the best riders in both big air and freestyle. Hel peninsula is a place where our life changed, because we started our adventure with kitesurfing there. Thanks to our parents, who are passionate about this place, we can spend every summer vacation in Chałupy, a small village that is visited by many tourists every year. This place allowed us to create a family of friends that we only see here. This spot offers the same diversity as El Médano.
The conditions in El Médano are tough; there is this specific gusty wind and wavy water, but when you get everything right, you can go huge. This is where I first landed my board off kiteloop and several airstyle rotations with board offs. I'm still extremely stoked about that, and I can't wait to get back to those waters.
The moment we started progressing, Marcel and I became part of the Liuewe and Prolimit families, which allowed us to focus more on improving our skills. As a technical school student, I am more open to new material, so I am in love with D/LAB Aluula technology from Duotone and the new Falcon board from Lieuwe. Marcel, as the representative of new school freestyle, surprisingly prefers the classics such as Eleveight FS9 (the best c-shaped kite in the world!) and the God of all twin tips, the Lieuwe Shotgun. We both use Prolimit wetsuits and harnesses; they support us with the best materials and technology.
This year, once again, we will be travelling in a blue T5 van across Europe. We are planning on visiting places like Leucate, Saint Pierre la Mer for competition, Gruissan, Sant Pere Pescador, San Sebastian, Galicia, Peniche, Porto and Tarifa. This trip will take about two months, more than 10000 kilometres, and be full of action and progress. If you see us on the spot, hit us up!! You can follow our journey on Instagram at @surf_ziomki... See you out there!

Comments