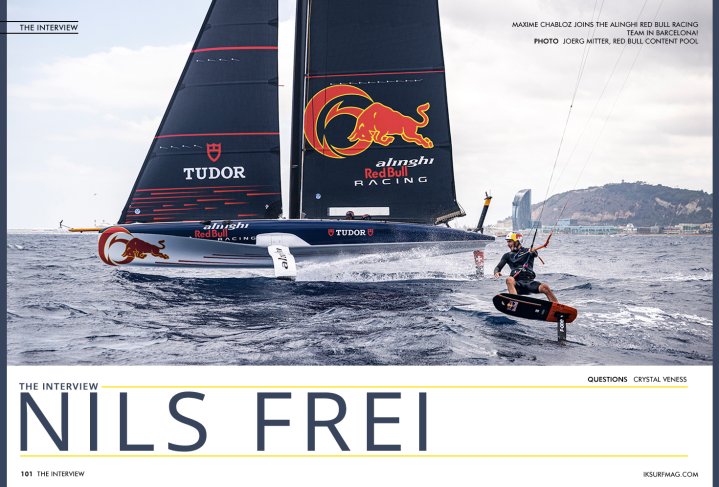 The Interview: Nils Frei, Alinghi Red Bull Racing
Issue 101 / Thu 12th Oct, 2023
In this edition of The Interview, we get to know professional sailor and America's Cup race winner Nils Frei! Find out all about his day job, why he loves kiting, and what happened when pro kiter Maxime Chabloz took to the race course with the Alinghi Red Bull Racing Team in Barcelona!
Nils, thank you for joining us for The Interview! With the Formula Kite World Champions being crowned a couple of weeks ago and the 2024 Olympics on the horizon, hydrofoil racing has become one of the most competitive disciplines in kiting today. As a 2x America's Cup winner and an avid kitesurfer yourself, are you a fan of the racing disciplines in kitesurfing?
Yes, it's super exciting. I've been following kite foiling for a while, and the evolution with the foils and sails is quite impressive since it's for the Olympics. The speeds these guys are achieving are very impressive - they're actually not that far from what we're doing with the America's Cup. It is not as fast but still very impressive, especially in the light wind. It's always been fascinating to follow the development of kite foiling in many aspects as they've been a bit more advanced in how they design the sails and foils. It's great to see.
What is your preferred kitesurfing discipline when you're going for a session? How often do you have time to get on the water?
I'm getting older, so I'm getting less into jumps and mainly doing kite foiling. I'm not racing, just foiling up and down, cruising on the lakes in Switzerland. It's good with the foil because you can go out in very light wind, which I like the most. Growing up in Switzerland, you are used to needing a lot of wind for kiting. Now, with the foil, you can double or triple the amount of sessions you can have. It's also good in the waves here in the Mediterranean; you can ride anywhere with the foil.
What is your go-to setup for kite equipment, and why? 
I have kite gear from Gin Kites, a Swiss brand I've been following since the beginning. I like them and how they have developed their equipment. I'm using their inflatable kites, but also some ram air kites, which they have developed for Olympic racing - but not their latest developments, which are more race-focused and less tolerant. For me, the easy version is good enough!
You've been in competitive sailing sports for over 30 years! What has been your most exciting achievement over your years of competing? 
It's definitely the America's Cup victories, especially the first one in 2003. It was kind of unexpected, as we had just started there as a fresh team. Of course, we had high expectations, but to come back and bring the Cup back to Europe was an amazing thing to achieve. That is something I will always remember, and, for me, it's the most important achievement in my sailing career.
Today, you are the Head Coach of the Alinghi Red Bull Racing Team, who you raced with for their 2003 and 2007 America's Cup victories. Do you believe the team has what it takes to win the 2024 America's Cup?
Yes, absolutely. We have a lot of young, talented sailors, and most grew up sailing with the foiling generation boats. They've been competing successfully in modern classes such as the GC32 and the TF35. These are good boats to get experience for the kind of racing we have today, and we have very good people on the sailing team. We have a very experienced design team as well, which is important to have a fast boat. I think we have the ingredients, but we missed the last Cup cycle, so we have a lot of catching up to do, but I think we're on the right path.
What does your role as a Head Coach on the team entail?
It's more about coordinating things in the sailing team and with the other departments to ensure we have the same priorities and the right programme at the right time. There are always a lot of things to do between racing, testing, and the simulator, and you never have time to do it all, so you need to identify the priorities. Trying to know the right thing to do at the right time is one of the biggest challenges, so, for me, it is more of a coordinating job than anything else.
How has the inclusion of foils on the America's Cup yachts changed things?
With the foil, the boats are going quite a bit faster. Also, the apparent wind angles are very different, so you won't see any more downwind sails like the gennakers or spinnakers that we had in the past. The wind always comes from the front because we're going so fast, and the sail shape has also completely changed with these new speeds. Now, the boats are getting more and more manoeuvrable, so you always see the boat stay on the foils in the tacks and jibes. The manoeuvres are less costly today than a couple of years ago, bringing match racing back into the game. I think we'll see a lot of pre-start manoeuvring and a lot of circles in the pre-start phases, and I think our teamwork will be very important, too.
Do you see many similarities between these foils and kitesurfing foils? 
In some ways, but they're not the same size and don't behave exactly the same. There are flaps on the big boat foils, and no flaps on the smaller kite foils where your weight makes a bigger difference. But, in the shape and aspect ratio, and maybe also the flex, you can see some similarities in the way that both types of foils behave in the water. Even though the AC40 and AC75 are much larger than a kitefoil board, they share many similarities. We are constantly seeking the best foil shapes for takeoffs, optimising aspect ratio profiles, and enhancing water piercing ability, among other things. Both disciplines are fascinating and evolving rapidly.
Rumour has it that the Alinghi Red Bull Racing Team has several kitesurfers and wing foilers! Is there a lot of crossover between these two sports?
Yes, of course, it's sailing, and we play with the wind. We talk angles and best angles to the wind, so it's basically the same sport. In one, you're sitting on a boat, and in the other, you're standing on the board, but you're trying to be as efficient as possible, so it's very similar!
Professional kiter Maxime Chabloz recently joined the team in Barcelona for some laps around the America's Cup racecourse! What was that experience like for the team? 
It was great because he's quite famous in Switzerland. He's not only a super good kiter, but he is a super good skier, and he's very well known for that in Switzerland. He was named the Swiss Junior-Sailor of the Year in 2017 and 2018, and I think at that stage, some of the sailors became aware of him. Since then, he's been in quite a lot of sailing and kitesurfing magazines, which everybody likes to read. It was really nice to have him with us for a couple of days.
Maxime hit speeds of 25 knots on his F-ONE freeride foil setup, while the AC40 (the training yacht for the America's Cup) nearly doubled that speed. How competitive do you think the race might have been with Maxime on a Formula Kite setup?! 
It's hard to say. He didn't have the racing gear, but it was still good to see him going so fast. Compared to the modern America's Cup boats, there is for sure a gap; he probably could have gone 5-7 knots faster with the racing gear, but still not achieved the speeds of the AC40. It's true that our machines today are very fast!
Of course, we have to get Maxime Chabloz's take on his visit to Barcelona! Maxime, what was it like sharing the water with an America's Cup boat? Do you think a professional foil racer could keep up?
Maxime: Sharing the water with the team and the America's Cup boat was super impressive. It was really, really incredible to see those boats going that fast. You could see these boats' pure energy and speed, and it's just unbelievable.
Although I wasn't on the fastest foil on the market and riding a tube kite and not a racing foil kite, I actually could ride pretty fast next to the boat. I'm sure the fastest kite foiler in the world could maybe match the top speed or at least keep up with the boat for a little while. Where I think there is a huge difference is that a kite foiler might be able to go at that speed for 30-60 seconds, whereas the America's Cup boat could probably fly for an hour at 40 knots and just keep on going and cover a lot of distance.
Last question, Nils! Many kiters will be tuning in to see our sport on the big screen in the 2024 Olympics. If they enjoy watching kite racing, they will certainly appreciate watching the 37th America's Cup, scheduled for between August and October 2024. Could you give us a quick introduction to how an America's Cup race works for those who plan to tune in for the first time next year? 
Nils: In America's Cup racing, the base of the race is still match racing. So, it's one versus one, and they are pretty short races of maybe 20-25 minutes. It's going to be quite intense. A lot of things are happening in the pre-start phase where the boats try to position themselves as well as possible in relation to the wind for the next move, and then it's a bit like a chess game, and I think it's very fascinating to follow. It's not too long, it's intense, and it's an excellent spectacle. In Barcelona, the racing is close to the shore, so even from the beach, you can follow what's happening out there.
Click here to watch the video of Maxime Chabloz's visit to the Alinghi Red Bull Racing Team and don't miss the 2024 America's Cup!
Videos
Editor at IKSURFMAG, Crystal Veness hails from Canada but is based in South Africa. When she isn't busy kitesurfing or reporting on the latest industry news for the mag, she is kicking back somewhere at a windy kite beach or working on creative media projects.
Comments